Mount Rainier, Disappointment Cleaver. A birthday climb.
October 13-14, 2006
Today is February 25, 2007. I've been sitting here quietly in the kitchen for a while now trying to find a way to start a trip report that I don't know how to write and, at the same time, can't wait to read it myself once it's finished. Is this writer's block? I dunno.
The sense struck me about ten days ahead of time- that the Random and Omnipotent Goddess of Northwest Weather would gift me a window of good weather for my birthday, enabling me to fulfill a long-time goal of being on the summit of Mt. Rainier, perhaps my favorite place on the world, on my birthday. Jens and I summitted on his birthday in July, and I thought it would be fun to double up and summit together on my birthday too, but he was busy. After some soul-searching I asked Hannah if she'd go along. She said 'yes' enthusiastically, to my surprise. Just yesterday she described herself as a 'glass half empty' type of person, but I don't agree.
Lost in my brain are some of the details that I usually include in these reports. I remember driving to Orting to pick Hannah up at the high school and lamenting that I'd nearly forgotten the way. The next thing I remember is walking up the paved trail from the Jackson Visitor Center, as the Paradise lot is closed for a massive remodel of the Paradise Inn and subsequent construction of a new visitor center. Along the way I pluck a piece of grass and put it in my mouth. It's an old habit from my early teen years when I help my grandfather take care of his farm. I spent many hours there in the hot Michigan summers whistling while I worked or humming with a long piece of grass hanging out of my mouth. Good and precious memories those are.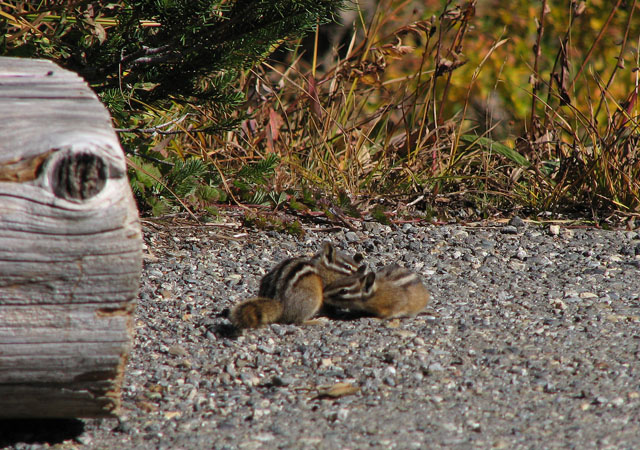 Chipmunks on the trail just above Paradise.

Early in 2006 I got the training bug and rediscovered the reward of trucking a heavy pack up West Tiger 3, a local hill/mountain trail that gains about 2000 vertical feet in 1.5 miles or so. Four months of this and by June I was in the best shape I'd been in ina decade.
I was off-peak by October though, and I can't keep up with Hannah as she motors up the Muir Snowfield. I bend off right and walk a sliding trail of scree while she veers left around a rock outcrop. At the end of the outcrop I pass a person taking a break on his way down, and then I'm back on the snow. Hannah is out ahead by a good bit now and I slowly approach 9000', where I usually hit my first 'wall'. A dark object in the snow attracts my attention. As I approach I see that it's a dead, perfect butterfly. Hannah likes butterflies so I pick it up and carefully put it in the top of my camera bag.
Somewhere about 9500' I see Hannah stop and sit down. I join her and we take a short break in the sun. The rest of the way to Muir I battle leg cramps- something I've never experienced on a short approach day like this. At Muir I drop my pack and stretch while Hannah makes habitable the Butler Shelter. It's not my first choice to use huts or other structures beyond rudimentary rock wind-breaks, but I've made a choice to let go of some things like that on this trip.
Once I work out the cramps and lactic acid I get my camera bag off my pack.
"Hannah, I have something for you."
I seem to recall asking her to close her eyes and hold out her hands. This is not among her favorite games, but she plays along. The fun for me is to see her reaction, but its magnitude surprises me.
"Where did you get this??"
"Down on the snowfield."
"Seriously? Oh my god."
"Look" she says, holding it gently, "the powder is still coming off its wings."
I sort of expected a 'wow, that's cool', and this is more than that. I'm pleased and don't question it, even when she carefully finds a spot in the shelter where it won't get damaged.
We're undecided on our route- debating between the Nisqually Ice Cliff and the DC. The Ice Cliff looks fun and sporty and were I with Jens it would be an easy choice. But Hannah and I haven't climbed well together in some time and, not unlike the Kautz trip in 2005, I'm more motivated to summit than usual. In the end we select the DC.
We relax through the afternoon, eating, hydrating, and napping. I play my tin whistle (when Hannah is not in earshot) and snap a few pictures. Hannah proves that she can still read my mind by destroying me at Go Fish. She prepares burritos for dinner.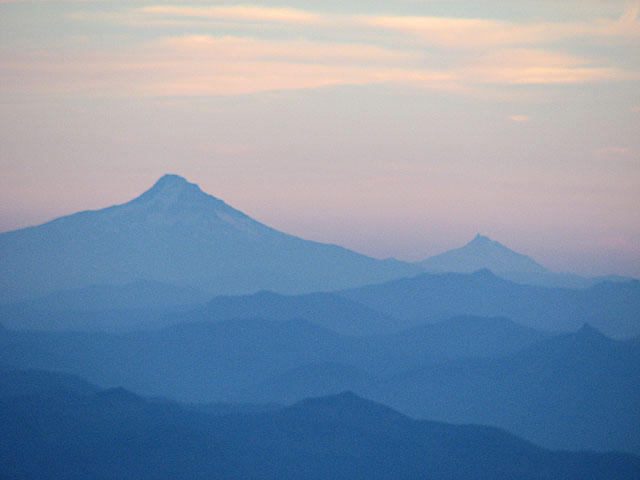 Mount Hood and Mount Jefferson


Sunset and the Cascade foothills

I don't remember what time we got up or departed in the morning. I do remember being surprised and happy that no one else was headed for the summit, and even better, that no one else was at Muir. The night is starry and beautiful and calm and so wonderfully quiet. I am grateful for these things, and for Hannah's company even before we start out across the Cowlitz.
For a good part of the way to Ingraham Flats Hannah is leading. Her pace is slow and I'm suspicious that she's trying to appease my desire to not obsess with 'how fast, how high, how hard, how many times'. This is one of the things that has come between us of late, as I've lost much of my interest in proving my prowess as a climber through such measures, and she's found hers. The route goes high up onto the lower reaches of the Ingraham Icefall to avoid crevasses, before dropping back down to gain Disappointment Cleaver itself. On the cleaver we stow the rope and continue. I get out in front this time and move off right and off route. For my waywardness I am rewarded with some overly-spicy exposed choss-scrambling and a remarkable, up-close view of the starlit Emmons glacier. Very much to my surprise, I arrive at the top of the cleaver before Hannah.
It's nearly windless and I am comfortable in my light down jacket. I snack and drink and Hannah arrives shortly. We rope up again and Hannah takes the lead. The route is still visible, though not in it's heart-of-the-season trench state. It traverses far right and through a small serac band. We swing the lead here when the boot track Hannah is on ends and I loop in above the serac and find a route that goes.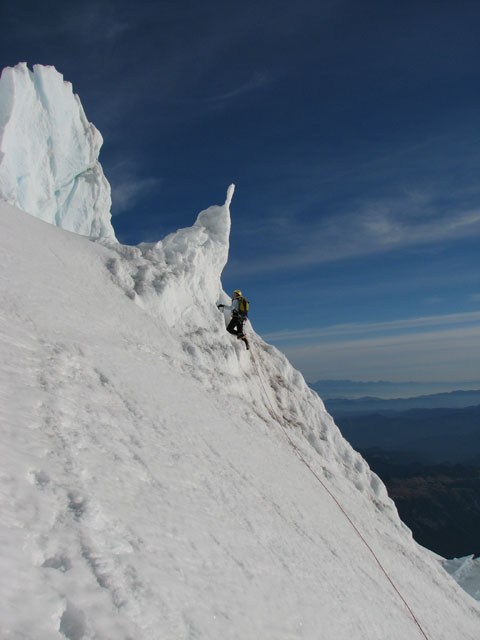 Hannah at the seracs. We ended up going above them.

I'm always slow above 12,500 and this day is no exception. I try to keep a steady pace and still find myself taking a bit longer than necessary at the switchbacks to step over the rope. At one point the boot track disappears into a crevasse. I peek in and see a proud little wand still standing tall amidst the jumble of what had recently been a snow bridge.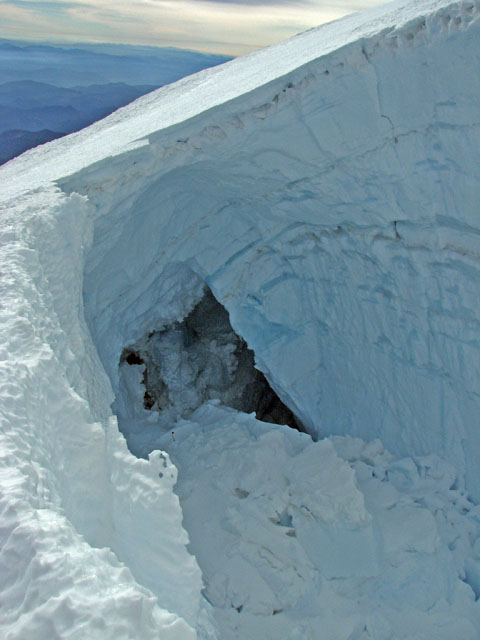 The wand in the crevasse.

Eventually the rocky crater rim comes into sight, giving me a bit of an energy boost. Altitude is an amazing thing- I can carry 80 pounds up a steep trail gaining 2000 feet in just over an hour. But at 13,500' I struggle to maintain a 1000'/hour pace with virtually no weight in my pack. What I lack in speed I make up for in determination. Perhaps my motto should be, "I slog therefore I am", or "I came, I slogged, I summited". Indeed, at this moment I cannot recall a time I turned around due to fatigue. Just about every other reason, yes, but not fatigue.
And it is amidst those thoughts that I cross over the rim and into the crater. I remember feeling happy, and a bit numb; not as elated as I expected. This is my fourth visit to the crater rim in 2006. Shortly thereafter I am on the summit for the third time. On my birthday. With a great friend. To celebrate I take a picture of me eating my hat.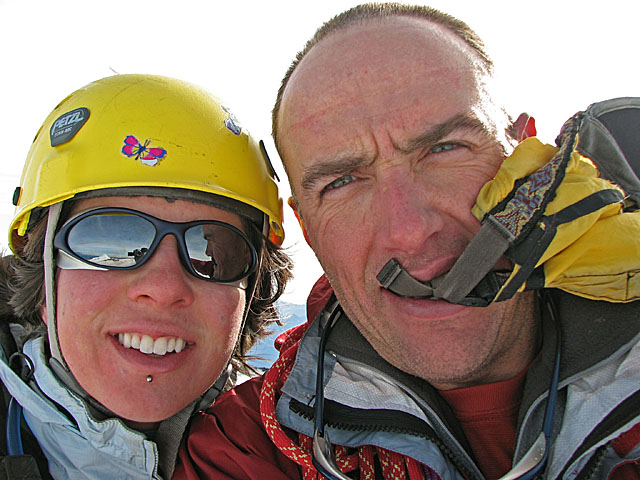 It is windy on the summit so we retreat to Register Rock. I unceremoniously plop down in the steam-moistened dirt, put on my down jacket, and close my eyes. Hannah is sitting below me and is more fiddly than usual; almost Thomy-esque. I endeavor to enjoy the sunshine and don't think much about it until she tries to get me to move down into the crater where she says it will be less windy. I selfishly decline and wonder to myself about her behavior until she explains it a few minutes later by producing a piece of cheesecake (my favorite) with an unlit candle atop.
I am surprised and pleased (it really isn't that difficult). She comes up and sits next to me and we share the cheesecake and then I lean over and take a short, delicious, lucid nap.
My experience of the passage of time in the crater of Rainier is consistent: An hour feels like 15 minutes, or less. I put on my ankle braces and we pack to descend. Hannah leads and I don't remember much else until we rope back up at the base of the cleaver. Crossing under the Ingraham Icefall in the afternoon scares me about as much as I get scared in the mountains. More than once I've come back this way to find fresh car-sized blocks of glacial ice scattered about and on top of the boot track I followed earlier that morning. I take off as fast as I can go in order to minimize our exposure in this dangerous spot. I make a mistake and start descending from the steep slopes of the icefall too early and Hannah expresses her frustration with my pace and error. Breathing hard I correct and soon enough we are safely back at Ingraham Flats.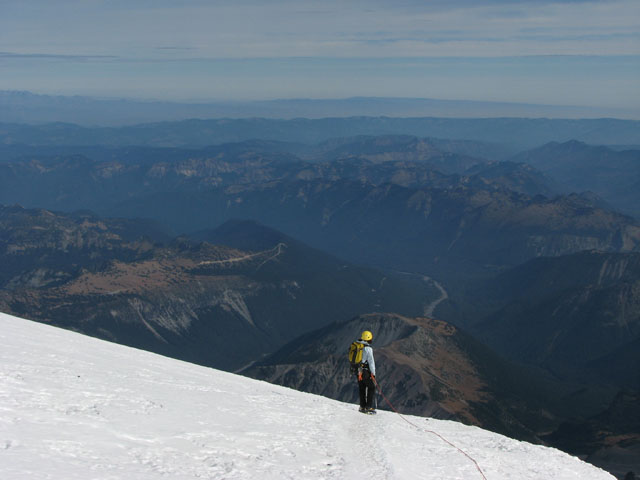 Hannah pauses to take in Life, the Universe, and Everything from 14,200'.

We drop down from Cathedral Gap and make the traverse back across the Cowlitz to Muir. The day is late. Hannah wonders aloud why it always takes us so long to do everything. I pack up and help her as best I can with the proscribed Butler Shelter disembarkation procedures.
She is perplexed about how to carry the butterfly down the mountain without damaging it and looks at me incredulously when I suggest leaving it there. Eventually the shelter chores are done and the packs are packed. It's clear that we won't make it down before dark and I try in vain to get a call out to my wife to let her know I'll be later than I planned. Damned Verizon and their network, which doesn't allow me to make calls from places like Muir and the summit of Rainier, where I used to have great service.
I opt for crampons on the way down while Hannah goes without. I'm glad for them as the snowfield is very melted out and has many exposed sections of glacial ice. The little blade of grass is in my mouth and I enjoy once again being able to storm downhill quickly without fear of an ankle sprain, thanks to the braces. Near the end of the snow I catch a crampon point and do a complete somersault, landing back on my feet and continuing down without interruption. I laugh and hear Hannah laughing behind me.
Below Pebble Creek Hannah, in front, stops and simply says to me, "Go".
"Why?"
"Just go."
Somewhat perturbed, I oblige. Headlamp on now, I continue down the rock-hard trail, and opt for the Alta Vista variation. On the way up the day before I noted the amazing sea of red foliage on that slope and had a desire to walk there, even if now the darkness prevented me from seeing it. I stroll though taking in the smell and letting my uphill hand brush through an occasional branch. Aside from Hannah being out of conversation range, and I wholly satisfied.
Alone I somehow choose correctly from the spider web of trails just above Paradise and soon find myself at the JVC parking lot and my truck. I change into dry clothes in the cool night air.
Hannah comes along silently 10-15 minutes later.
We drive back to Orting where I am presented with a variety of birthday gifts. Hannah gives the most amazing gifts to people. On this, my birthday, I get a large rock:
<oops, no picture yet>
And a pee bottle:
<oops, no picture yet>
And then an explanation of her reaction to the butterfly I found and presented to her the previous day:
<oops, no picture yet>
I make the 45 minute drive home arriving to yet more surprises: A plate full of a variety of cheesecakes and that my lovely wife has hired movers to bring all of our furniture back from the storage locker it had been in during our remodel. So I got to come home to a smiling family, cheesecake, a beautiful house, and a huge chore checked off my list.
Happy birthday to me.