Hyalite Canyon Ice Climbing
February 7-10, 2003
Fed up with the not-a-winter the Pacific Northwest is experiencing, I decided to put together another trip to Hyalite Canyon. Led on by visions of fat, blue ice I started making calls and sending emails. Trying to get climbers, a notoriously unsocial anti-group, to commit to something like this is a challenge. I call it herding cats. Often I'm not motivated enough to pull it off, but this time I am obsessed. I recruit all the usual suspects, but most are otherwise committed (family, school, work- all distractions from climbing).
In the end it is Eric and Brett that show up at my house at 8:30 AM on Friday, February 7th. We quickly pack up and hit and are eastbound on I-90 at 8:50. It's 675 miles from my house to the Royal 7 motel in Bozeman. But it's an easy drive, as 670 of the miles are on I-90. The drive to Lillooet is significantly more stressful: Canadian highways leave something to be desired.
We opt to skip a dinner stop and pull into the Royal 7 at 7:20 local time (there is a one hour time difference between Washington and Montana). We unload and head out to McKenzie River Pizza on Main. Sadly, we find that they're closed for a week. We walk down the street to a Mexican place instead. There, we negotiate the time at which the alarm clock will be set. After several baskets of tortilla chips and a plethora of burrito, enchilada, and tamale, 4:10 is chosen.
Scenes from the Royal 7 Motel


The Hyalite Canyon Road is 13.7 miles long. Only the first few miles are plowed. It becomes undriveable at some point each winter, often in January. A few days before we depart I start making calls to gear shops in Bozeman to confirm that the road is passable. The news isn't encouraging. Winter has finally arrived in Bozeman and snow has been falling hard for days, often a foot or more each day. I start worrying that we won't be able to drive to the parking lot, and we almost change plans and go to Lillooet instead. Only last minute encouragement by Matt (thanks!) keeps us on course.
But on Friday night the Road (it deserves to be capitalized in February) is still a major question mark in my mind. If we can't drive it we'll lose at least part of a day of climbing and be forced to go elsewhere or try to rent a snowmobile. I'm still worrying about it when we get back from dinner. And I keep worrying about it on into the night. And into the early morning. And by the time the alarm goes off I've racked up all of 90 minutes sleep.
We're all groggy and stumble around the room getting dressed and finalizing our packing. I feel better as soon I we reach the friendly confines of the Perkins restaurant, complete with Laura, the same smiling waitress from our trip in November, and lots of coffee.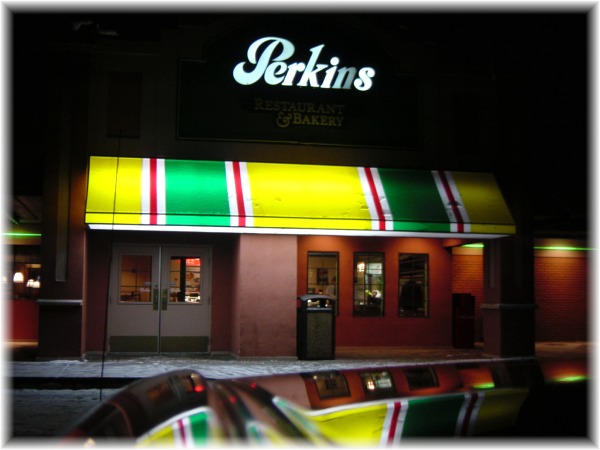 It's still a half-hour before stupid early, and we've arrived at Perkins.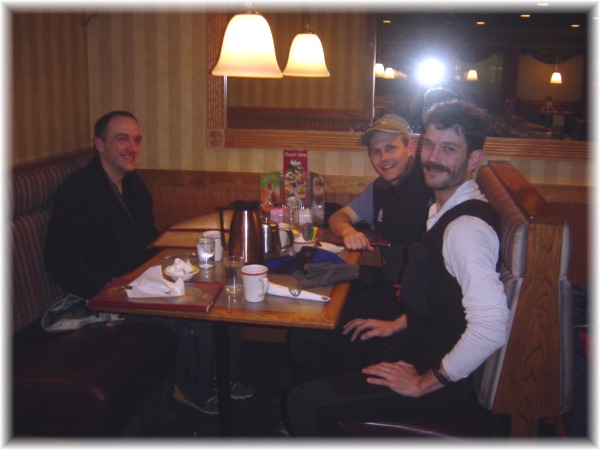 The coffee is starting to kick in. Photo by Laura, the friendliest waitress in the world.

Fully caffeinated and fed, we depart and head out of town on 19th, which is quite snowy and slippery. Still, I'm feeling better knowing that the we'll soon have sorted out the mystery of the Road. At first it's better than I expected. But soon it deteriorates to about what I expected, and just past the reservoir, where the fishermen and "sledders" like to park, it gets pretty bad. We're the first car through this morning, it's still dark, and we're in four-wheel low. But we keep progressing. This is not the standard Cascade-style snow I've come to know so well. It's very odd: Dry, fluffy, and light; you might even say powdery. So rather than getting high-centered, we just plow the snow out of the way. The 3.7 miles from the reservoir to the parking lot is stressful and difficult (for me, anyway) but we make it. I'm thrilled. It's also still dark and my two partners are not amused that they got up at 4:00 AM to be bounced around the Road from hell only to arrive in the dark.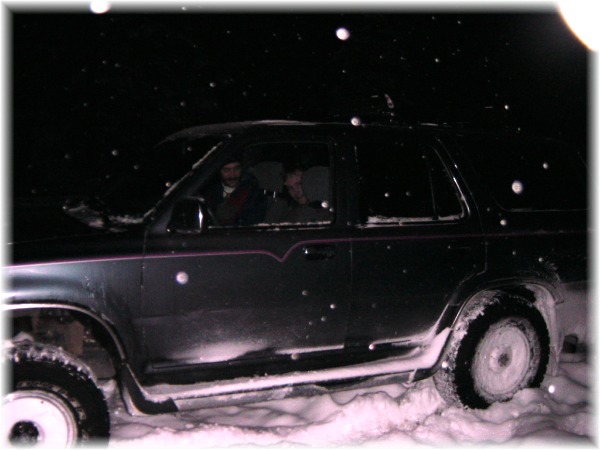 0-Dark-thirty in the parking lot.

But more than anything we're all happy to be there: The Road has allowed us to pass. And though we can't see it yet, I know there is ice nearby. Boots go on, packs and snowshoes are donned, and we head up the road to "The Little Climbs by the Trail".
Jens and I climbed the one on the left in November, and it seems like a good place to start. I haven't climbed with Eric before, and Brett hasn't seen ice since December 2001. We do the "Who's going to lead?" dance, and Brett wins (or loses). He racks up and, despite a 14 month layoff, quickly dispatches the route. Eric and I each take a TR lap.

Brett leading one of the "Little climbs by the trail".

Then I get cocky and announce that we should "run up" the route just to the right. It looks short and easy, and I figure that it will make a nice leading warmup. Instead it turns into a less-than-graceful seige, complete with hangdogging and a dropped screw. But I persevere and eventually clip the anchors just in time to get a nice case of The Dreaded Thaw. What a way to start.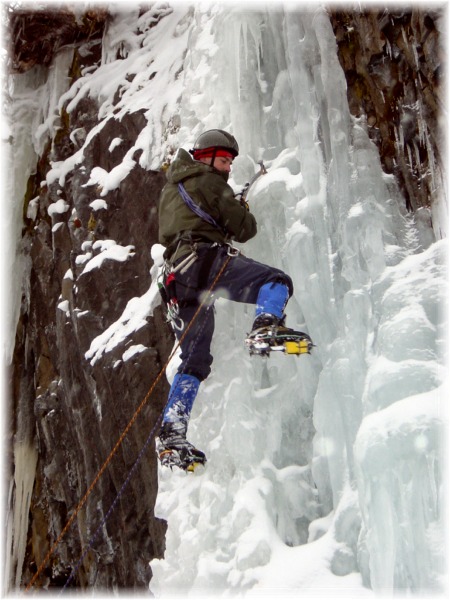 Looking good so far. Photo by Eric.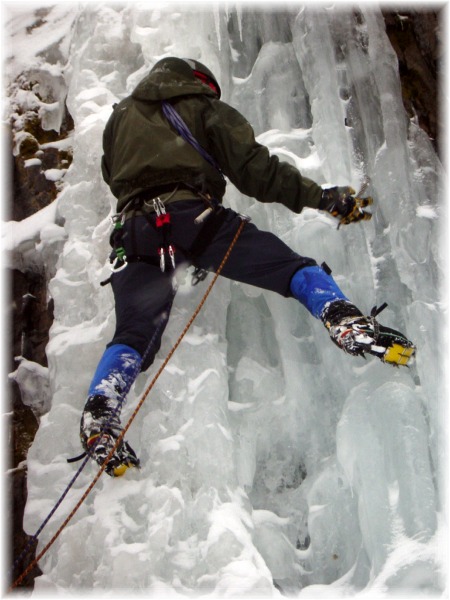 Butterfingers in action. Sadly for me, the other screw had a frozen core left in it. Photo by Eric.

Eric and Brett take a lap, then we trapse over to Mummy 1 and solo up. From there a short wallow in deep snow brings us to the base of Mummy 2, an impressive ice formation.
Eric volunteers to take the lead. He climbs consistently and smoothly to the anchors. We each take two laps on lines varying from WI3 to WI4. Then we pack up and return to the car.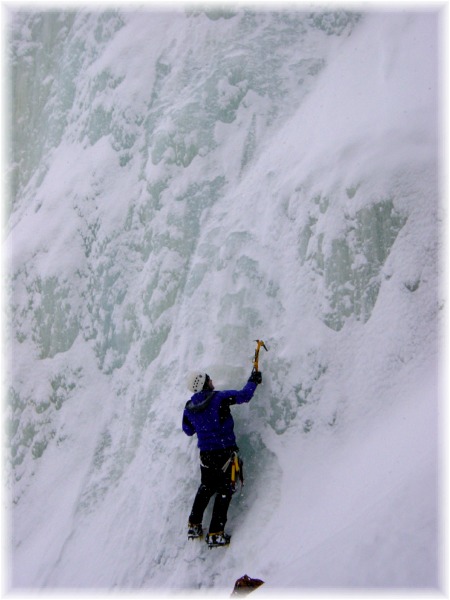 Eric bouldering at the base of Mummy 2.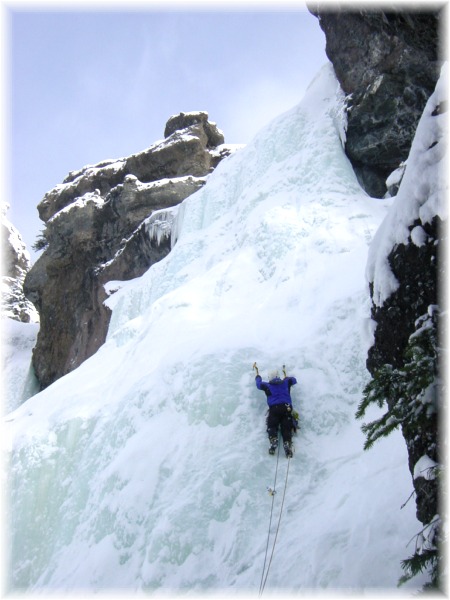 Eric leading Mummy 2.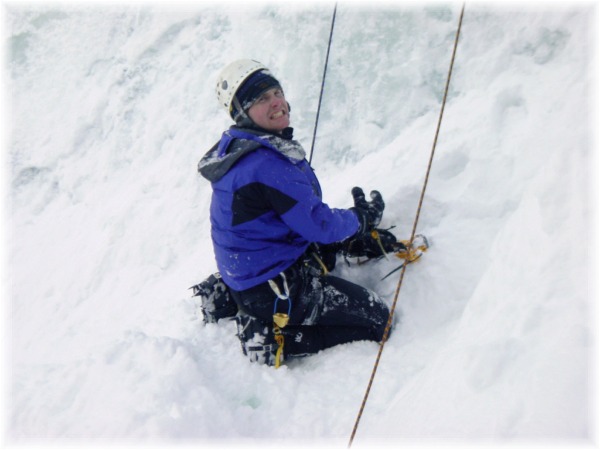 Eric getting up close and personal with The Dreaded Thaw after his lead.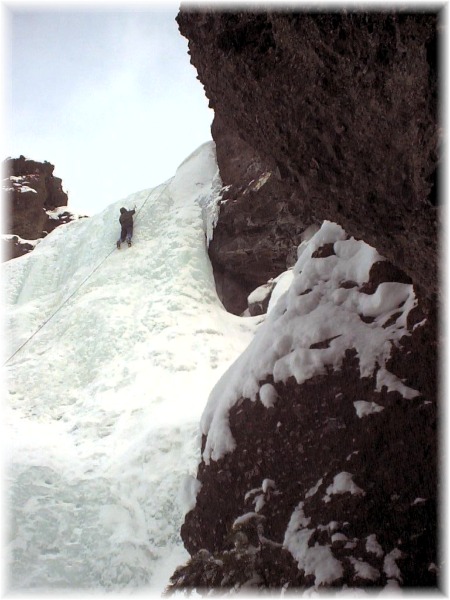 Me on Mummy 2. Photo by Brett.

We order in pizza that night and get to bed earlier. The plan for Sunday is to climb The Dribbles, a moderate four-pitch route about an hour from the parking lot. Mysteriously, the outlet powering the alarm clock goes out in the middle of the night. Fortunately, I wake up and notice at 2:00 AM, and relocate it to a good outlet. At 4:10 we're up. Perkins for breakfast again, followed by round 2 with the Road. It's worse today, with more drifted snow. It's snowing hard with gusty winds when we reach the parking lot. Our lack of knowledge about evaluating the local avalanche conditions combined with the additional heavy snowfall leads us to abandon The Dribbles in favor of the Genesis 1 and Diversions area, which is significantly closer to the car and relatively free of avalanche danger.
A short 15 minute hike brings us to Genesis 1, which is looking tasty and fat compared to November. The Diversions are simply huge. We realize that we can easily spend a day here getting a monster TR workout. Brett starts the lead on G1, but, feeling unsettled, backs off after a couple screws. I finish off and set a TR with one end on G1 (via a directional) and the other on the "Curtain Route". About this time other folks start showing up. And then more. In the end, about 15 people were climbing in the area, with six or more TRs setup. An additional four climbers arrived and then departed for other places to climb. At first I feel anxious about the crowd- afraid that I won't get in enough climbing. But to a person, everyone is friendly, cordial, and willing to share TRs. We each manage to climb about seven pitches varying from WI3 to WI6-.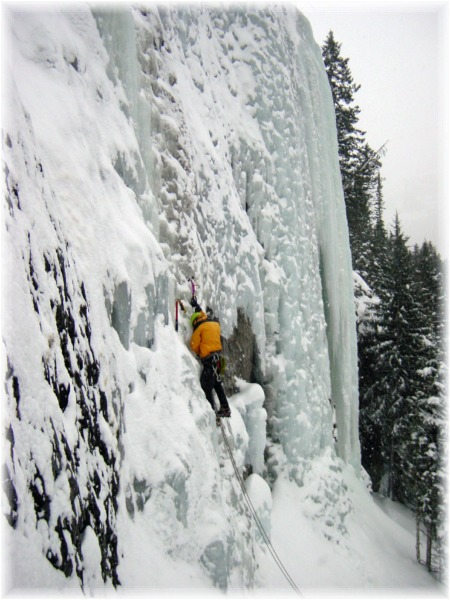 Bret leading Genesis 1.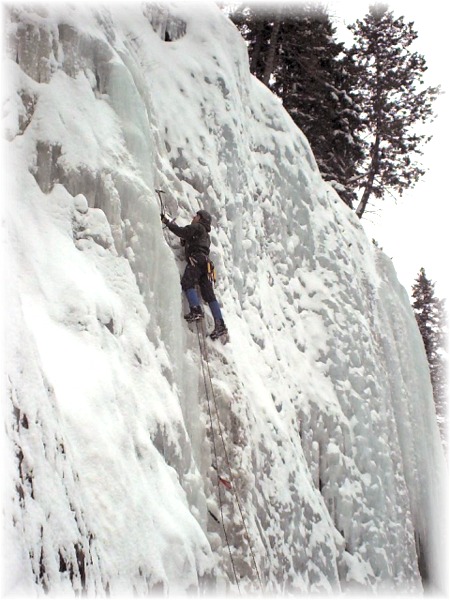 Me leading Genesis 1. Photo by Brett.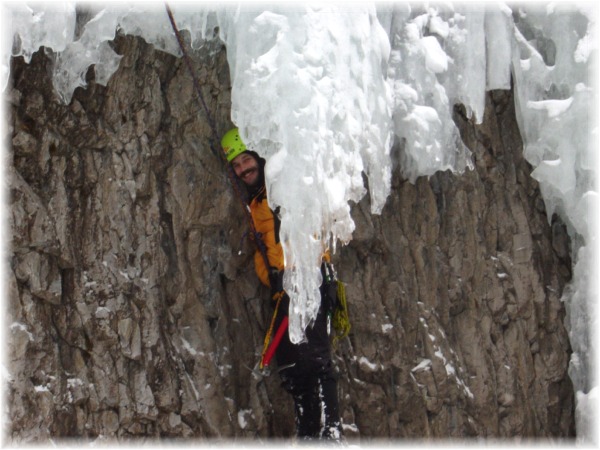 A smile from the enigmatic "Smoker" on the "Curtain" route. Photo by Eric.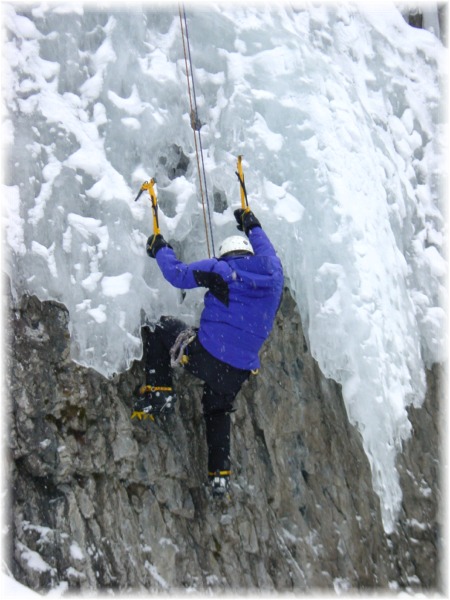 Eric pulling through the "Curtain" route.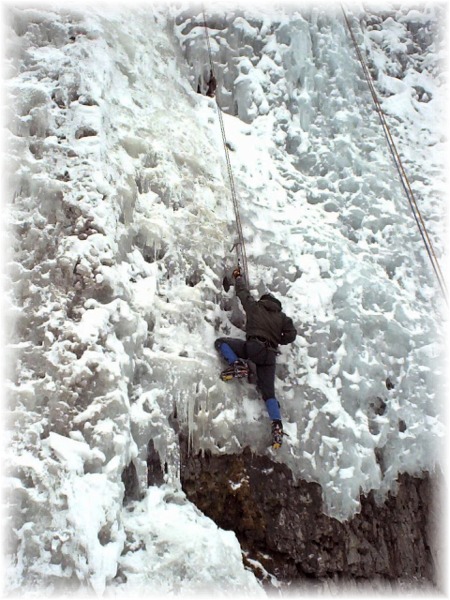 Me looking for a few more inches on a line just left of the "Curtain" route. Photo by Brett.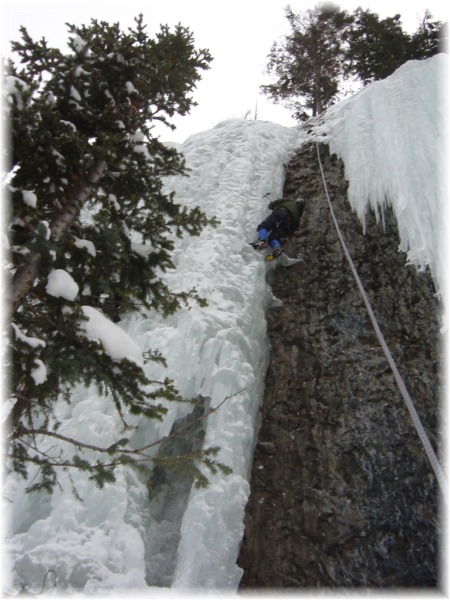 Me pulling through a steep section on a Diversions route. Photo by Eric.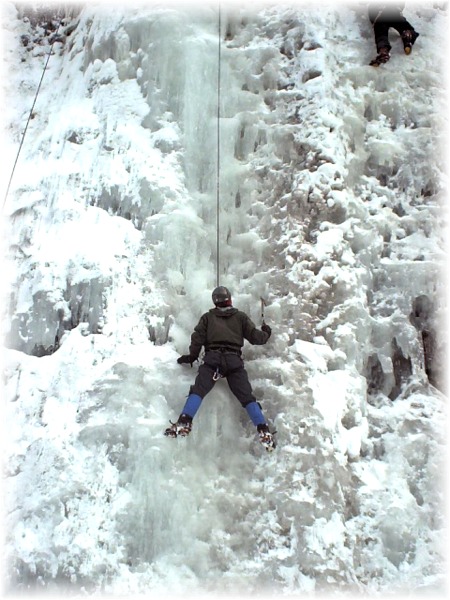 Climbing with one tool on Genesis 1. Photo by Brett.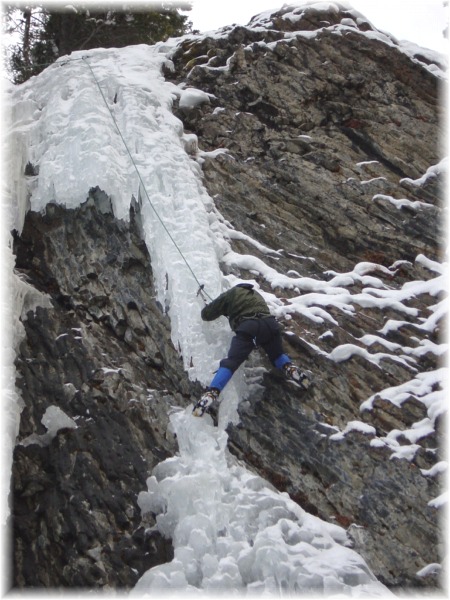 Passing the crux on the far-right Diversions line.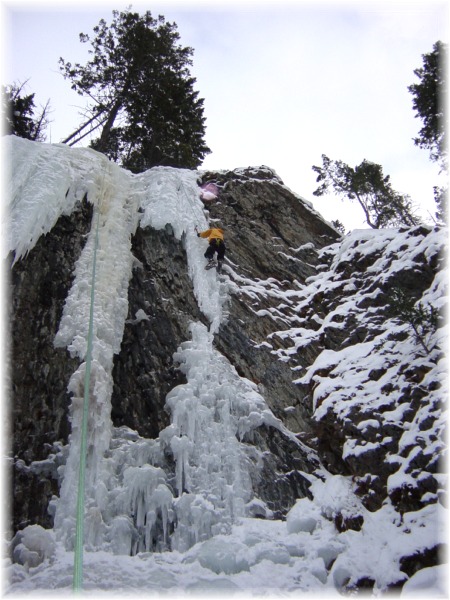 Brett higher on the same line.

We return to the car as daylight fades and peer up at Hangover and what we think is Genesis 2, our planned objectives for the next day. After a celebratory beer, we drive the Road, much better due to all the climbers driving in, and return to the Royal 7. Dinner is had at Frontier Pies, right next to the motel, though I'm too stuffed to partake of their showcase "Jumbleberry pie".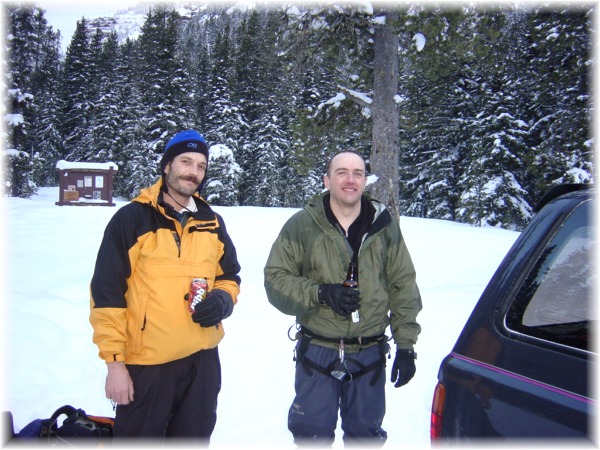 Back at the car. My holiday season experimental Costco cinnamon roll diet is showing...

Sleep comes easy and I'm feeling pretty good at 4:10 AM. We pack the ropes and racks, then load the rest of our gear into the car. One last breakfast at Perkins and then Brett volunteers to drive the Road. Unfortunately for him, it is in its worst condition yet. More snow combined with high winds has completely obscured yesterday's ruts, and the snow is so deep that in places the car plows it up over the hood. At the end of the reservoir bridge, where the worst of the driving begins, we stop and chain up for the first time.
Powered by chains all around and four-wheel low, Brett expertly pilots the 4Runner to the trailhead. Then, perhaps fueled by adrenaline, he breaks trail in the fresh snow to the base of Genesis 1. Eric and I happily follow along behind him.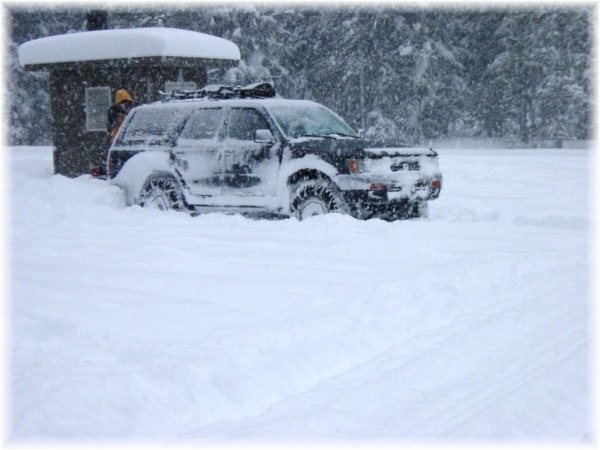 The scene at the parking lot on Monday. No crowds today.

On Sunday I made three laps on G1: One to finish a lead, one with only a right-hand tool, and one with only a left-hand tool. There seems to be only one step left in the progression, so I don my points and solo up. I set an anchor near the lip so I can watch Eric and Brett climb and take some pictures.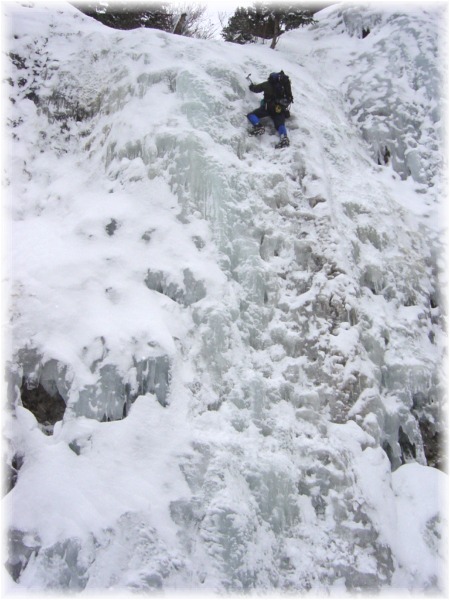 Free solo on Genesis 1. Photo by Eric.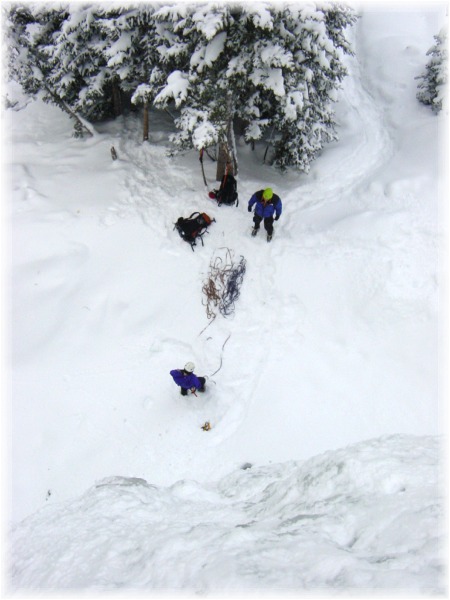 Eric and Brett at the base of Genesis 1.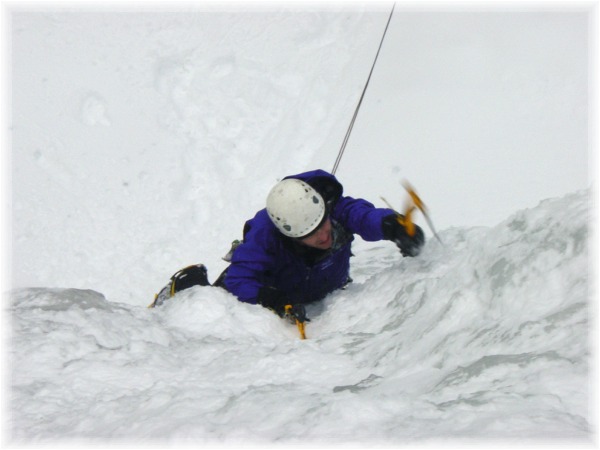 Eric looking for a first-swing stick on lead.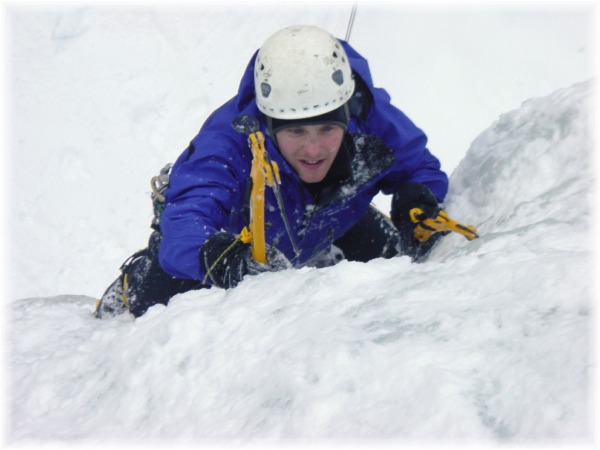 Concentration.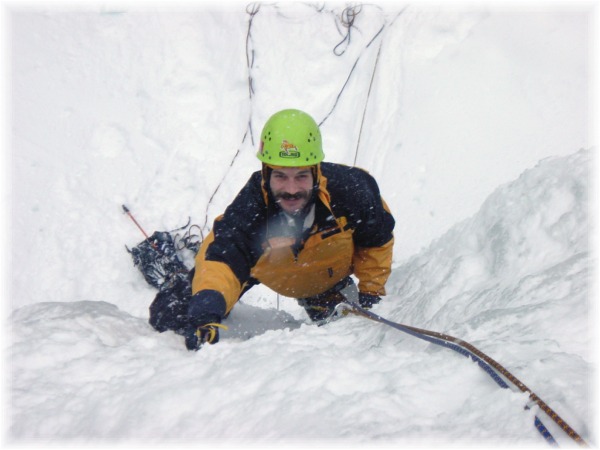 Brett following G1 with a smile on a snowy morning.

Brett continues as snow-plow-of-the-day and trenches us a path up to G2. In places the snow is mid-thigh or deeper, but Brett's at the base puffing on a Camel when Eric and I catch up.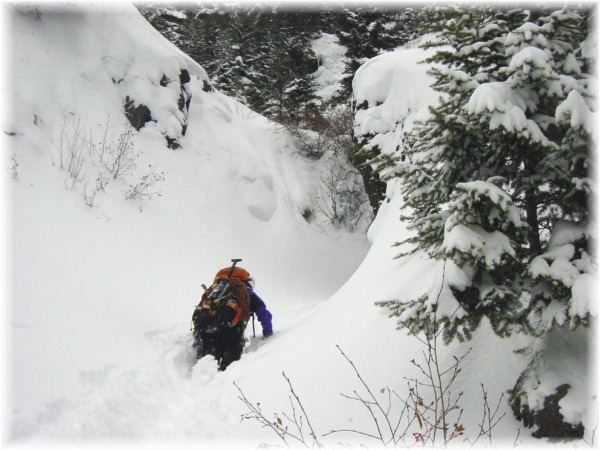 Eric wallowing on the approach to G2.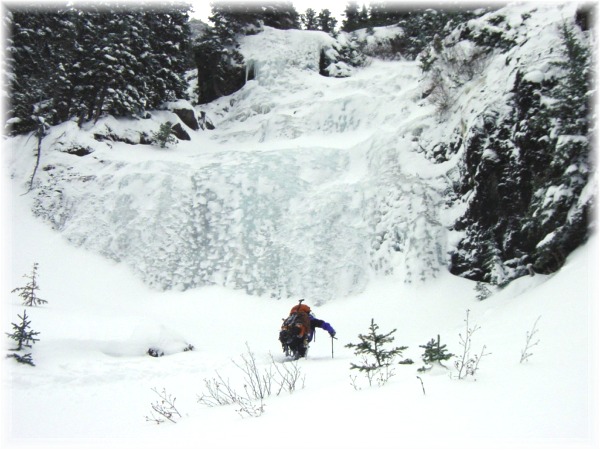 Eric wallowing below G2.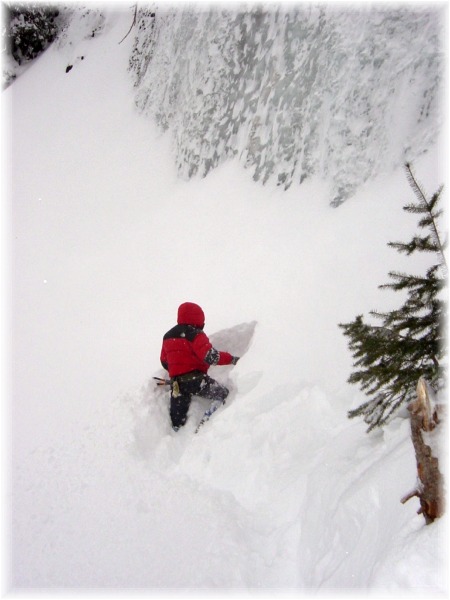 Me tunneling to the ice. Photo by Eric. See the video by Eric here (Windows Media 9, 1.7Mb).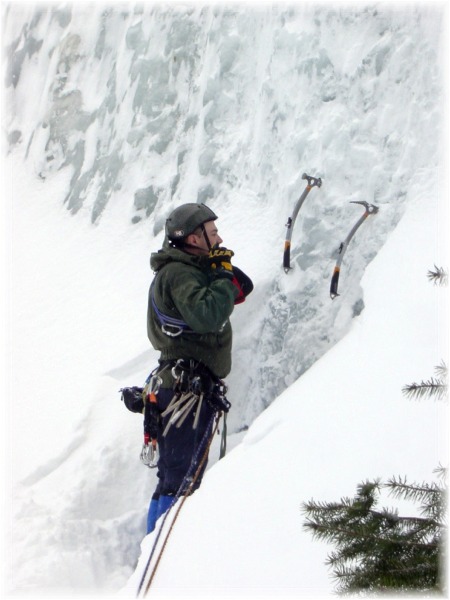 Me finally getting ready to climb. Photo by Eric.

I take the lead and feel good on WI3+ terrain. Two screws and the fixed gear in the cave gets me to the trees at the top. I've clipped only one of the ropes into screws, so Brett and Eric are able to follow at the same time on separate lines. They come up, then I rap down on one line. Beta: This is a 34 meter route, so if you try to rap on one 60 meter cord you will have an unpleasant surprise when you start over the last steep bit, even with rope stretch. Of course, I didn't know this until I was hanging ten feet off the deck with a foot of rope in my hand. Thankfully though, the 'deck' consisted of neck-deep powder. I rap off the end of the rope and make a lovely face-plant crater into the snow. I yell up to Brett and Eric to extend the anchor, which allows them to avoid my experience.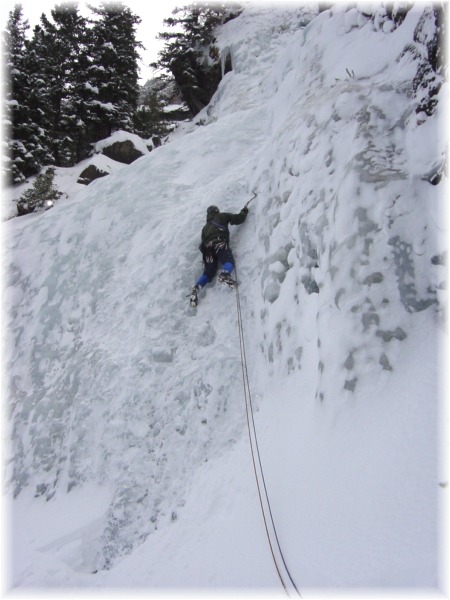 Me enjoying a lead with a soft landing. Photo by Eric. See the video by Eric here (Windows Media 9, 2.3Mb).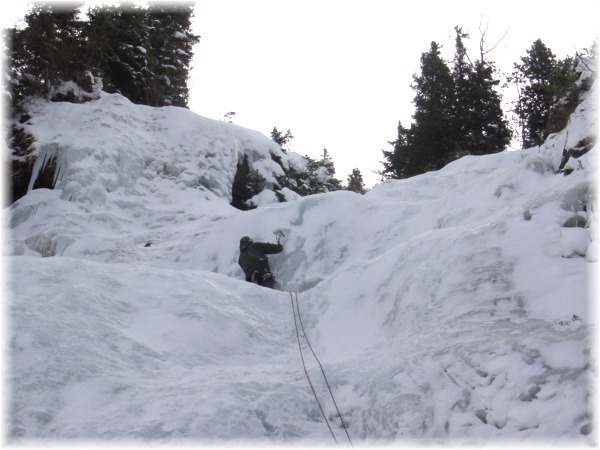 Mid-way on lead. Photo by Eric.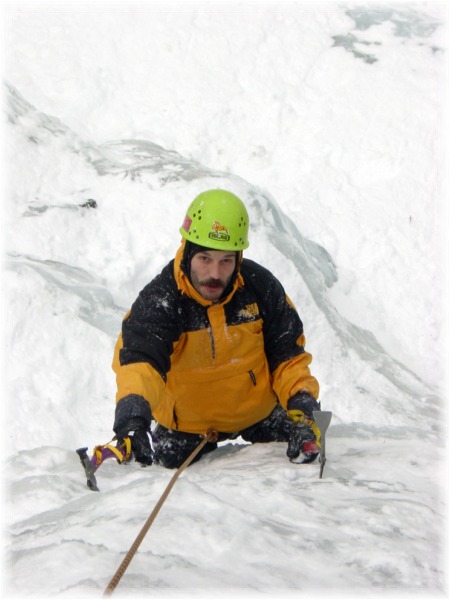 Smoker near the top of G2, having run out of patience with the paparazzi.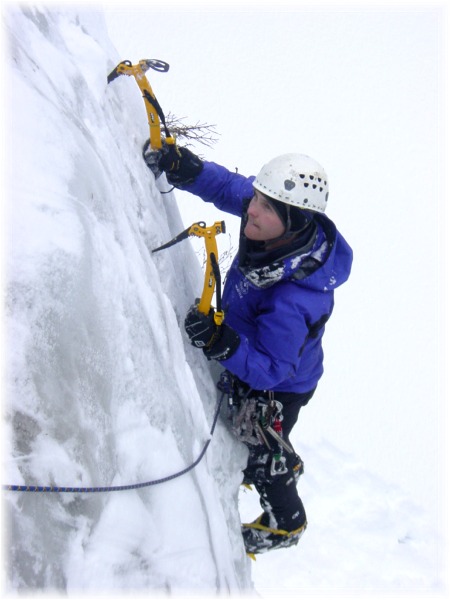 Eric concentrating near the top of G2.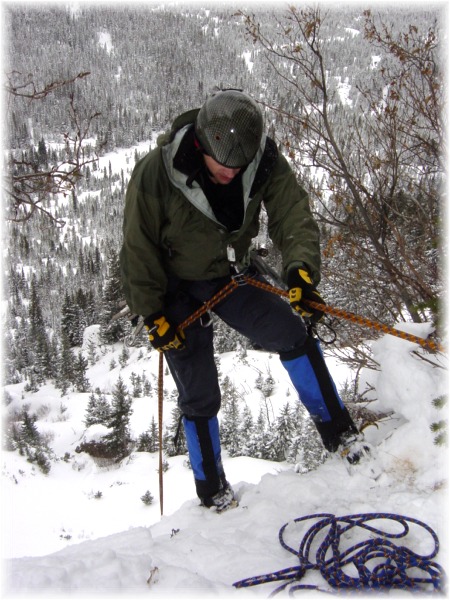 Me starting the face-plant rappel.

We each take a second lap and then return to the car. Eric is elected to drive, as he has yet to experience the joy of driving the Road. We catch him repeatedly letting go of the steering wheel to shake out as successfully navigates the snow drifts back to the plowed section of the road.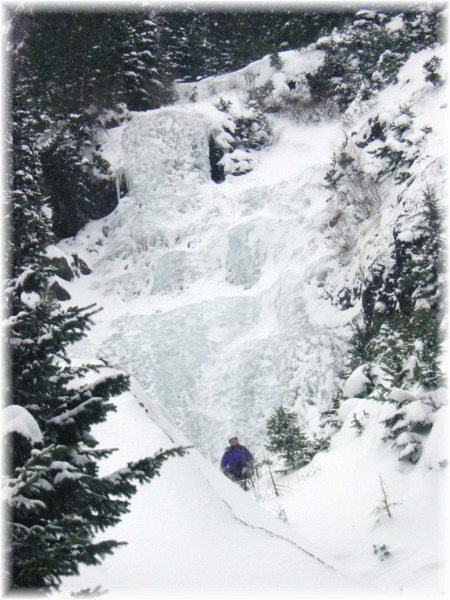 Eric descending below Genesis 2.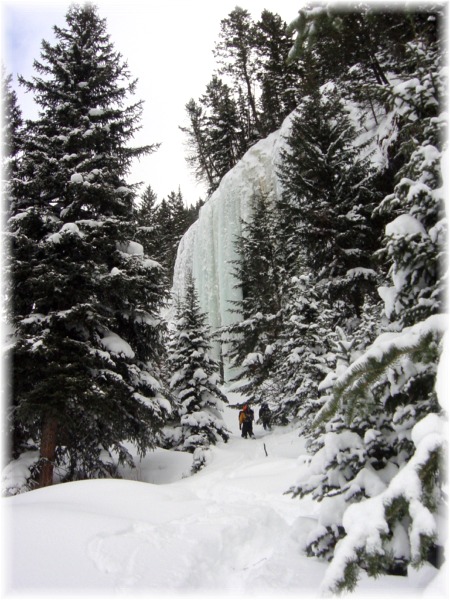 Brett and Loren returning to the car via the Diversions. Photo by Eric.

When we stop to take off the chains, we discover that the trailer hitch connector had come loose and been torn off its wiring harness. This has caused the dash and running lights to malfunction, as a State Trooper points out after pulling us over east of Missoula. He's cool though- he just wanted up to know they are out and doesn't write us a ticket. At the next exit Eric discovers a blown fuse which, once replaced, returns us to a fully-lighted state.
Fussing with the chains, the fuse, and stopping for dinner makes for a long drive home. I draw the last driving shift and pull into my driveway at 3:30 AM.
This was another great trip in a season with very little, but excellent quality ice climbing. Thanks to Brett and Eric for being flexible, braving the Road, and enduring my idiosyncratic personality.