Ice Climbing
2002-2003 Season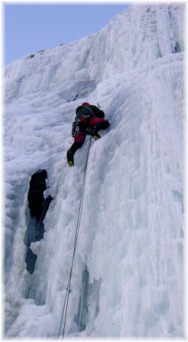 Pitch Count: 42
February 10, 2003
Managed to sneak in another trip to Hyalite. More stellar ice, with equally exciting road conditions.
January 14, 2003
Got lucky with weather and conditions and snuck in a Drury climb. This season is shaping up to be a bust for ice.
December 3, 2002
El Nino has arrived again this year, bringing uncharacteristically clear and warm weather to the Seattle area. Our usual early-season trip to Lillooet was scrapped in favor of a trip to Hyalite Canyon outside Bozeman, Montana. When will winter arrive and provide us with local ice and skiing?