Oregon Odyssey
February 19-21, 2005
"Holy Shit! What a dream I was having! Louis Armstrong was trying to kill me!"
"Shut it!"
We thought about Adams, but opted for Oregon. "It never rains at Smith", I was told.
We leave my house about 6:00 AM. Hannah, in good spirits, is driving. The further south we get, the more clouds we encounter. The view of Adams is stellar, but Hood has an odd cloud cap. It's partly cloudy when we get to Smith, just after 11:00 AM.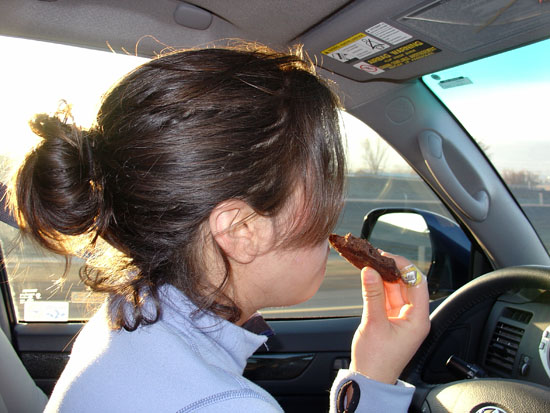 Chocolate cookies for breakfast!

We wander a bit, and then warm up on an easy face route opposite Sky Ridge at Asterisk Pass. It sprinkles on us there.
We amble over Asterisk Pass where Hannah leads another bolted face climb. It's sprinkling when she lowers off. I start up and so does the rain. I clean and rap off. We sit under an overhang and wait for the rain to stop. It doesn't. We give up and head for pizza.
The pizza place is overrun, so we get it to-go and head for the Grasslands. We have no problem finding a spot. It's not raining when we arrive so we immediately setup the tent, then eat dinner.
The temperature drops and the wind comes up, revealing my tent setup work to be shoddy. The stakes on the windward side pull up and the usually spacious tent gets smaller and smaller through the night. At one point I wake up and see that the ends of both of our sleeping bags are hanging out the open lee tent door, which is filling with snow. Eek.
I'm not especially motivated in the morning. Hannah eventually wakes me up. We pack up and head for Bachelor for some skiing. The drive from Bend is a pain due to:
Excessive round-abouts. Whose idea was it to build all those stupid things anyway? At one point I didn't know which way to go, so I just kept driving around and around until I spotted a pedestrian to ask.

The icy, snowy, crushed lava-covered road. The shit they put on the roads down there isn't sand, it's small windshield cracking, paint chipping rocks.

The dude who was white-knuckle driving at 15 MPH on said road. The traffic was so backed up behind him that I couldn't see the end of the line. Thankfully we were finally able to get around him, but it would have been nice if he had simply pulled over and let everyone go past.
Anyway, we finally get to Bachelor. Hannah doesn't feel like skiing in the low visibility and amongst the crowds, so she naps and chills in the car while I ski for a few hours. The summit didn't open, so only the easy or moderate lower terrain is open. I ski a bunch of different runs, but they all feel the same to me. I go back to the car and we head for Timberline Lodge.
The weather is still pissy when we get there. We sit in the car a long while debating about what to do. The weather reports call for an improvement. We talk about driving back to Seattle, but settle on staying at Timberline, getting up to try for the summit and if the weather is bad, going back to sleep and lift skiing the next day.
We get lucky and score the last room- I'm in line just in front of another group that is also looking for a room. We unload climbing gear and pack up. I'm feeling really tired and climb into bed around 8:30. Hannah debates about going to find some dinner, and then loses energy and picks from the remaining five beds in the room.
I feel so happy to be in a bed that is a warm, cozy bed, and excited about climbing, that I can't sleep. I'm comfortable and enjoy that half-awake pre-sleep daze. Then Hannah makes note of the noise coming from the hall, which in my semi-catatonic state, I hadn't noticed. They get louder and louder until I finally walk across the hall and ask them to close their door. They are quiet for a while, then get very loud again. I ask them again to keep it down, and then roll off to sleep.
As usual, I don't hear the first alarm, but Hannah takes the opportunity to wake me from a deep sleep with a mischievous twinkle in her eyes. I close my eyes again and sleep through the second alarm. at 1:38 I finally get my lazy butt up and get dressed. I wander to the end of the hall to check the weather and accidentally discover the hot tub. Oh, and the weather is perfect: A still, clear, star-filled, moon-lit night.
We dawdle a bit and, after retrieving some gear from the car, skin away from the lodge under unreal moonlight at 3:00 AM. I like to tell Hannah that she has only two speeds: Stop and race. We reach the top of the Palmer lift at 4:26 with me huffing and panting. We slow the pace a bit and arrive at Illumination Saddle at 5:15. Until we crossed into the moon shadow cast by Illumination Rock, we hadn't needed headlamps. I'm really glad to have skis- the fresh and wind-deposited snow is very dry and powdery: It's hard enough to skin on and makes for tedious walking. There is a tent at Illumination Saddle, but they are up, so we don't worry too much about talking and clattering about near them. We decide to pack up the skis and continue on foot. It's 6:15 when the break ends and we cross over Illumination Saddle onto the upper Reid Glacier.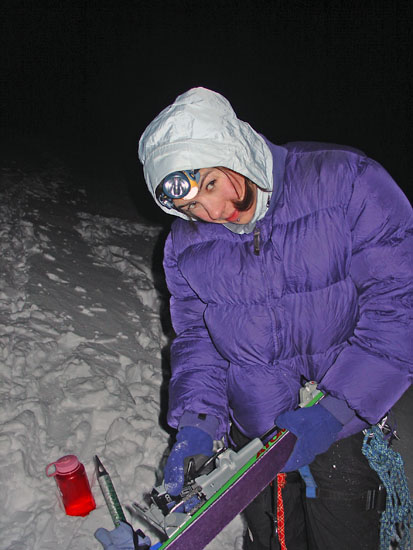 Break time at Illumination Saddle.

The moon is now a red-orange ball as it sets. The snow is knee-deep dust. We slow even descending the Reid to duck under the buttress that hides Leuthold's Couloir, and once we turn and start up, we really slow down. The snow is dry, loose, and knee-deep for about 500 tedious vertical feet. We go straight up, and then traverse across to the entry to the "Hourglass". This narrower section of the couloir is snow-scoured and much firmer. Though I'm tiring, we make better progress now.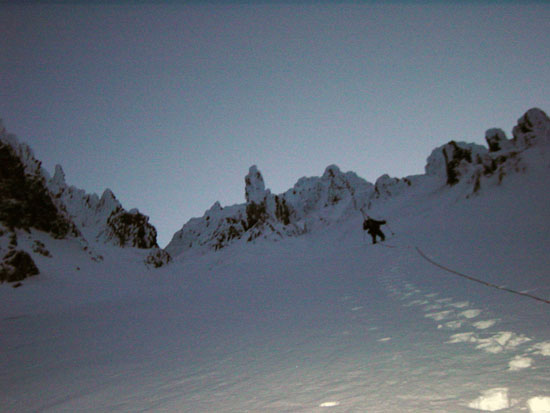 Postholing at 6:45 AM. Photo by Hannah.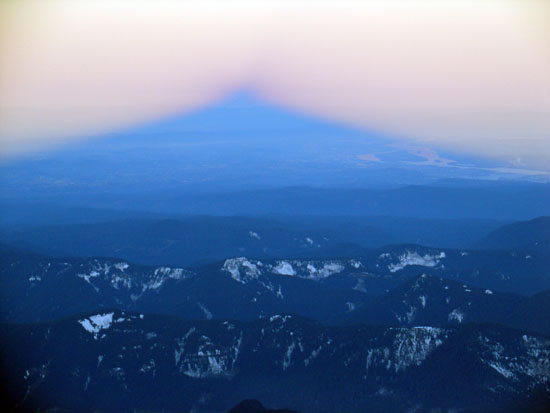 Mountain shadow at sunrise.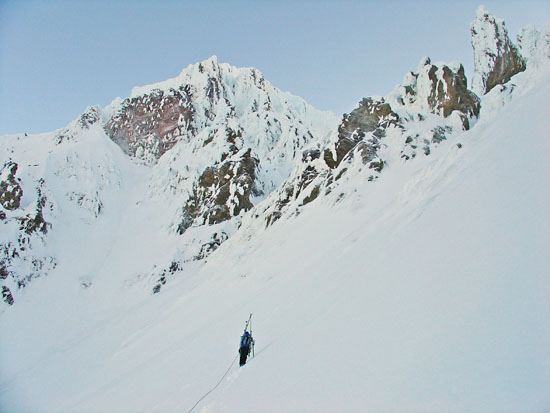 Hannah traversing toward the Hourglass. Yocum Ridge's "Upper Buttress in the background.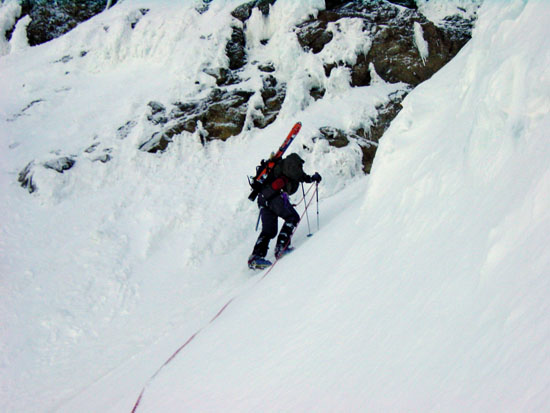 Starting up the Hourglass. Photo by Hannah.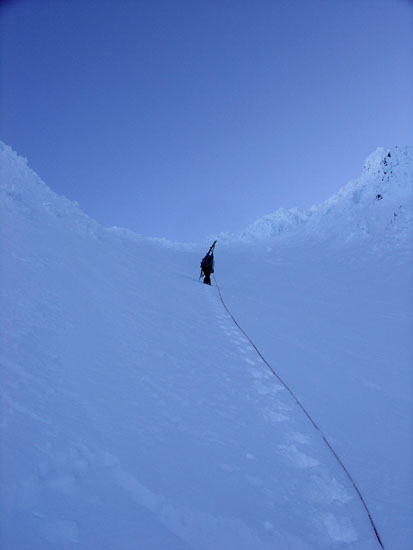 Hannah the posthole machine trying to kill me.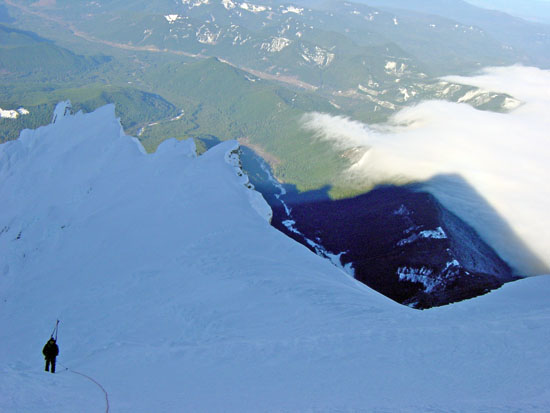 Me getting killed, and shadow of Hood. Photo by Hannah.

The upper section of the couloir fools me: Above the hourglass the top of the couloir looks to be only a few hundred feet higher. But Hannah leads up for 700 vertical feet to a break just under the summit ridge. We have a snack and get out sunglasses, and then make for the ridge. The last few hundred yards across the summit ridge are wonderfully exposed and fun, and we soon walk onto the summit...alone. It's just after 9:30 AM.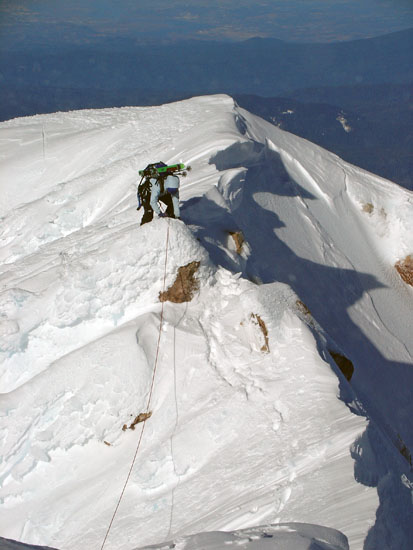 Hannah at a remarkably exposed step along the summit ridge.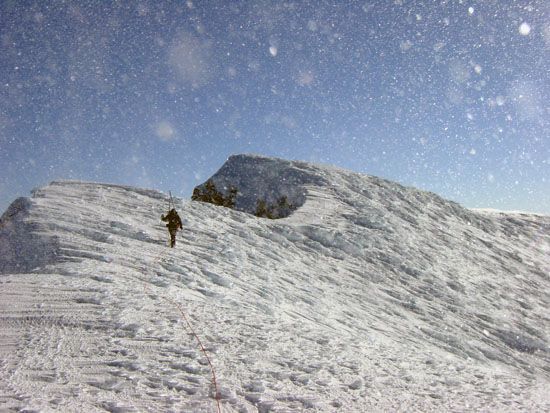 Almost to the summit amidst wind-blown snow. Photo by Hannah.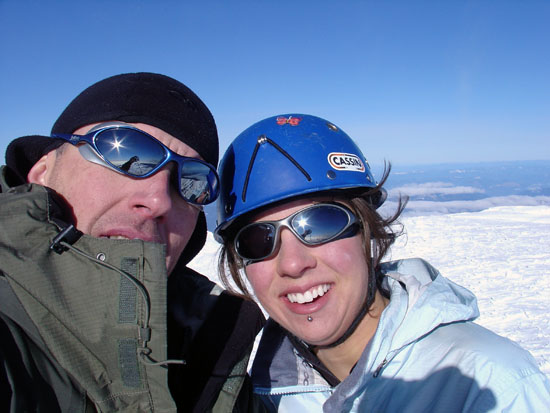 Goofy people on the summit.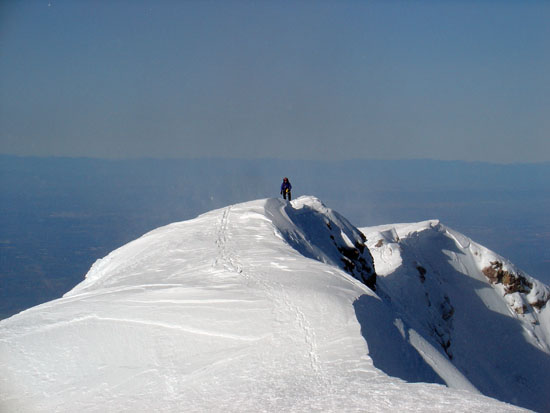 Solo-dude on the summit ridge.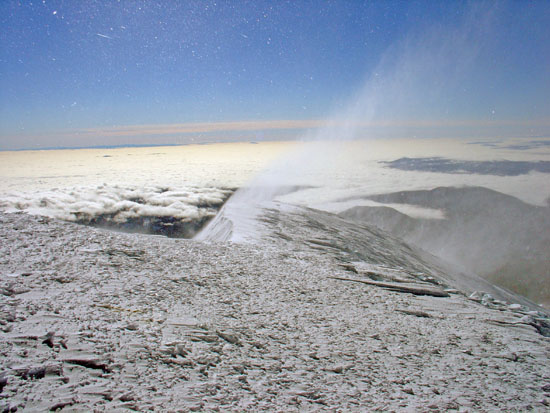 Spindrift blowing up the east side of the summit.

The wind is up, but not bad, so we can sit and enjoy the morning. A solo climber who'd been following us since Illumination Saddle arrives. We have fun taking a few pics of him traversing along the ridge.
And then it's time to depart. I'm happy to be putting on my feet the skis I lugged up the deep snow at the base of the couloir (and the rest of the route). The conditions through the Pearly Gates is not great for skiing, but also the best I've seen in three ski descents. Below the Pearly Gates I'm able to link some turns on the north side of the Hogsback in slightly chunky wind-affected snow.
I wait for Hannah at the Hogsback, and watch weary climbs trudging up in the loose, soft snow. Life is good.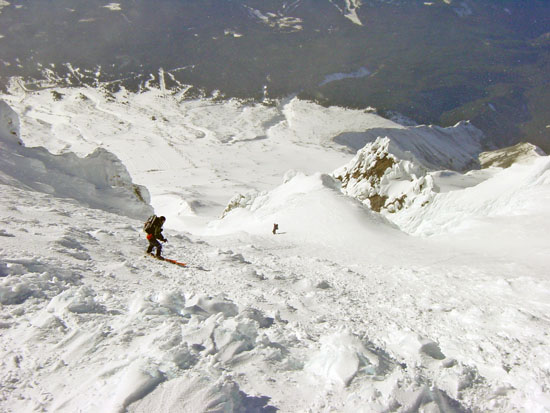 Tentative turns in satrugi. Solo dude below. The "Miracle Mile" and Timberline far below. Photo by Hannah.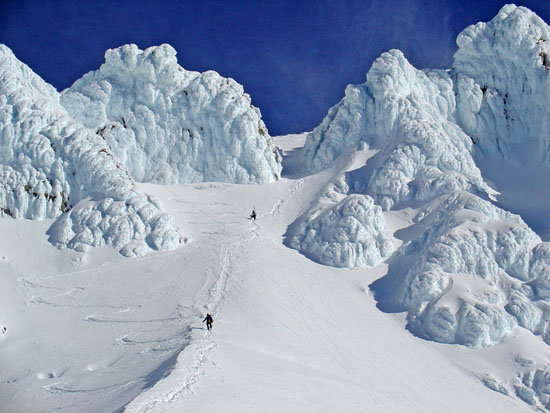 Hannah (top), Solo Dude (bottom), and my sloppy turns (left) along the Hogsback below the Pearly Gates.

Hannah joins me and puts on her skis. We take our time on the way down- it's Hannah's ninth time on skis, and we're in no hurry. The day is near-perfect and the upper Palmer lift is carrying skiers to the 8500 foot level. We reach the groomed slopes. Now I have one thing on my mind: The hot tub I discovered at 1:45 AM.
It's as good as I hoped, and I enjoy a long soak before we pack up and load the car. We have a bit of lunch in the bar, marveling at people descending the Hogsback in the afternoon.
We have dinner in Portland at Hannah's favorite Thai restaurant, though we aren't able to meet up with her friend. She's disappointed, but seems to enjoy stir fried vegetable with tofu and rice paper rolls anyway.
The drive home is tough, as the day catches up with me. Not even Red Bull perks me up. Though it's only 10:30 when we get back to my house, we're both too wiped out to even unload the car.
Yet another great trip full of laughs, adventure, and general silliness.
Thank you, Hannah. And thank you Random and Omnipotent Goddess of Northwest Weather, for Monday at least.