Thayer Glacier Headwall/East Face
May 13-15, 2004
Once in a great while the planets line up and something remarkable happens on a climbing trip. Of course it's about the route and the weather, but it goes deeper; into the intangible: I feel wholly and completely aligned in my purpose, unconflicted, and things work effortlessly with my partner.
That is the essence of this trip: We laughed a lot, sometimes about things obvious, other times at the absurdity of nothing at all. We climbed and relaxed in synchronicity. Oh, and I finally got to the top of North Sister, damnit!
The Nuts and Bolts:
We drive from Seattle to Redmond on Wednesday night, staying at the Motel 6 because I have work to finish that requires Internet access. In the morning we sleep in and then head toward the Pole Creek trailhead. Hannah, who had forgotten to mention that she can't drive a stick, boldly drives the last three miles to the trailhead, including a hilarious scene where she stalls the car no less that ten times in front of a crew of salvage loggers before I realize she has the car in third gear. Back in first, she gets it going and the loggers cheer and applaud. Parked at the trailhead, I demonstrate my well-honed organizational skills.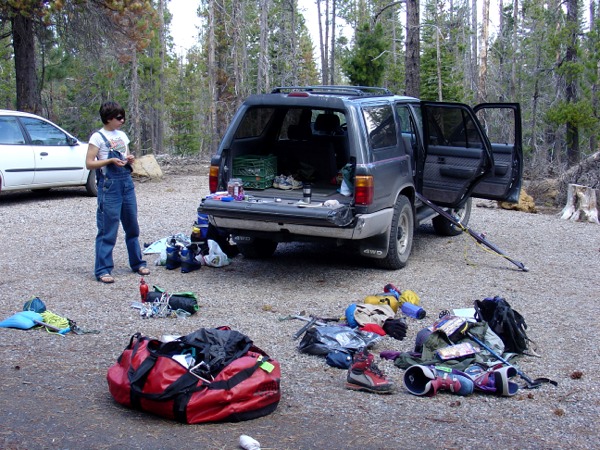 Packing, Loren-style.

I wander around my gear heaps for a while, slowly packing while Hannah watches silently from a neatly stacked pile, an amused smile streaking across her face.
Eventually all my debris is either back in the car or on my pack. Though it definitely weighs "failure", I shoulder it with a smile and excitedly start up the trail.
At the registration box I start to fill out the form when Hannah points out that registration isn't required yet. I think to myself, "Yep, we're going to get along just fine, as long as I can keep up with her."
There is less snow on the trail than the last several trips I've made here, and we make reasonably quick progress. Though I've always started up off trail and cross country well before Soap Creek, we walk all the way there and then cut up toward the Southeast Ridge of North, where we've agreed to make camp.
North and Middle Sister make infrequent appearances, hiding bashfully in the trees. For the last week I've been feeling like this might actually be the trip where I make the summit of North, which for years I've referred to as my "Mountain Nemesis". My excitement propels me along, and I can almost keep up with Hannah, the self-described "Posthole Machine".
Eventually she calls a respite and I finagle extra rest time by switching into rando gear for skinning. On a sunny afternoon we make our way out of the timber and into the krumholtz.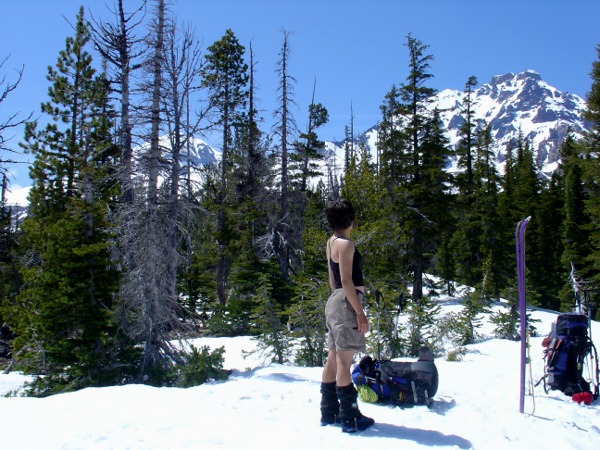 Break time: Hannah waits patiently while Middle and North tease us through the trees.

At 7100', 2:45 from the car, Hannah chooses a little stand of the stunted trees and we make camp. While one of us industriously digs and flattens, the other engages in an impromptu, unprovoked attack with pine cones. After several attempts, something reasonably close to a flat, level platform in the snow is created, and the tent is "made livable". For me this amounts to unceremoniously dumping in the contents of my pack, creating a scene not unlike that at the car. True to form, Hannah makes neat of her side. Imagine "The Odd Couple" living in a Bibler I-tent.
I settle into my Thermarest chair while Hannah hangs out of the test door, eyeballing North Sister. We discuss the route, the weather, the plan for the next day. I'm thoroughly enjoying that we have more time than is required for our objectives: I feel unhurried and therefore relaxed.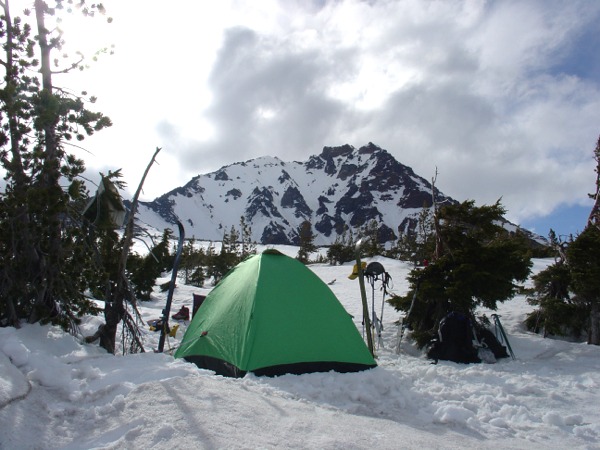 Charity, and our camp amongst the krumholtz.

After dinner Hannah asks about the Thayer Glacier Headwall. We climb into sleeping bags and look up at it through the binoculars. I'm far more motivated to make the summit of this mountain than usual, so I want to limit the chance that we'll fail. And I've also scrogged up and down the southeast ridge in my randonee boots twice, so the idea of avoiding a third go appeals to me. I spot an optional escape from the headwall to the ridge, and then there is just one more thing to cover.
"Hannah, I know we can climb that route, but if we belay pitches it will take forever, and we only have two pickets. We need to solo to make it go. Have you ever climbed anything like that?"
"No. But I agree. Let's try it."
I set the alarms for 1:30, 1:35, and 1:40AM. As usual, I wake up when the second alarm stops. At 1:40 I wake up Hannah, who mumbles unintelligibly and goes back to sleep. In the end we make a less than snappy, but perfectly adequate start, and walk away from the tent at 3:15.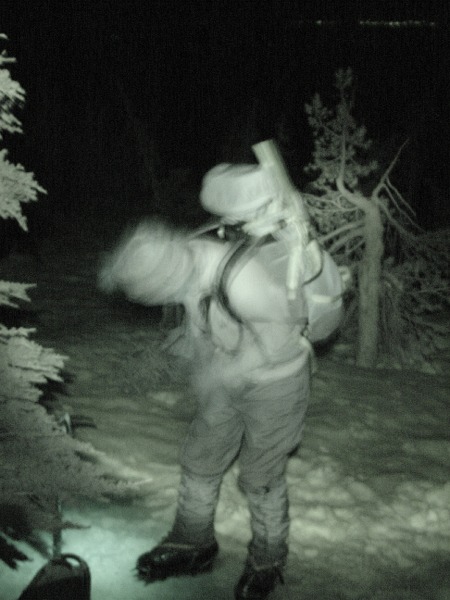 Hannah is a blur of movement at 3:00 AM.

The snow on the low-angle slopes is firm, and we're wearing crampons as we weave through the last of the krumholtz and a bit of brush- it strikes me comical to be cramponing through bramble.
The face looked close, but it isn't. We skirt around the edge of several deep moraines, finally stopping before the final push up under the face to adjust gear. We put on harnesses, and grab a quick drink and bite of food. We're both buzzing with excitement: Hannah's eyes are glittering like the starlight on the recent snow.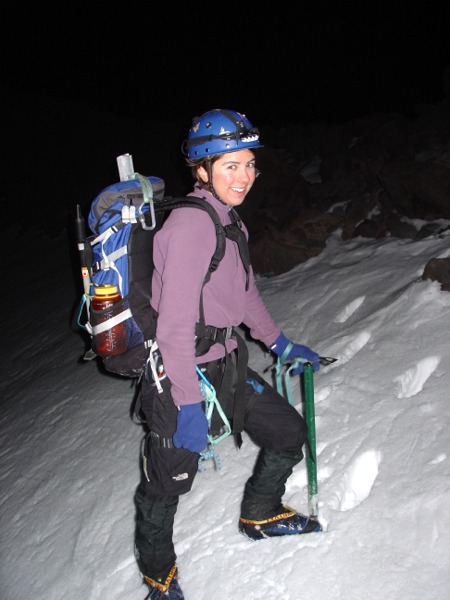 Mountain Stud Woman

Soon we're starting up the fan at the base of the face. Much of the rest of the climb is, for me, a delirious, smooth blur: Mirrored by the way dawn takes the mountains- continuous, subtle change characterized by few noticeable events, until suddenly the sun is up. Hannah led some, I led some. We stopped past the last bottle neck, before the rightward traverse, for a brief rest. I remember anticipating those magical few seconds where morning alpenglow transforms high places into an electrified playground of neon colors. And I remember stopping when it came to us, breathing it in, and feeling peacefully at home.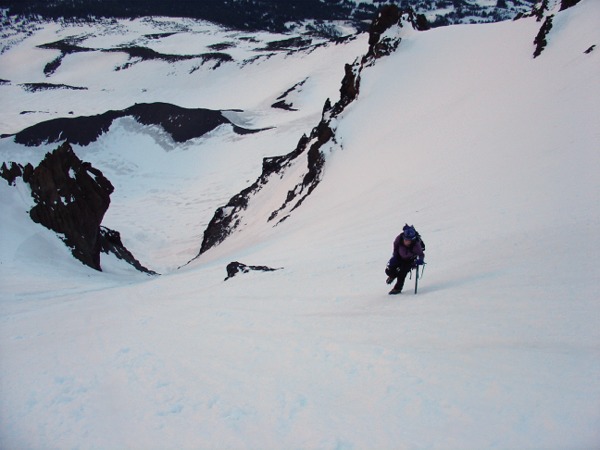 Hannah kicking steps in predawn light on the traverse.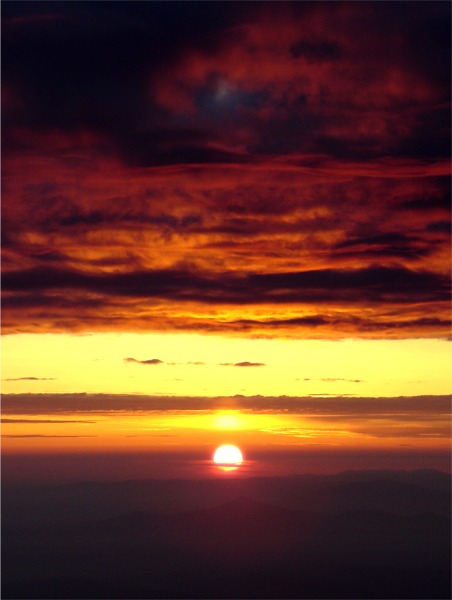 Sunrise of fire from the Thayer Glacier Headwall.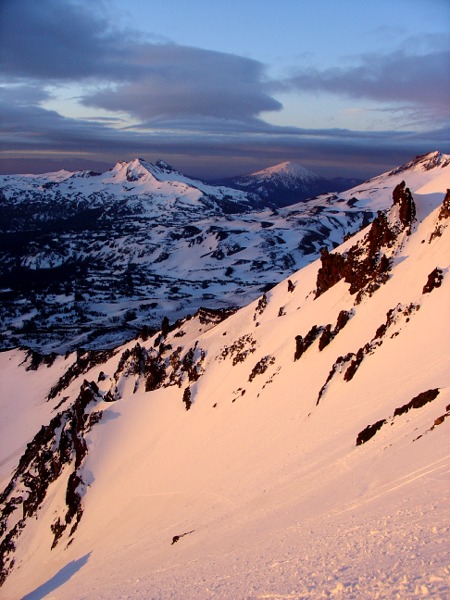 30 seconds of magic: Morning alpenglow on the Thayer Glacier. Broken Top and Bachelor in the distance.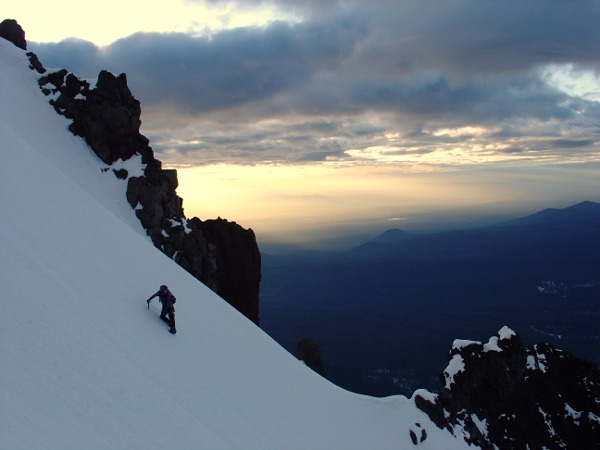 Hannah just below Prouty Pinnacle.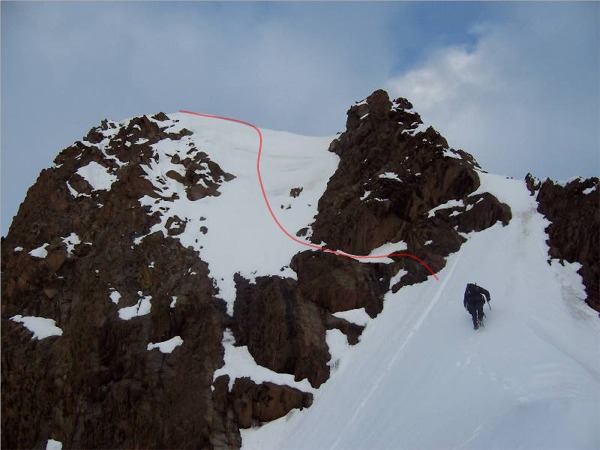 Me on the final summit slopes. Photo by Hannah.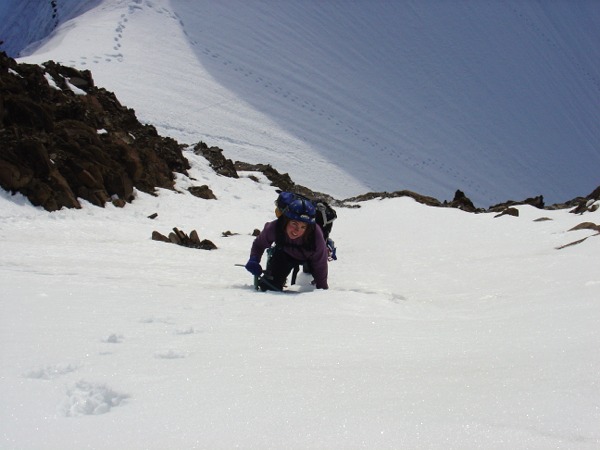 Hannah on the final pitch.

And shortly afterward we are on the final slopes below the summit, Prouty Pinnacle. The brief fifty degree snow slope to the summit is reached by a short rock traverse. Then, after all these years, miles, and effort, I find myself standing on the summit of North Sister, Charity, my Mountain Nemesis.
I still stammer when attempting to quantify the feeling I had. Not elation. Not happiness. Relief is close, but not it. Perhaps "stupified" is the best single descriptor. I try to take a picture, but my camera battery close to dead (I later discovered that it, and the two others I had, were dead because when I plugged the camera in to charge them, the charger was itself not plugged into the wall- yes, I'm brilliant).
When I anticipate difficult climbing ahead, I don't sit still well. This is, perhaps, the only time I have difficulty sitting still. When I look down the the steep, rimed west face of Prouty Pinnacle, I know this will be a short summit stint. Hannah is ansty too, and without words we agree to start the descent without really stopping on the summit.
A bit of meandering leads us to the most likely looking option. For the first time we break out the rope and build a belay. Hannah enters what will become a familiar mode while considering the downclimb: Quiet, contemplative, and buzzing with still energy. I toss in a few comments, but mostly try to shut up and let her have her process. She starts down, shrugging off my suggestion that she break out the second tool she's been toting. She is quickly down past the difficulty and I can see her tapping in a picket like she might break it. Now I do shout down some (inconsiderate) advice: "What they hell kind of girly swings are those? Use some mountain climber swings to beat that damn thing in!"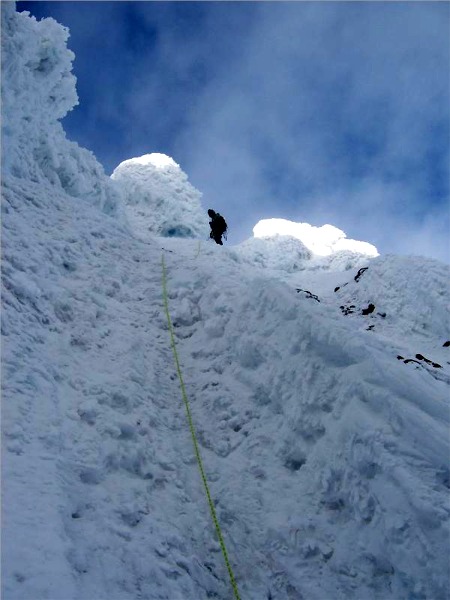 Me contemplating the Bowling Alley.

I'm smiling while I say it, and I remember seeing her smile, too, though perhaps I confuse what I hope to see with what I actually see. Nonetheless, she drives the picket home and hollers up that I am on belay. I break down my end, and downclimb...with both tools out. It turns out to be steeper than it looked: Easily AI2+. Shod in aluminum crampons, with a Grivel Lite Tech axe in one hand, I'm glad to have a solid Super Courmayer in the other. I'm impressed with Hannah's one-tool skill.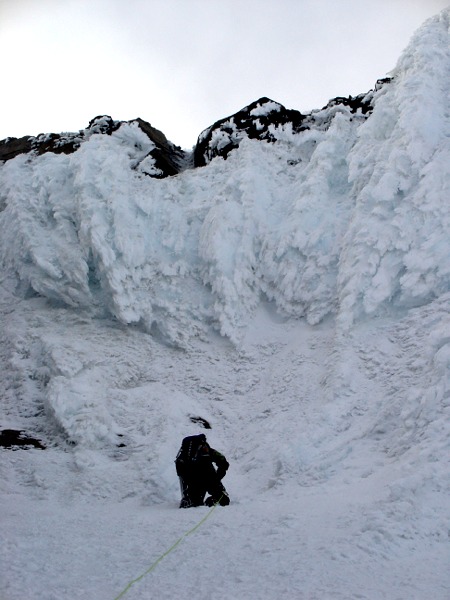 Hannah pulling the picket in an amphitheater of rime.

We swing a couple belayed downclimbs through the infamous "Bowling Alley" and then start off on the steep traverse. Hannah salves my ego by letting me lead most of the way back to the Camels Hump. There we take in coils and walk together to the split between the south and southeast ridges. Here we need to decide if we want to go across to Middle Sister, or back to camp.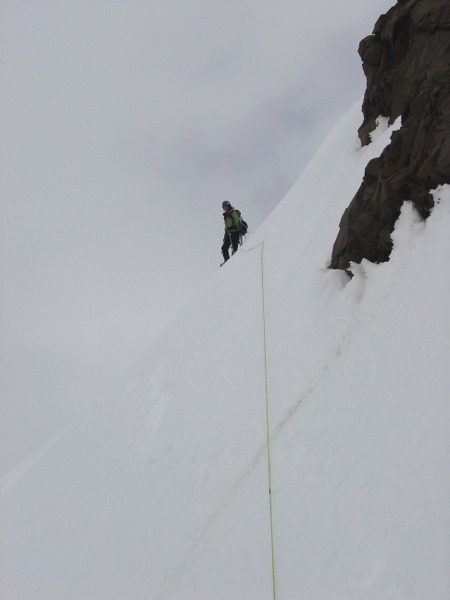 Hannah on the traverse.

The weather and our decision are unsettled. We relax into the scree for a delicious, extended quasi-nap. "What do you want to do, Loren?"
"Well, we've done what I really wanted to do. At this point I'll gladly follow along behind you, trying to keep up, wherever you want to go, fat, dumb, and happy with a big shit-eating grin on my face."
"The weather over there sucks. There wouldn't be a view. Let's go back to the tent."
"Okay."
Then she does something that I really appreciate: Nothing. Ten minutes of silence and then, "We're all the way over here, we should go do it. Yes, let's go."
Then ten more minutes of glorious nothing and silence.
"No, the weather sucks. Let's go to camp. But then what would we do? No, let's go to Middle."
My eyes shut, I hear her rise and squint up at here. Silent Hannah. She sits back down and ten minutes more pass.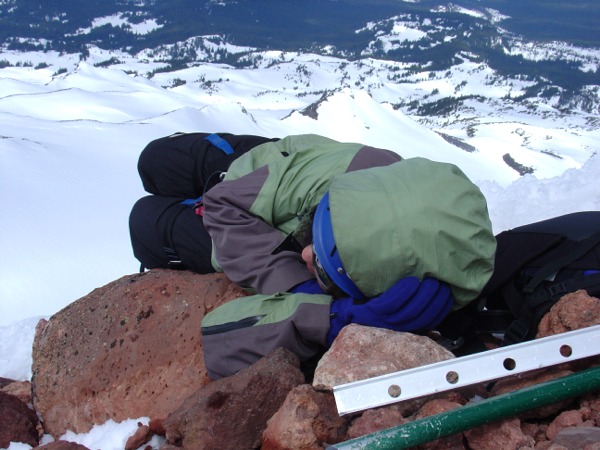 Zzzzzzzzzzzzzzz.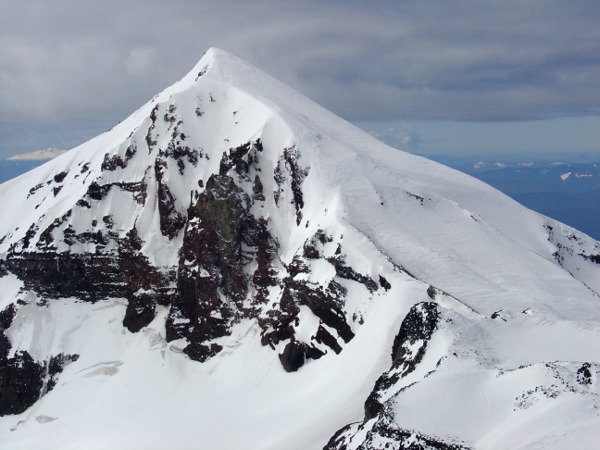 Middle Sister.

Then, almost in unison, we both get up and start down the south ridge toward Middle. The ridge is a choss-heap, but easy. A short, icy descending, traverse leads to a nice glissade where I demonstrate summersault technique with crampons and an axe. Hannah fares better and arrives next to me while I am still busy excavating snow from various unpleasant places.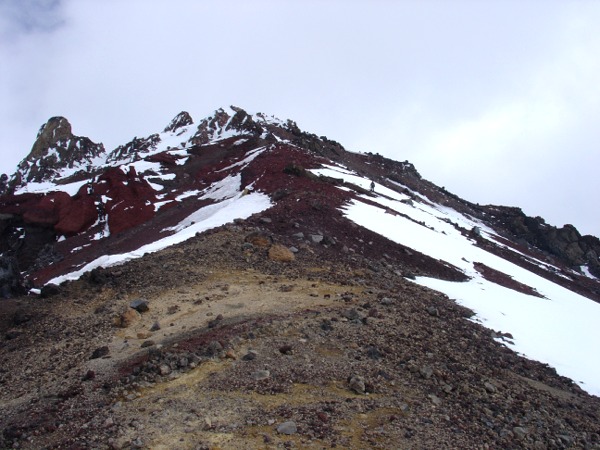 Hannah making her way down the south ridge of North Sister.

We traipse up and over Prouty Point, avoiding any atrocious postholing and arrive at the col at the base of the north ridge of Middle. A raven, perhaps the same one that visited our camp the previous day joins us. I toss him a bit of a Luna bar and mention that they are a bad omen. Hannah unleashes several snowballs in his direction, which she will later regret.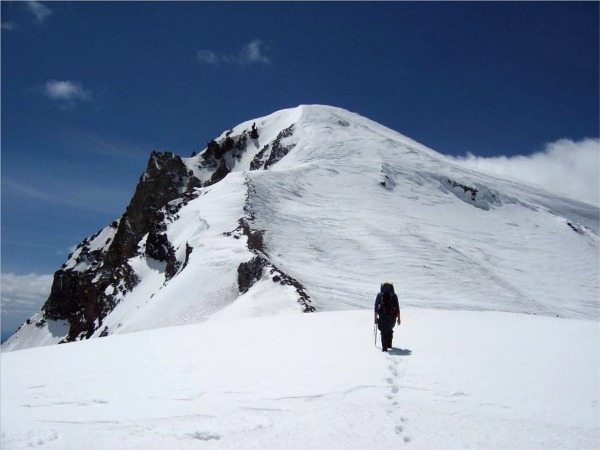 Plodding over Prouty Point toward the col. Photo by Hannah.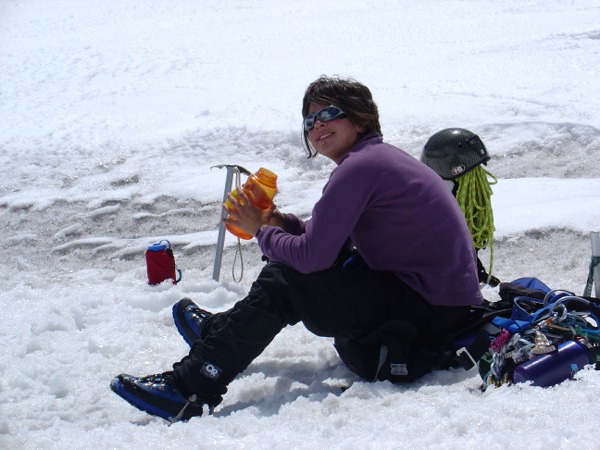 Hannah is all smiles at the col.

We leave most of our gear at the col and Hannah blitzes up the north ridge, once again demonstrating her prowess as a postholing machine. I lollygag behind, appreciating her enthusiasm which is now reminding me of how I used to be in the mountains. I'd forgotten.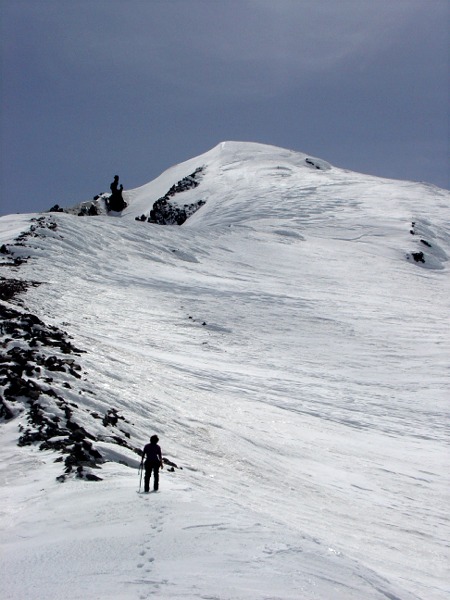 The Posthole Machine in action.

True to form, Hannah insists that I take the lead just a few feet from the top and I wheeze up to the summit. We sit on my pack, back to back for a while, largely in silent, mutual appreciation of a glorious day of solitude in the mountains. In what is becoming a familiar scene, we get up to leave, only to get distracted again. I lie down on the pack while Hannah constructs a snow man on the summit. Eventually I rise, we snap a few pics, and we start back down.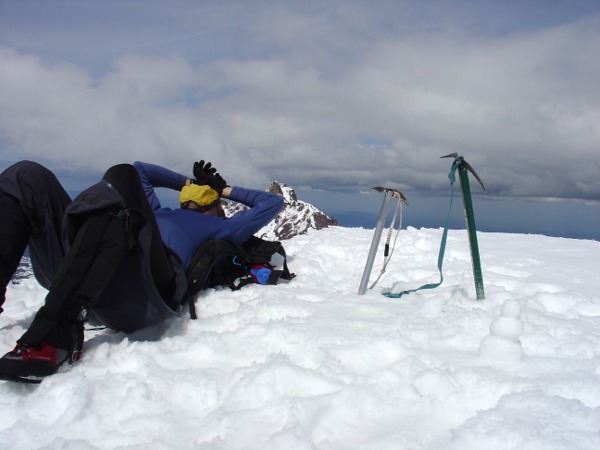 Someone get me a shortrope: Chilling on Middle Sister with North behind (literally, and, finally, figuratively). Hannah's little snowman highlights the foreground.

From the top we couldn't see the col. But as we round over the flattish summit and start down the steeper slope of the ridge we see that the ravens are throwing a party at the col. Our neat pile of gear is strewn all over by the resourceful birds.
Back at the col we find that the birds paid particular attention to Hannah's gear: While they poked at mine, they went as far as opening zippers on hers, and her food (including a green apple) is in half-eaten disarray. I chortle and admonish her for chucking iceballs at them while I provided food. She accurately reminds me that I had advised her that I really didn't believe that ravens were a bad omen and that harassing them would have no untoward consequences. Though she mourns her apple (I'm mostly amazed she chose to haul an 18 pound apple up a volcano), she is a good sport. We clean up and head down the Hayden Glacier. Now I'm missing my skis, which I opted to leave in camp when we changed routes from the Southeast Ridge to the Headwall. Despite her shorter legs, Hannah rockets down the odd arete on the glacier, through the moraine, and up the tedious slope back to our camp. I smile smugly as we find it easily. Years ago, on a solo trip, I'd been forced to get the GPS out to locate my bivy in one of the many stands of krumholtz. Having learned from that, I've adorned the trees near our tent with an array of decorations: A pair of pants, a Thermarest chair, the shovel...
I feel good back at camp: Satisfied, happy, and at peace. The weather is still nice and I sit in the chair melting water and making dinner. I discover that Hannah is a pasta connoisseur and is quite particular about the firmness of noodles. She sits in the door of the tent looking up at our route, and samples the noodles until she is satisfied.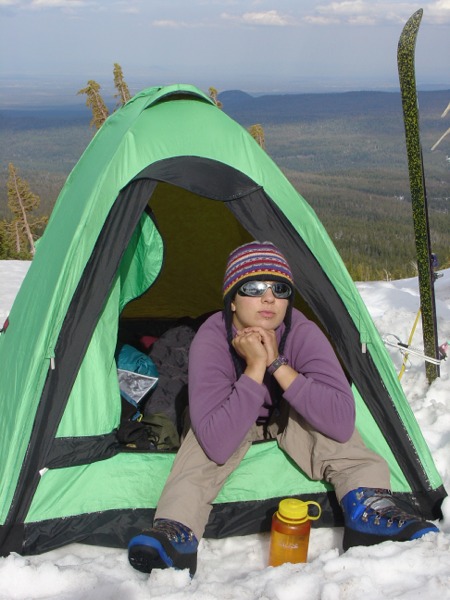 Mountain dreaming.

Dinner ensues and shortly after we climb into the tent. Tonight Hannah is first asleep and I lay awake for a couple hours basking in the joy of the day.
The weather shifts overnight, making our morning decision about South Sister easy: We pack up and head down. We cross Soap Creek higher up, leading to a moment of navigational ineptitude on my part, when I thoughtlessly cross it again at the bridge. I guess some part of me wanted to go back up and climb South Sister. Wrong-way Loren soon sorts things out and we locate the trail. The walk out is accentuated by a remarkable number of pine cones spontaneously falling from trees at the precise moment I walk under.
Back at the car, I indulge in a few beers then discover that I cannot cajole Hannah into another stint behind the wheel. I'm well-behaved though, and don't drive in a way that causes to her rue her decision to let a dehydrated lightweight with a buzz to take the wheel.
Pizza is had in Bend, where begins the great camping debate. I'm lobbying for Motel 6 and a hot shower. Hannah is nothing short of devout in her advocacy for camping at the Grasslands. Anticipating a day of climbing on painful nubbins we pay a visit to the (new?) Redpoint shop in Bend where I pick up a pair of comfy Spires and a few cheap Metolious holds for my climbing wall. After a discussion about what constitutes "a color", Hannah scores a black tank top. Shortly afterward, she wins the great camping debate (though I will continue to whine about it for many hours) and we stop at Albertsons for provisions: A half-gallon of Tagalongs ice cream.
We've put quite a dent in it by the time we stop off at Redpoint in Terrebonne (we can't *not* stop at a gear shop, can we?). We debate about who will pay for the Smith guide that we need, eventually putting the dude in the shop on the spot by both tossing plastic on the counter. I win and we drive off toward the Grasslands. I've never been there, but Hannah assures me she knows the way. Let's just say that "I know the way" may not mean to Hannah what it means to the bulk of the English speaking population of the planet. But to her credit we do eventually get there, though not without a lot of acerbic commentary on my part:
Hannah: "What does that sign up there say?"
Loren: "It says, 'Welcome to Idaho.' Is the Grasslands in Idaho?"
Hannah (amid laughs): "Oh, shut up!"
We sit in the car for an hour looking at pictures (and polishing off the ice cream), then put up the tent. Eventually we find ourselves standing near the tent staring up at the stars, in silence. So quietly, in fact, that after about 20 minutes I'm sure Hannah has walked back to the tent. I'm pleasantly surprised when my contemplation of the cosmos ends and I turn to find Hannah still five feet from me, gazing up at the night sky, deep in what I've started calling "Hannah Mode".
She's up first in the morning and we make busy packing and racking for a day of cragging at Smith.
I've convinced myself that I don't like climbing at Smith, land of 5.9 holds the size of an M&M and first bolts 25 feet up from a bad landing. Hannah hasn't led, so I'm anticipating a day of rope gunning. I underestimated her resolve.
We climb 7s, 8s, and 9s all day. Hannah leads every pitch save one: Lycopodophyta (which is a variety of moss, not a word related to fear of rabbits). On my lead I enjoy one hang and place more than enough gear to aid the imposing 5.7 finger crack (I so suck at crack climbing), though Hannah refuses my call to send up the portaledge. We wrap up with a lap on Five Gallon Buckets, which is just a stellar, fun pitch of huge huecos. At the end of the day we've each climbed about nine pitches, including some TR laps on a couple routes. The day stayed cool, with a bit of overcast and a short spell of drizzle while Hannah contemplated leading Bunny Face (she cruised it).
Food. Pizza again, this time in Redmond. Hannah loves cheese pizza. Just make sure nothing green sneaks onto her side.
The drive home is near-effortless. We enjoy a beautiful sunset behind Jefferson and Hood, as we make our way through the desert on Highway 97. Red Bull, Frappuccino, and caffeinated breath mints (James, that care package is still seeing use after all these years) sponsor my extended awake-ness. I spend the last hour of the drive in constant amusement at Hannah's refusal to sleep despite continuous head-bobs. We roll into my driveway at 1:15 AM, just as "Who Are You?", the last cut on the "Best of The Who" CD ends.
Half-asleep already, Hannah's resolve to drive 90 minutes home from my house dissolves and she crashes on the sofa bed.
Quotable quotes and sound bites from the trip:
| | |
| --- | --- |
| | Brushing your teeth, eh? |
| | My mother says I'm a picky eater, but I don't think so...but she could be right. |
| | Oh, you have a stick. I can't really drive a stick. |
| | Chipmunk water. |
| | Uh yes, I'm, uh, certain that you didn't run over it. |
| | Lookie: There's a pine cone in my boot. |
| | What other volcanoes? |
| | Can I borrow that Leatherman again? |
| | What are you thinking about? |
| | What's this green stuff on my side of the pizza? |
| | Of course I know how to get to the Grasslands. |
| | The unmentionable result of overdosing on Cytomax. |
| | Hannah, are you awake? Yes. <30 seconds> Zzzzzzzz. |
| | Loren, I'm not asleep yet...<30 seconds> Zzzzzzzzz. |
| | Loren, you're snoring again. Huh? No, I think that's you. |
| | Well, only 71 more times. |
| | But they have hot showers! |
| | No, I'm pretty sure the shovel won't blow away. |
| | Wait, how many beers have you had? |
| | Is it bad luck to throw snowballs at the raven? |
| | Uh huhhhhhh! Nuh uhhhhhhhhh! |
| | She sode sof sannah. |
| | I can be ready in 30 minutes. |
| | ...and the skateboard hit me... |
| | Just a little more gas...oh wait...it's in 3rd gear. |
| | Okay, let's go <30 seconds> Zzzzzzzzzzzzzzzz. |
| | I swear that pine cone just fell out of a tree. |
| | So...buttons on underwear. |
Thanks to North Sister, for finally letting me visit her summit, and to The Random and Omnipotent Goddess of Northwest Weather for blessing us with sunshine when we really needed it.
And especially...
Hannah, thank you. You are a joy to have as a partner in more ways that I can describe.