Lillooet, BC Ice Climbing
January 19-20, 2002
Compounded by Friday afternoon I-5 traffic and heavy snow in BC, the normal five hour drive to Lillooet became a six-hour odyssey. A couple fishtails on Canada 12 between Lytton and Lillooet kept both driver and passenger awake. My first outing with Dave, he will not soon forget several near-misses in the car.
It is 9:30 when we finally pull into The Reynolds. "Sorry, no rooms left with two beds and no cots left, either."
Hmmm. "Well, give us the biggest room you have left."
It turns out that The Reynolds is undergoing some renovation work. Our room has a fresh coat of paint, pine floors, and trim to match. Nice.
I'm keyed up from the drive, so I flip through ANAM while watching TV. I quickly realize that reading ANAM before leading ice is a bad idea. So I put it down and watch a forgettable movie until sleep takes me.
The alarm comes too soon. We groggily arise and stumble around shepherding gear and donning all manner of synthetic material. We're loaded by 5:30 and sitting down for breakfast at Reynolds restaurant. It started opening at 5:00 AM this year, which is early enough to get a hot, greasy breakfast and still get a "robot" start (sorry, couldn't resist, Ray).
It is just getting light enough to see when we arrive at Crown Lake. There is a tent set up in the parking lot. Dave and I agree that $12 each for a night at The Reynolds is well worth it. Soon enough we set off across the lake, which is well frozen, but slippery under the snow.
We set up at the base of Icy BC. We split the first pitch so we can each have a lead. It is in pretty good shape; a nice balance between good rests and good gear. The second pitch has a hole in it, but there is some good ice on the right side. I lead up and also discover that the ice is very thin at the top. I belay from a tree to the right of the third pitch and eye it as I bring Dave up.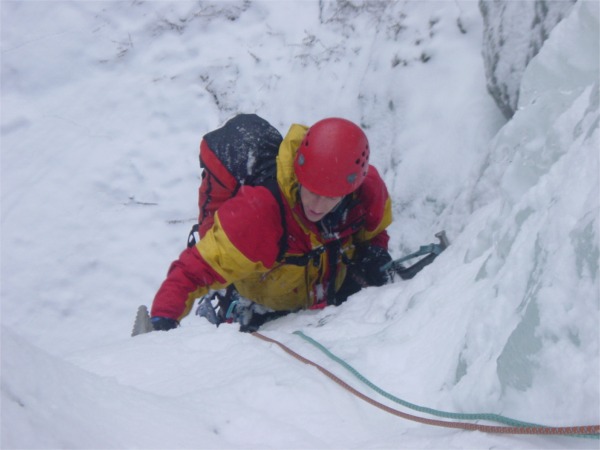 Dave climbing into the intermediate belay on the first pitch of Icy BC.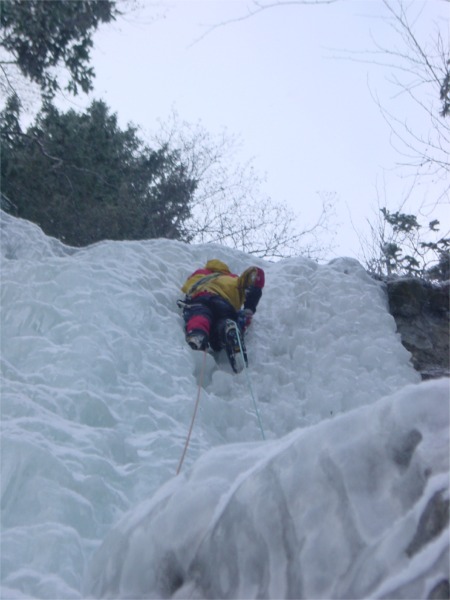 Dave leading on the second half of the first pitch of Icy BC.

"I think I'm gonna strap this one on, Dave."
The ice isn't the best quality, but it isn't too steep and the blobs make for good rests. I climb up from the belay to a little alcove and place a screw. Then I traverse out right, aiming for the ledge (and rest) about half-way up. I have a scare when my right tool lands and fractures a large chunk of ice in which my left tool is also planted.
"Shit! Watch me Dave!"
"Okay, just five more feet and you'll be on easier ground to the ledge."
I carefully clean my right tool, expecting the block to separate, taking my left tool and me with it. Somehow it stays in place and I make it up to the ledge. Now we can both hear people at the top of the route. A good bit of hollering ensues, as we want to make sure that they do not throw ropes onto me while I'm leading.
After a good rest and a good screw I lead out from the ledge. Just a few feet up I find a nice stance and place another screw. Now I just need to traverse back left and up a bit and I'll be on easier ground. I carefully move left, then up. I get a good screw and gun for easier terrain. The ice is odd: Chandeliered and hollow, so I can't get a good frontpoint, but I also can't seem to kick toe-hold in either. I concentrate on good sticks and though my feet come off twice, I don't get too freaked out. Past the difficulty, with only fifty feet of WI3- terrain between me and the anchor, I take a breather and place a screw. Then I climb up and join the party at the top. No less that six people are there busily rigging the most deluxe anchor system I have ever seen. I feel a bit sheepish as I wrap a rabbit runner around a tree, clip off, and yell down to Dave that I am off belay.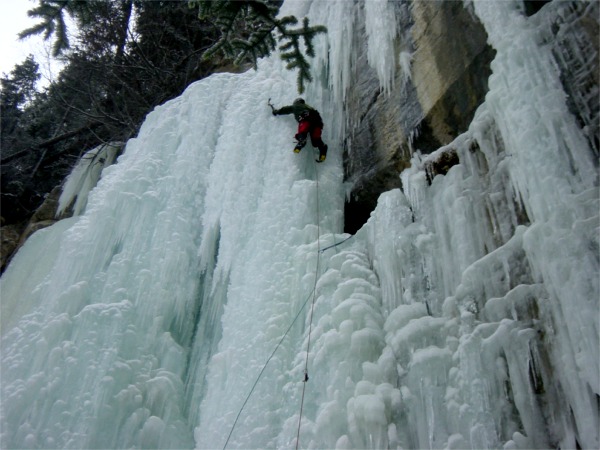 Me leading on the third pitch of Icy BC. Photo by Dave Burdick.

While I belay Dave up I get to chatting with the crew and discover that they know Dave. Small world. Dave joins me at the belay and we discuss options for getting down. He agrees to rap down and set a TR on a tree half-way up the route to the right of Icy BC. I clean the gear and walk down.
We each take a turn on the line. The mixed start and thin, steep ice make for a good pump. No less than eight people are now milling around the base of the third pitch. One woman is highly annoyed by the top-roping, but doesn't ask if she can lead through. Instead she sulks away calling us all "fucking rude Americans".
We clean our gear and walk to the bottom. There we find a TR on The Dihedral, Waite for Spring, Deeping Wall, and two on Icy BC, where a guide service has set up shop for the day. Dave and I discuss options and decide to bail and use the remaining daylight to see what is happening at Phair Creek.
We head back to Lillooet, and then down 99. The entrance road is plowed, but only for access to the Bed and Breakfast. I put it in four-wheel drive and plow through the small snow bank and head down toward the bridge. "We're probably going to need chains to get back up this hill, Dave."
We pause at the bridge and look at the road ahead. It takes a sharp right after the bridge and ascends steeply (25 degrees?) to a set of switchbacks. It is snow covered. "Should we put the chains on here, Loren?"
"Nah, I think we can do this."
And with that, we're off. At first I'm feeling good, we climb up with no problem. But then we start to slow. I hear the engine rev as the tires start to spin. Hmmm. I realize that I'm going to have to back down to the bridge and chain up. But then something unpleasant happens. Slowly the car starts sliding down the hill. At first I expect it will slide a few feet, then stop. But it doesn't. I pump the brakes. And we slide faster. I put the car in reverse. Faster. A quick glance in the rearview mirror is frightening: We're approaching the bend in the road quickly. "Oh, shit!"
I put the car in third gear and gun it. That seems to stop the acceleration, but we're still sliding backwards toward the bend and the Phair Creek. I realize there is only one chance and, by some miracle, I turn the wheel just in time and the car kicks around onto the bridge and comes to a stop.
"Holy shit, that was really close, Dave."
"Uhhhh. Wow."
"Hey, that was a good idea of yours. Let's put the chains on here."
Simultaneously we step out of the car and both fall on our asses. Underneath six inches of fluffy snow is two inches of rock-hard water ice. Looking up the road we slid down I can see the ice in our tire tracks. I pull out the heavy truck chains from Les Schwab for the rear and the lighter chains from Costco for the front. We set about putting the on, which takes a good bit of rolling the car forward and backward and about twenty minutes. Then we start back up the hill, very slowly. With some fits and starts we make it to the first switchback, where I decide we need to check the chains. The fronts look good: Centered and ready to go. The left rear is completely gone and the right rear is all twisted up on the tire. I walk down the hill, falling on my ass twice more, and find the missing chain fifty yards from the bridge.
We put them back on and tighten them up as much as possible. We also agree to abandon hope of getting any further. Darkness is falling and dinner is calling. I get the car turned around and start back down the hill, slowly. Halfway down both rear chains are coming off again. We stop and try to remove them, unsuccessfully. I get back in and with Dave walking behind, creep back to the bridge without further incident. We manage to get the right rear chain off there and the left rear halfway up the hill.
Dave and I agree that, as we were technically climbing ice, that this is a new route. We have dubbed it "A Phairly Close Call", WI-1R. As Dave said, watch out for that first pitch or things will start going downhill fast!
Soon we're back at The Reynolds thoroughly enjoying hot showers and after that a large pizza. Pittsburgh and Edmonton are playing on Hockey Night in Canada. We watch to the end, but turn it off before Don Cherry starts his post-game analysis. I don't need Don's droning to put me to sleep tonight.
In the morning we pack up, load the car, and eat a full, hot breakfast again. We're on our way up the Bridge by 6:30. On the way we discuss our options. It seems to come down to Salmon Stakes or Night N Gale. We're both leaning toward Salmon Stakes for some mellow, low-stress ice. I stop across from Silk Degrees and we peer up at Salmon Stakes through the binocs. It looks grim. Then a car pulls up.
"Hey there. Are you guys going to climb Salmon Stakes?"
"I think so."
"Do you know where it is? We've been driving back and forth looking for it."
"Yeah, that's it right there."
"Cool. Thanks. Alright, let's park and get going."
I look at Dave. "Let's let them have it and go up to Night N Gale."
"Agreed."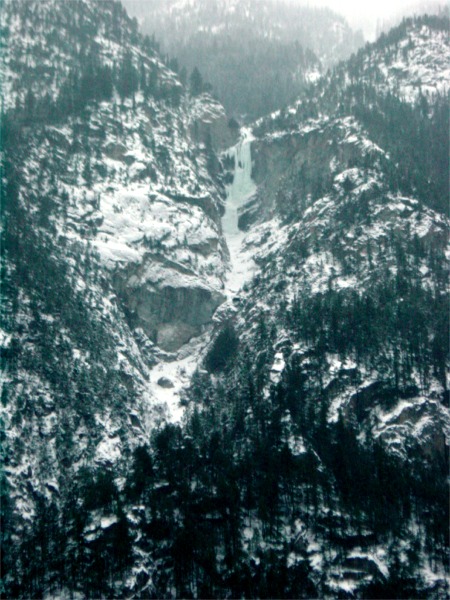 Shriek of the Sheep from the road.

So we continue up the road toward the dam. I put it in four-wheel drive and back into the little spur. We pile out and gear up. I'm looking forward to testing out the hip boots I got just to cross the Bridge. We leave the car at 8:30, me in my hip boots and Dave in garbage bags and Tevas. The crossing goes without incident and by 8:45 we're changed into climbing boots and walking upstream. The schwack up through the trees was is unpleasant as I remembered, but short enough. The trees end at a thoroughly evil looking avalanche. Its path was scoured into a trough and there was debris well into the trees.

Dave doing the garbage bag and Teva thing across the Bridge River.

We hike up in the debris to the start of the rambling ice approach. We stop and put on crampons and I stash my poles. Then I hear voice below and to our left. "Dave, there are people coming. Let's haul ass and try to stay ahead of them."
Up we go. The short WI2 pitch is very short. The WI3 pitch looks a bit thin, so we decide to belay. Dave leads and belays me up. I look back as I top out and see two people below. Dave keeps me on as I climb past and up the gully. Huffing and puffing I continue up. Dave pulls the belay when the rope comes tight and follows. I pause and throw on a few coils, then continue. After ten minutes I call for Dave to take a pull breaking trail in the snow.
Dave climbs past me and proceeds to haul ass toward the base of the climb. I realize that I am holding up the show and have him untie and blast up to the base while I wheeze up in the rear. I'm glad there is no sign of the other party behind me.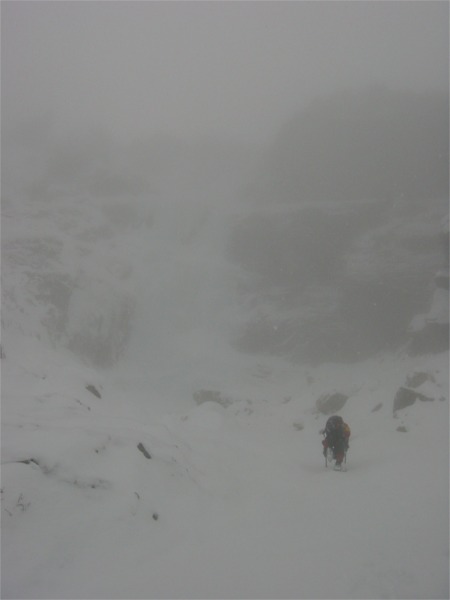 Dave approaching the base of Night N Gale.

I join Dave and the base of the first pitch, the scene of two fright-fests for me in 2000-2001. I'm shocked at the volume and quality of the ice, and how much less steep the last fifty feet looks. Dave is pondering, thinking about the lead.
I dig a nice shelf and put on some clothes while Dave decides that he is going to take the lead.
"Cool, Dave. Go for the whole thing, or belay mid-way if you want."
In varied visibility and flurries Dave leads up and left. He is climbing smoothly and deliberately and reaches the ramps nicely. Then he angles back right toward the right-hand exit pillar and out of sight. He takes a good rest, then dispatches the pillar and disappears over the lip. When the rope comes tight I follow. The ice is really nice through the ramp, but the upper pillar is not as pleasant. Overhanging icicles impede my swing and force me right. Dave made an impressive sixty meter lead.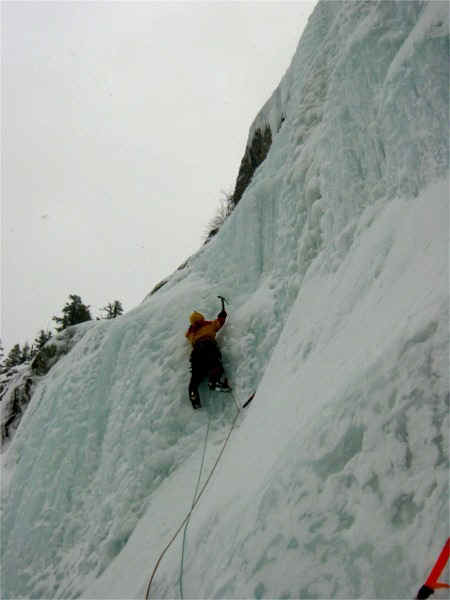 Dave leading low on the first pitch of Night N Gale.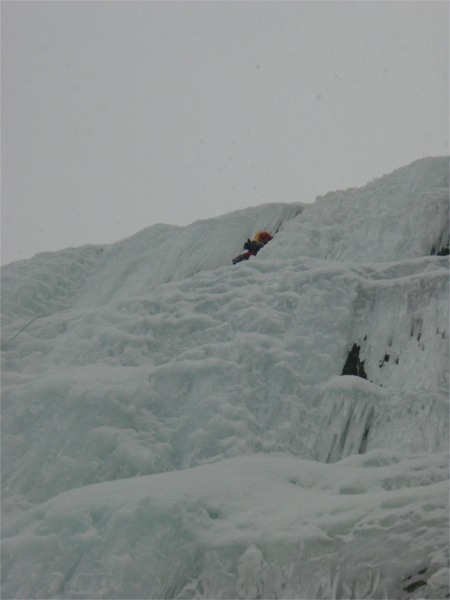 Dave on the right-hand exit pillar of the first pitch of Night N Gale.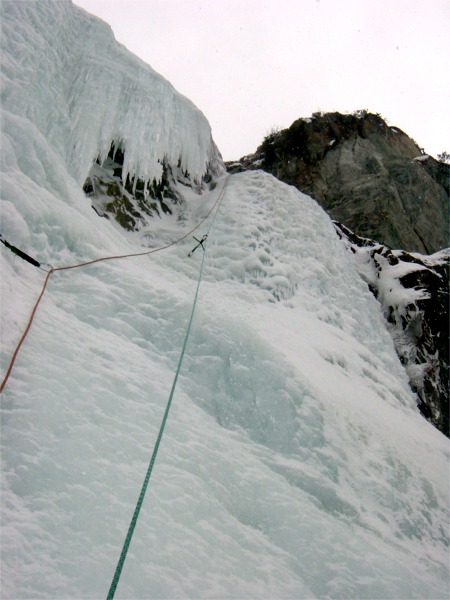 The right-hand exit pillar on the first pitch of Night N Gale.

I join him at the belay. I chop out a little ledge and take the rack. For some reason I feel anxious, so I quickly lead out. The WI3(?) pitch has good ice down low where it is steeper, but it gets progressively worse toward the exit chute. Using all the rope I make it to a shrub for a belay, but then realize that I have no runners left and there is no slack rope whatsoever.
I downclimb into the gully and rig the best belay I can: One good screw, two that are okay, and one tool slotted in a hole in the ice, all equalized. I clip a screamer on the loop and tie off to it. I belay off my harness in hope of reducing the impact on the anchor in the event of a fall. I feel better when Dave's head pops up. "Dave, let me get a picture."

Dave topping out. The car, far below, is circled.

Whump! Swooossshhhhh! I felt it about the time I heard it. "Shit!"
I ducked and braced, not sure how much snow was going to come down. Thankfully it was more of a sluff than a slide and most of the snow stopped against me. Dave climbed up. "That is an interesting looking belay."
All he could see what the axe. The rest was buried in the snow. He climbed up and out of the gully. From a tree he brought me up and out of the gully. I felt relieved. Unlike last year there are no tracks in the snow leading to the rap station. I follow my instincts, and with a minimal amount of fussing around we find the tree with the sling wad. We make a single rap on both ropes into the descent gully.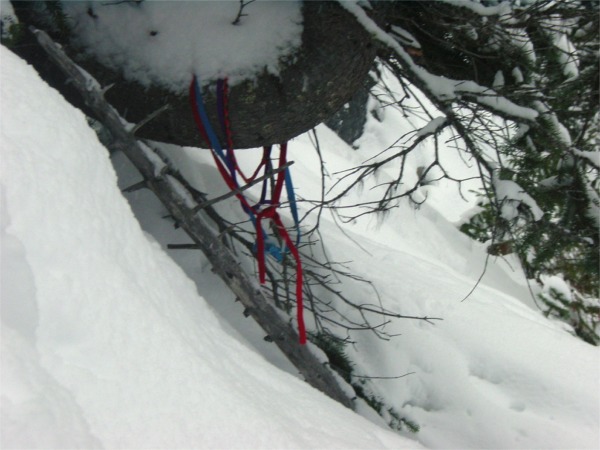 The enigmatic rap station on Night N Gale.

Both down, we start coiling ropes. I hear an airplane overhead. Odd, I think, I don't ever remember hearing an airplane up here. Almost in unison, "Jesus Christ!"
A huge plume of snow is billowing up from the approach gully. I think about the two people climbing behind us, the three additional cars that I see parked far below, and that we have to descend right through where the plume is.
We proceed down quickly and carefully, staying as far to the right as possible. I'm not sure what to expect as we round the buttress that blocks our view of the route. I know that there were climbers on it and our packs had been at the base.
With relief I see a belayer at the top of the first pitch and a climber below. "Are you guys okay? Is everyone alright?"
"Yes! But we're going to get the hell out of here."
"Was there anyone below you in the gully?"
"I don't think so."
"I sure hope you're right."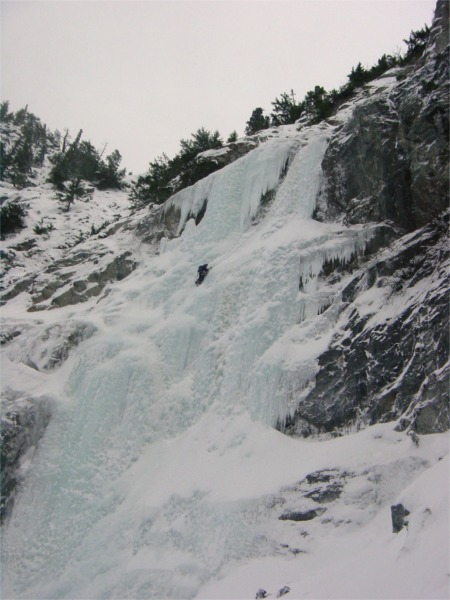 The other team on the first pitch. Our dusted packs are at the bottom.

We retrieve our packs, have a quick bite to eat, and, at 3:45, proceed down as quickly as possible. We stop only in safe areas and take turns in the narrow areas with nowhere to hide. We make one rap down the WI3 pitch and arrive back at my poles at 4:25. I take off a layer and we continue down the slide path with our crampons on. I don't stop to take off my crampons until I'm well into the trees and past all debris from the older big slide.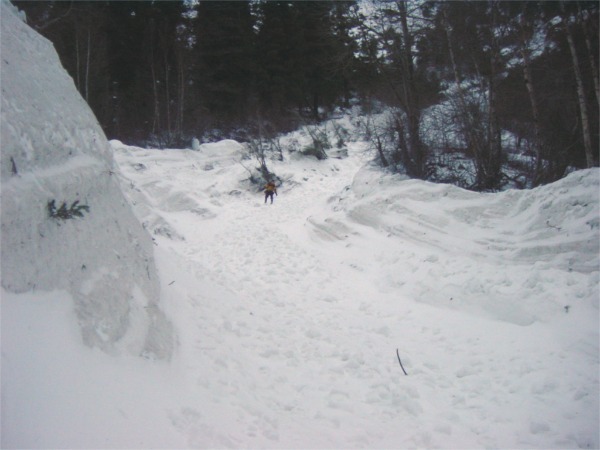 Dave descends in the chute carved out by a very large prior avalanche.

At 5:00 we're back at the car. We wolf down cheese danishes and a beer each and head for town. We have dinner and change into dry cotton clothes at Subway. We roll out of town at 6:45 and, thanks to better driving conditions, take the 50th Street exit off I-5 at 11:45. The border crossing was easy. They seemed to be entertained by our version of fun:
"What were you doing in Lillooet? Skiing?"
"No. Ice climbing."
"Ice climbing?!? That sounds like fun except for two things: The ice and the climbing."