Mount Adams, Adams Glacier
June 25-27, 2004
"Oh thank god, there is a shop here in Hood River."
Rewind four hours...

It's early when Hannah pulls into the Orting High School parking lot, just after 6:00 AM. I'm keen for a semi-alpine start because it's a long drive to the trailhead, and the approach takes a while. Besides, I'm feeling lazy and want to have some serious nap time in the alpine.
We've scheduled three days for a two day climb: Bloody freaking chocolate covered alpine luxury, and in my head I'm already there. The drive from Orting is shorter than I expected, though, and we're at the trailhead by 7:30 AM.
Hannah, packed as usual, wanders about while I pack from my duffle bag. Suddenly I rattle off a string of obscenities.
"What? What's wrong?"
More obscenities.
It's the stove. More specifically, it's the location of the stove: On my shelf of gear at home. The Killen Creek trailhead on the north side of Adams is among to most remote of the volcano trailheads in Washington and Oregon. It's Friday morning and there is one other car in the lot.
While I take out my self-frustration by pitching my gear back into the car, Hannah laughs and laughs. I'm glad she's entertained by my error, though I'm not quite so forgiving of myself...yet.
A very fast drive to Hood River ensues, where we wander around in a shop for a while before I purchase a new Whisperlite stove.
Feeling better, and relieved that there was a shop in Hood River, sparing us a drive to Portland, I drive more sanely on the way back. Since it's now lunch time, we take advantage of a pizza shop just south of Trout Lake (the one across the street from the spectacular view) and stop for food.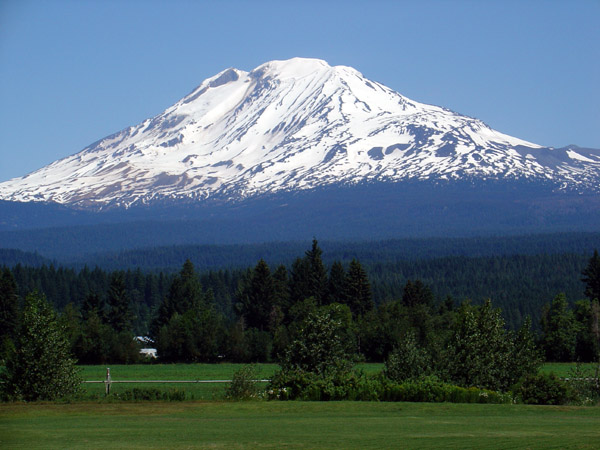 The south and southwest sides of Adams from the pizza shop.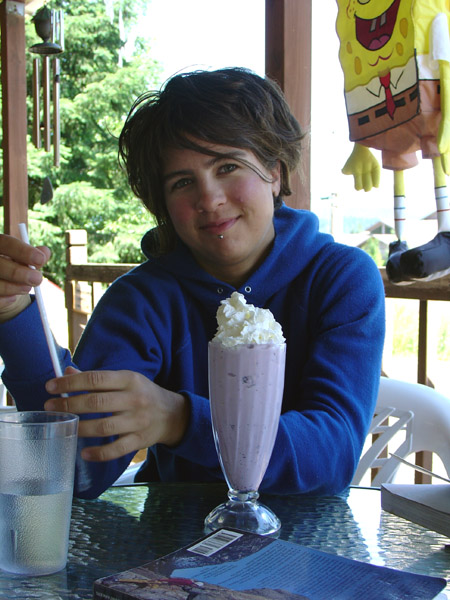 Hannah won't share her shake, as Sponge Bob looks on.

Well-fed and re-stoved, I pack quickly at the trailhead and we make our way up the trail. It's almost four hours after we originally arrived at the trailhead. Near the PCT junction the trail becomes completely snow covered, and we wander a bit, following the tracks of others who wandered a bit.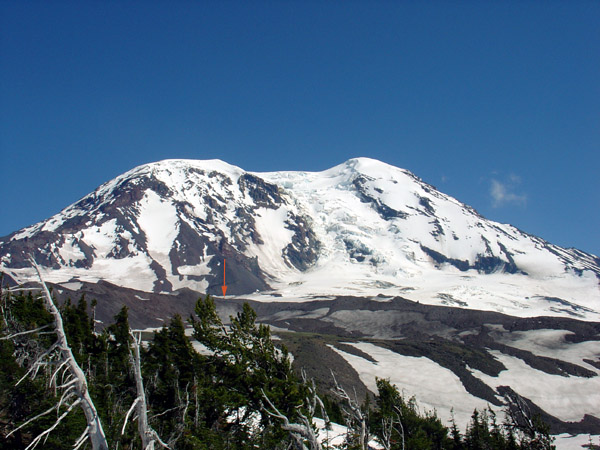 Not quite to the meadow. Our camp site is on the back of the moraine under the arrow. The north ridge is just below the left skyline, and the Adams Glacier is the icefall in the middle.

We cross a treed ridge and eventually enter the lovely meadow with the giant cairn. This is one of my favorite places in the Cascades: Krumholtz accent heather, and a small creek splits it all. Looming above is the upper reach of the north side of Mt. Adams.
We continue on up one of the many moraines, climbing to it's head. I'm tired now, and ready to camp. The Adams glacier still looks far away to me and the day is getting late- almost 5:00 PM.
We traverse down and left across the back side of the moraine onto a melted out scree bar. There is running water nearby, and a ready-made spot for the tent. It's too good to pass up, so it becomes our camp.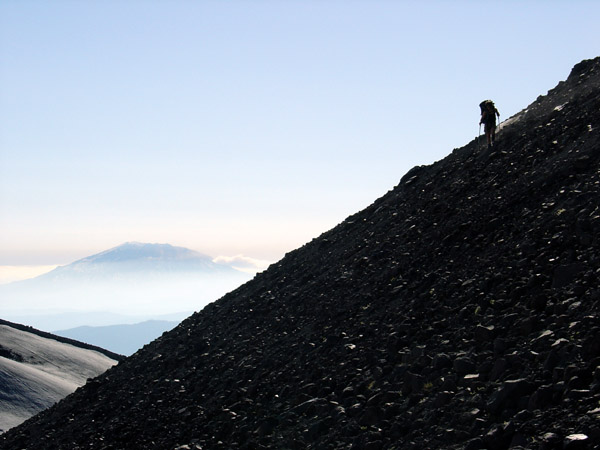 Hannah traverses the back side of the moraine just above camp. St. Helens in the background.

We remove the larger stones from the tent area and pump water. We discuss options for the next day as water heats for dinner. Our initial, tentative plan for our three day trip was to climb two routes on the mountain: The Adams Glacier and...something else. Now, with the day late and our energy low, we discuss other options. Eventually we settle on climbing the Adams Glacier the next day and camping on the summit...maybe.
"Well, let's set the alarm like we're going to do that and see how we feel."
The alarm goes off at 12:25 AM. And then at 12:30 AM, and for a third time at 12:35 AM. I roll around, feel sleepy, and endeavor to wake up Hannah. We talk about what we want to do, don't want to do, and expectations. I sleep so well in the mountains that I'm happy to go back to sleep. In fact, the only reservation I have is that Hannah will, in the morning, regret that we slept in. I say as much, and she considers it. Then she goes silent...or back to sleep. Somehow we finish the conversation, and go back to sleep.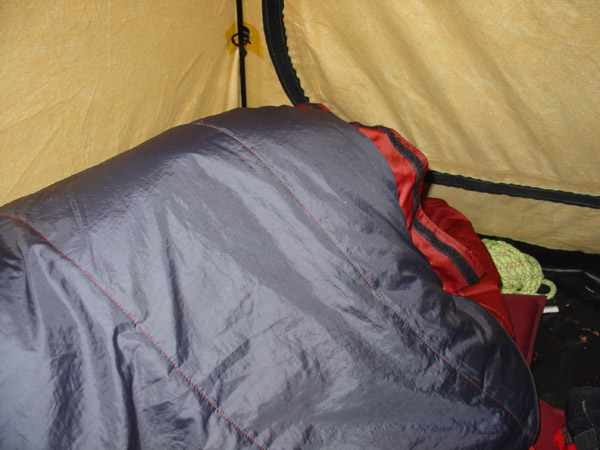 Hannah casts her vote for Saturday morning.

Hannah is up before me in the morning, taking in the sunrise. I savor the rare opportunity to sleep in on a nice day on a volcano. My lazy morning is interrupted:
"Dude. You have to come see this."
"What is it?"
"Just come see it."
"But it's nice and warm in here and I still have a chance to fall back to sleep."
"Dude."
I know that this won't end until I get my butt up to go see whatever has her so intrigued, so I waddle out of the tent in my socks. Hannah is twenty feet behind the tent staring intently at the ground.
"Come here!"
I tip-toe over, grumbling about about nothing in particular, just to grumble. I join her and look down.
"You woke me up and dragged me over here to see at this?"
"Dude. Yes."
We are both standing there on a beautiful morning in the mountains staring down at what appears to be white poop.
"It's poop."
"Dude. But it's white."
I find myself laughing hysterically. It is unusual, and I've never really seen anything like it. But Hannah is entranced by it. I go back to the tent, where Hannah joins me not a short time later.
A now-common exchange ensues:
"Loren, what are we going to do today?"
"Hmmm. What do you want to do?"
"I don't know."
This goes on for a while, in quite a variety of permutations. Somehow we agree to go for "a walk".
I'm keen to take a peek at the moraine lake below us and also the Lava Glacier Headwall, so I wander off east. Hannah catches up when I stop to fiddle with gear. The day is great: Sunny but not too warm. We amble toward the the base of the north ridge, first on snow, then on a mix of talus, boulders, and heather. The wind is up on the crest of the ridge, so I drop over a few feet and sit to take in the view. The headwall is about as I remembered it: Steep, but broad and uninteresting (to me, anyway).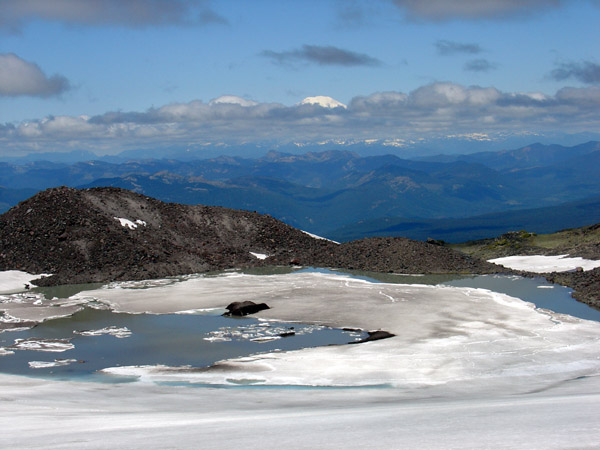 The small moraine lake below our camp with Rainier peeking out of the clouds above.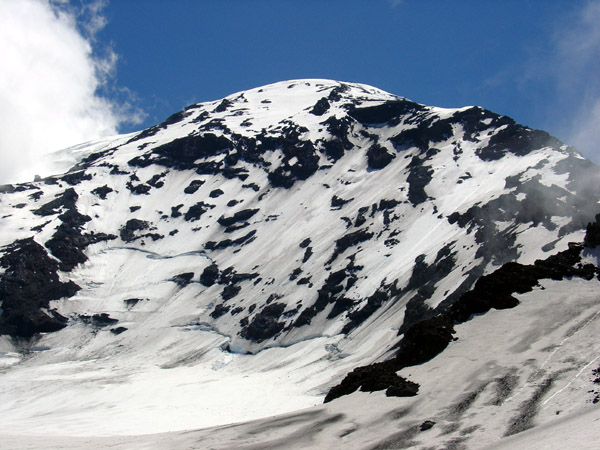 The Lava Glacier Headwall.

I close my eyes and relax, taking in the day, the pace, and the place. Silently we rise and head back over the ridge, taking a higher line, along the contour. We cross the descent path for the North Ridge, continuing toward the Adams Glacier. We scrumble down a loose, dirty slope, and then jump over onto the snow. A jog across the snow brings us back to camp.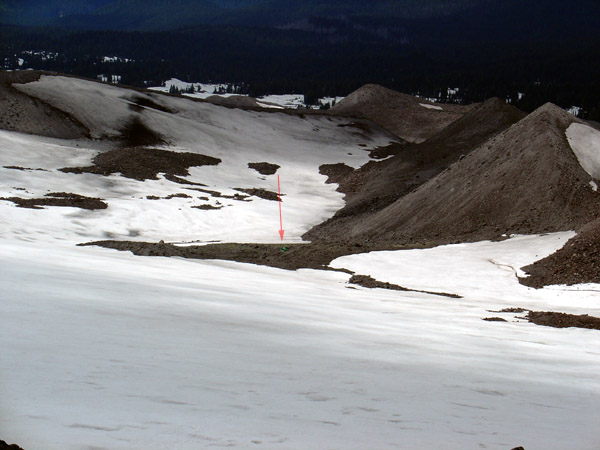 Little green home for the weekend.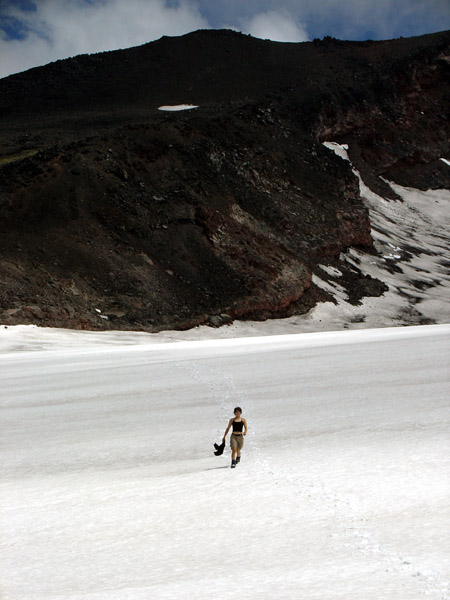 Hannah returning to camp from our lazy-day walkabout.

We spot a skier slowing descending the Northwest Face of the North Ridge. He disappears behind a roll on the broad, flat foot of the Adams Glacier, and we wait to see him pop out below. Thirty minutes passes and he hasn't appeared; Hannah gets concerned. We put our boots back on and make a direct line for the last place we saw him. When I reach the top of the rise that blocked our view of his descent, I cut east until I cross ski tracks. With the binoculars I can see tracks far down the slope. He must have skied past our line of sight without us seeing him. Once again we head for camp.
I crawl into the tent, which is nice and warm in the afternoon sun. Hannah joins me and a discussion of departure time the next morning is had. Before a decision is made, I drift off to sleep.
When I wake up from a deep sleep and look at my watch, I can't believe the time.
"Hannah, Hannah wake up!"
"What? What?"
"Shit. It's 5:30. We totally overslept. I can't believe I slept for so long and through all three alarms!"
"What?"
"It's 5:30! We're late. We need to get going!"
"What?"
She clearly isn't getting it- still half asleep.
"Hannah, it's 5:30. We gotta get going now."
"Dude. It's 5:30 PM, not in the morning."
I fall silent, with the truth of what she said immediately apparent, but contemplating my complete disorientation. Hannah, meanwhile, is laughing uncontrollably.
I decide that I'm happy to have slept so deeply, and join her in laughter.
"Don't you dare tell anyone about this, ever."
"Dude. Hahahahahahaha."
She drifts off into more fits of uncontrollable laughter.
Once she recomposes herself and I wake up completely, we catch some of the sunset and eat dinner.
I'm thinking I'm going to get a good bit of sleep to supplement my nap, but instead we end up talking for hours.
We were out of the tent around 12:30 AM. At least, I have outside pics taken at that time. Ground fog obscures the view. I have the GPSR and compass out, preparing to navigate to the foot of the headwall in poor visibility.
It's a long walk across the low-angle, almost flat portion of the glacier. When crevasses appear we stop and rope up. The weather cooperates and visibility improves as we approach the headwall. We confer, choose an initial line, and Hannah leads off.
The climbing is fun and somewhat steep without being frightening. Far below, coming across the flats of the glacier, we count about 13 headlamps in a group of two or three approaching the foot of the headwall, hours behind us.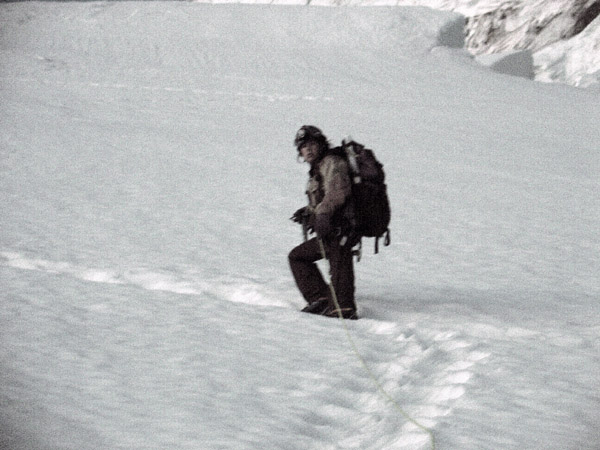 An infrared picture of Hannah in pre-dawn light.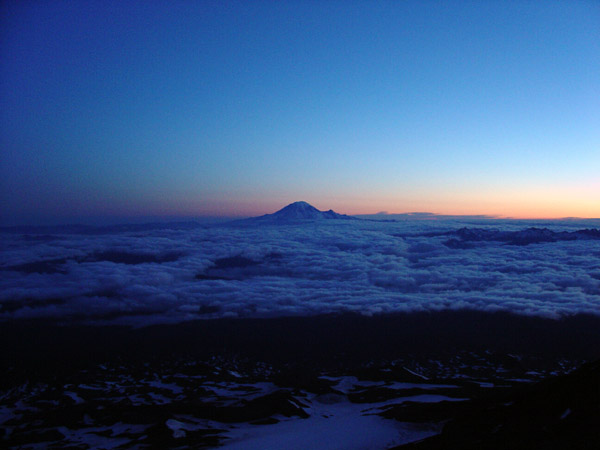 Dawn sky behind "the big hill".

The headlamps disappear as dawn light appears in the eastern sky, backlighting Rainier. The route continues up in stupendous scenery until about 10,500', where we suspected from below the crux would be.
Without an obvious passage across a wide crevasse, we swing the rope around and I lead down a snow ramp into the crevasse. When I find a spot where I think I can lead out on the uphill side, I stop and bring Hannah in. I take both ice axes and the pickets and start up, scrapping my way with walking axes, flexible boots, and aluminum crampons. Over the lip I'm disappointed to see that we are not out of the woods: More wide crevasses block our way. I set a belay and lower the axes to Hannah.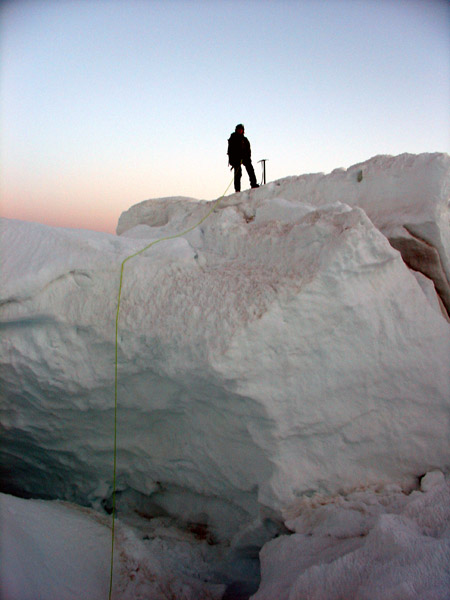 Hannah questioning my sanity from the top of the crevasse.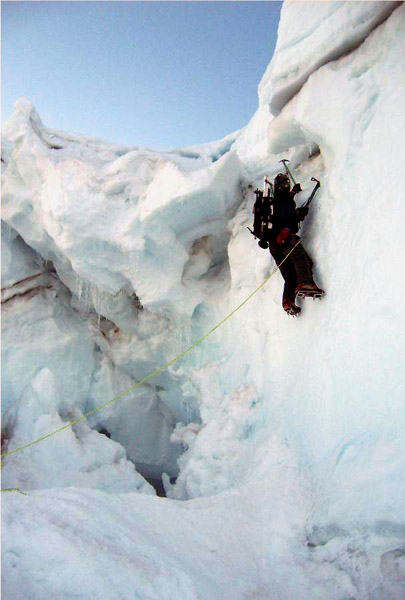 Monkey business by PCMB. Photo by Hannah.

In retrospect, I was too anxious to get out of the crevasse at the first opportunity. I began to sense that when I saw that we had more work to do once I climbed out. Hannah seemed to sense the same thing, and balked at climbing up to me. After some discussion, I rapped down off the picket and we continue traversing east, where we find a much less technical passage around the crevasses.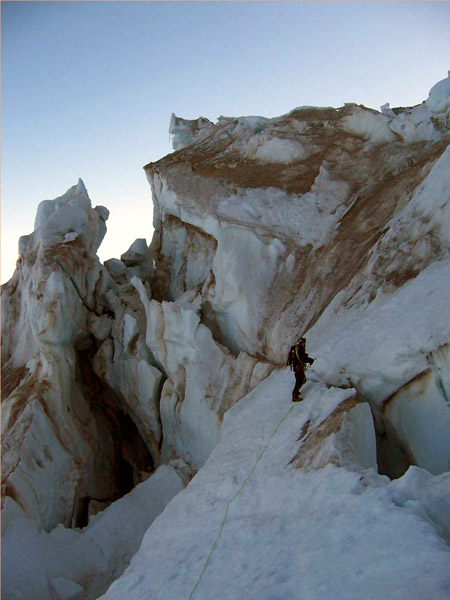 A better way out. Photo by Hannah.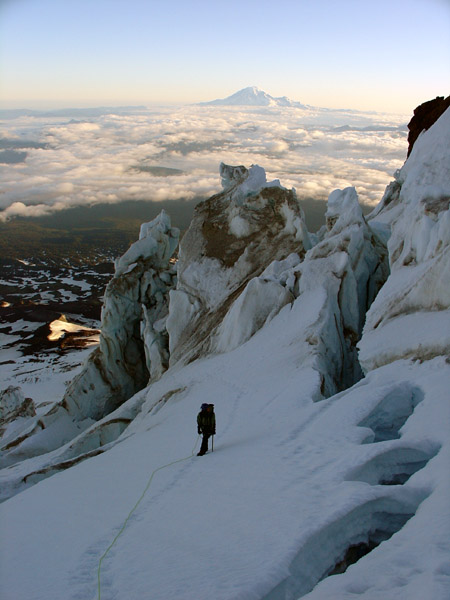 Hannah...and Rainier.

Now we can see the top of the headwall. It is split by an odd icefall ending in an ice cave. A set of old tracks leads up left and out, but the right side looks more interesting. I lead up to the flats near the cave and stop for a rest.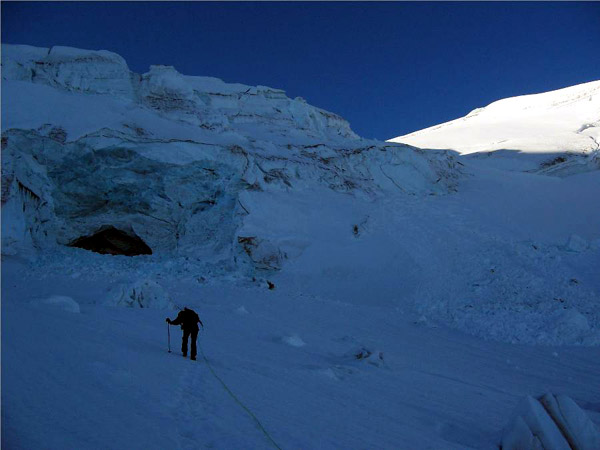 Break time below the ice cave. Photo by Hannah.

"Which way do you think, Hannah?"
"Hmmmm. I don't care."
"Well, if you were here alone, which way would you go?"
"Right, I guess."
I smile. The break ends and we head up and right, weaving through ice blocks fallen from the cave. The sun, long shining below, finally shines on us as we make our way up the last steep pitch. Two-thirds of the way up, somewhere over 11,000 feet, we take a final break, just below one last, unexpected crux on the route.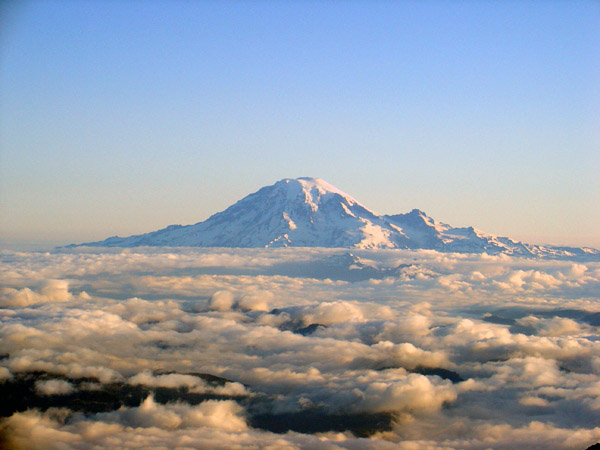 Ahhhh, Rainier.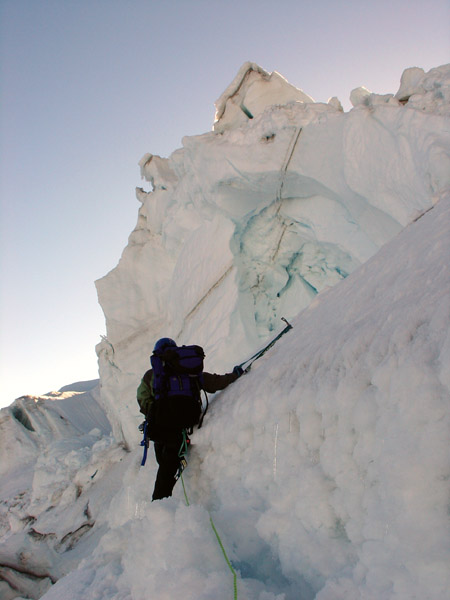 Hannah taking in the scenery at the last little step.

Man, it's a long walk from the top of the Adams glacier to the summit. We opt for a sickle-shaped traverse to minimize lost elevation, and I feel like I walk and walk and walk behind Hannah.
The last step to the summit finally comes, and with it a nice break. In the lid of my pack I discover my stash of smoked, salted almonds. After eating bars for the last six hours or so, the almonds are a sublime savory treat. I can't refrain from verbalizing what's on my mind.
"Hannah, these things taste sooo good."
"Oh yeah?"
"Yeah. They aren't really smoked salted almonds, they are smoked salted sex."
"Dude!!!"
I just smile and keep stuffing my face. When they are gone we snap a few pics, and get someone to take of picture of us together.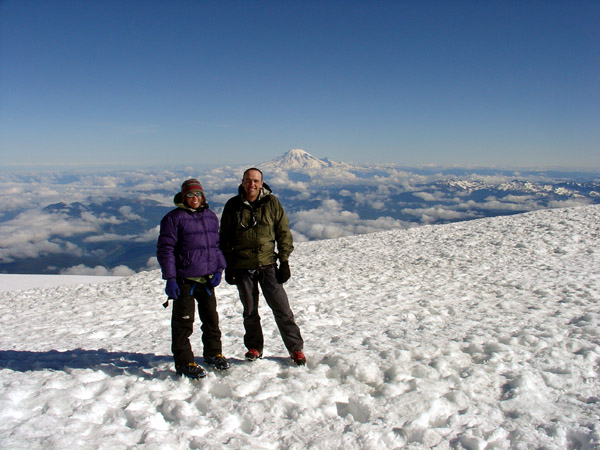 Smiles on the summit. Say, isn't that my little purple...



Right to left: Hood, Jefferson, Three Sisters and Broken Top.

Hannah eventually calls for departure, and we start the long trudge toward the top of the North Ridge. I'm glad for a good set of steps to follow. Not for the boot track to walk in, but as a navigational aid.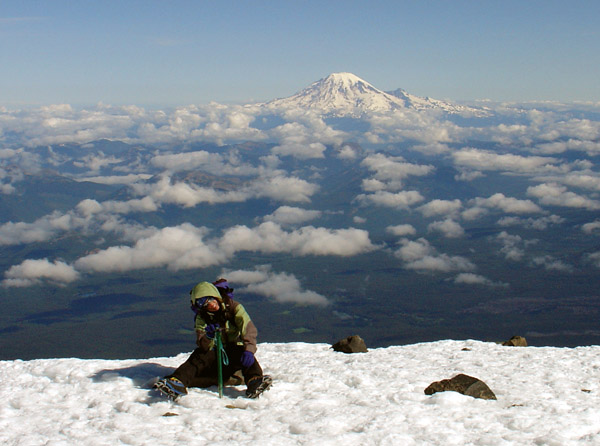 Waiting for me to pack some layers at the top of the North Ridge.

We take our time going down the ridge, me taking care of my wobbly ankles, and both of us stopping several times to shed layers under the warm sun. Hannah voices her dissatisfaction with the loose, long ridge. These words will come back to haunt her, when she later professed to love "downslogging" on cascadeclimbers.com. At the North Ridge bivy site at the base of the climbing route, I snapped this picture of her, after asking her to express her feelings for the descent.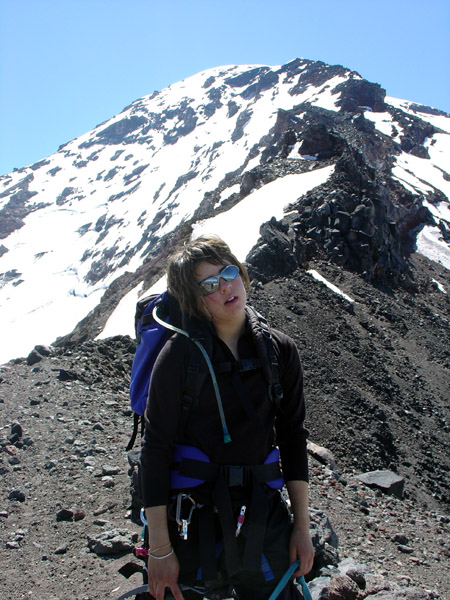 Downslogging is soooooo fun.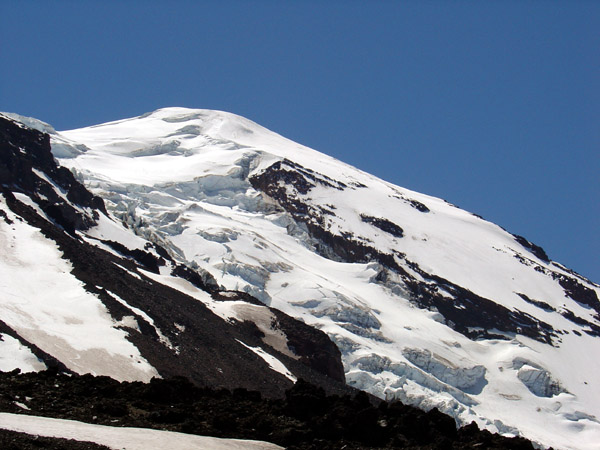 The Adams Glacier.

We drop off the North Ridge and down the climber's trail through scree and talus. Along the way Hannah discovers even more of what we are now calling "magical white ghost poop". I take a couple pictures as a scheme takes form in my head.
We drop onto the lower glacier in the same spot as the previous day, retracing our tracks back to camp. The day is warm and sunny. I lay down in the tent while Hannah drapes herself over a boulder. When I open my eyes, this time not confused about the time, she is asleep on the rock. I quietly walk over to the original white poop and scoop it into my the now-empty bag that formerly held my almonds. Hannah is still asleep when I get back and sneak the ziplock into my pack.
Hannah eventually comes to, only to find that her shirt had slipped up above her belly button and she'd acquired a horizontal racing stripe tan across her tummy. At this I finally get in a laugh at her expense, though after the stove and time malfunctions on my side, I'm still far behind.
We pack and head out. The three days, though leisurely, have passed quickly for me, and I rue our departure. As I shuffle down the snow toward the meadow, I twist my right ankle. Ugh. Despite taking 800mg of ibuprofen, it remains quite sore and the remainder of the walk out is an exercise in suffering for me and patience on Hannah's part, as I slowly limp along. She does better than me, as I quietly berate myself for the injury and curse loudly each time I land painfully on the foot. Walking through the existing postholes in the snow is the worst of it; I'm almost walking normally by the time we reach the car.
Looking back, it was an excellent, leisurely trip, including a day of wandering and lethargy, and a fun, successful ascent of a route that I've long wanted to climb. My thanks to the Random and Omnipotent Goddess of Northwest Weather for her sponsorship, and to Hannah for her patience, sense of humor, and exquisite appreciation of the obscure and absurd.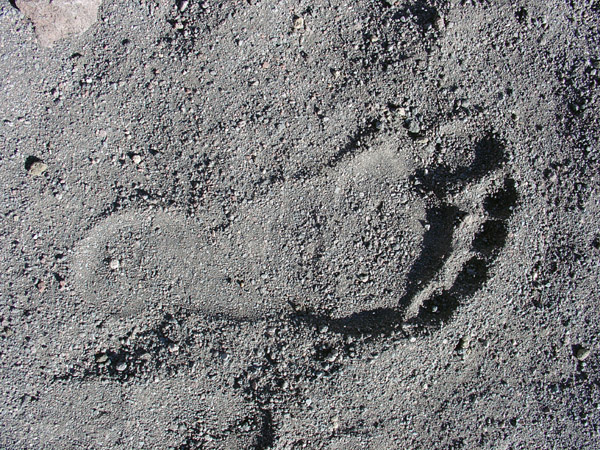 This area has many reported Sasquatch sightings, though I suspect this print is from the rare and elusive Alpine Khandeefeend.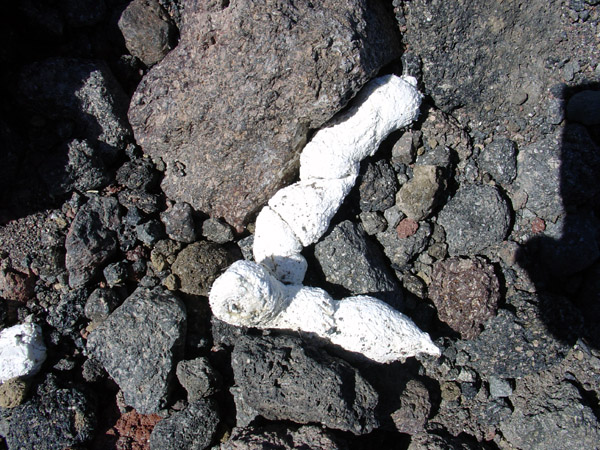 Magic White Ghost Poop.