Mt. Adams, South Spur
November 7-8, 2004
Fern and I had been trying to coordinate another trip ever since our Mt. Baker/Darrington thing in June. In October we just picked a weekend and said we'd figure out the 'what' when the time was closer.
Early in the week the forecast looked good for the weekend, and we decided to give Shuksan a go. The Sulphide, specifically, for a mellow two day trip with some skiing potential. Then the forecast went south. Hannah was invited along, and the three of us stewed about what to do. At the last minute two separate forecasts improved, so we stuck with the plan for the Sulphide.
"What? How early are we meeting her? Why?!?"
The machine-gun questioning from Hannah meant that she'd done the math and didn't like the result; the time she needed to get up.
"I think it's about a two hour drive from here and we're going to eat breakfast up there, so by the time we do that, drive to the trailhead, finish packing, and leave, yes, we need to be there at 8:00 AM."
"D00d."
She arrives at my house a few minutes early. I'm all packed up, newly reformed from my pack-at-the-trailhead habit by two trips with forgotten gear, so we get under way quickly. I also don't forget to take the I-5 exit from 405, and once I see the first mile post sign on I-5 I know I'm in trouble.
"Hmmm, we may be a bit early."
"What?!? How early?"
"Oh, a bit."
Even with me slowing down, and wandering a bit to find the restaurant, we're parked in front, in the rain, at 7:15 AM. I'm trying not to smile.
"Do you know what time I got up? I could have slept another 45 minutes, at least."
I have a pretty good idea of what time she got up.
"No, what time did you get up?"
"D00d. What about that sleeping bag I am borrowing from you?"
"Are you serious? You wanted to borrow that?"
The sleeping bag is, of course, at my house. It's cold and raining and we are one sleeping bag short of everyone being warm during a wet night out.
It's raining hard when Fern pulls up. We get out and greet her then go into the restaurant.
Fern is shivering.
"There's a hole in the heater core in my truck, so I don't have heat. I have the parts to fix it, but haven't yet."
Never one to miss an opportunity, I chime in, "Heat is key, Fern. I just happen to know where you can purchase a nice Toyota 4Runner complete with heat."
She's more interested in another cup of coffee than my half-hearted attempt to sell her my 4Runner.
We order breakfast and eye the weather. It isn't improving.
We eat breakfast and eye the weather. It isn't improving.
I perform an amazing feat of magic with a deck of cards. The weather isn't improving.
Then there is the sleeping bag issue. I get up and walk to the counter to talk to a waitress.
"Is there anywhere in town I can get a sleeping bag? A sporting goods store or something?"
She says there is a Big 5 and starts to give me directions. Then a colorful, crusty dude eating at the counter chimes in.
"It's easier if you go back the other way, down a few blocks, cut over, then into...."
I stop paying attention because his way sounds like one of my shortcuts which are almost always longer. He jars me out of my daydream about my shortcuts gone wrong.
"But Hay-el, you don't want one of them overpriced sleeping bags from Big 5. They all overpriced in they-er. You go to Fred Meyer. It's rye-et they-er in the same lot. You can get a fine sleeping bag there and save you some money."
"Okay, thanks a lot. That gives us a couple places to try."
We follow the waitresses directions and easily find Big 5. I go in to peruse the sleeping bags while Fern walks over to Fred Meyer to fetch food.
This is the perfect excuse for me to get a nice, new sleeping bag. If there had been a high-end shop in town, I'd have been there. But there isn't, so I'm at Big 5 prepared to pay "too much" money for a sleeping bag.
I'm impressed as I walk toward a large selection of sleeping bags. My inner gear whore starts to take notice. Soon though, my inner gear whore is turning up its nose: The bag selection is extensive, but not what I was expecting. They range from the GI Joe kids model to a lovely flannel-lined 8 pound rectangular nightmare. The most expensive of the bunch is $45. I try to reconcile the 'expensive' description by the codger with this whopping $45 price tag. I laugh out loud, grab the GI Joe bag and head out. Outside, it's still raining.
Fern arrives back at the car from her food run and we drive off toward the trailhead...in the rain. I only get one request to slow down on the twisty road to the trailhead- I must be slipping, or maybe it's the new car. We arrive at the trailhead...in the rain.
We get out and stand around a bit under the rear hatch of the truck. This isn't standard northwest drizzle, it's a near-downpour. I don't remember how we decided, but we ended up back in the car, driving away. Approaching in heavy, cold rain and low visibility, only to get below freezing just at camp is something I've done before: It's great when I feel like suffering, but that isn't what I'm after on this trip.
As soon as I have cell coverage we start making calls trying to get a line on the weather. My wife fills us in on the webcams: It's nasty everywhere north of St. Helens. Back at Fern's car we agree to head south, first to my house, to see what's up.
Our tentative plan is for Adams. At my house the forecast and webcam images say it's a good call. Hannah is on the fence about continuing on the odyssey, but comes along in the end.
After driving down there so many times, and at least three different ways, I'm resigned to the route though Portland and Hood River and then north to Trout Lake. It's more miles, but faster and easier than the routes along the west side of the mountain.
We stop for dinner in Hood River. Thankfully, we are able to drive all the way to the trailhead, where I setup the tent, and Fern breaks out the hot spiced wine. After the day we've had I'm happy to be at the trailhead...any trailhead...where it isn't raining. Hannah sleeps in the car while Fern and I conk out in the tent.
We make a less-than-alpine start in the morning, The trail is mostly snow-covered from the lot, so Fern and I skin. Hannah, the post-hole princess, does that until we reach the creek, where she finally (and not so happily) succumbs to snowshoes.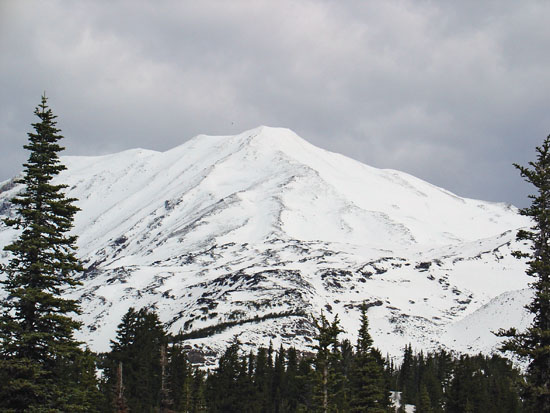 The South Spur of Adams from the approach.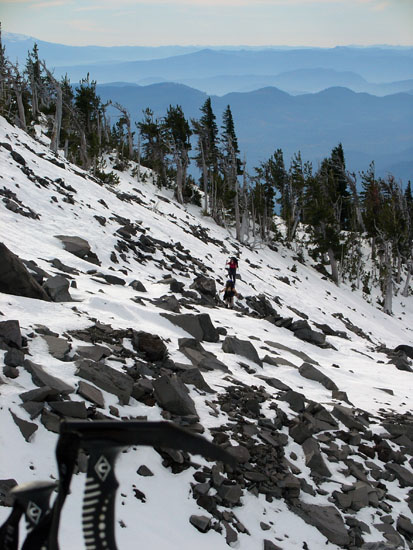 Hannah and Fern on the approach- we were a bit above the normal route and did not descend this way to avoid the rocks.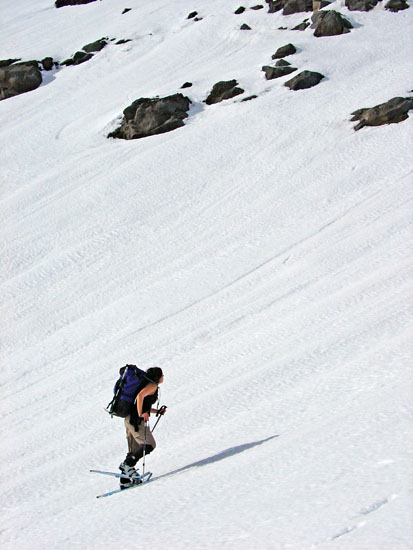 Hannah loving the snowshoe way of life.

By and by we reach the Lunch Counter. There is enough snow to fill up most of the bivy sites, but not enough to really dig into to make a tent shelter. After some scouting around we find a useable spot just about 9000' to the west of the main thoroughfare. We dig out the snow, setup the tent, and settle in. My dinnner consists of an Alpine Aire freeze-dried meal. These are normally quite tasty, but this particular bag does contain the usual powdered flavoring: I eat raw pasta. I make up for it with a tasty cup of Lapsang Souchong tea.
Fern is first up in the morning. We eat, gear up, and set off, cramponing across the flats to the base of the steeper slope to the false summit (aka "Piker's Peak"). There is no boot track to follow in the fresh fall snow. The slope is mostly firm neve, with just a few sections of breakable crust. We plod up and up toward the false summit.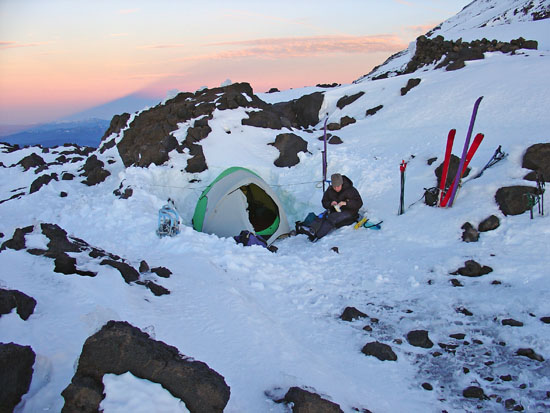 Fern breakfasts in the South Spur open-air cafe. Sunrise casts a shadow of the mountain in the pink sky behind her.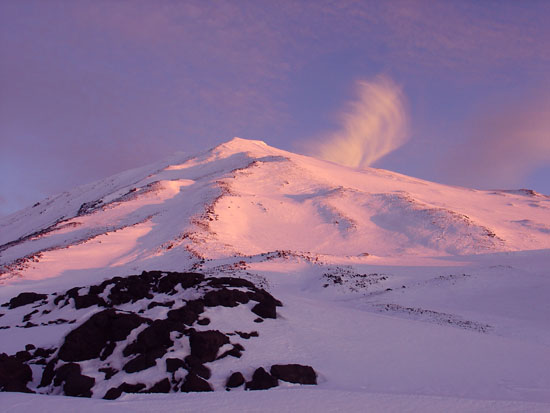 Morning alpenglow and dancing clouds on Adams.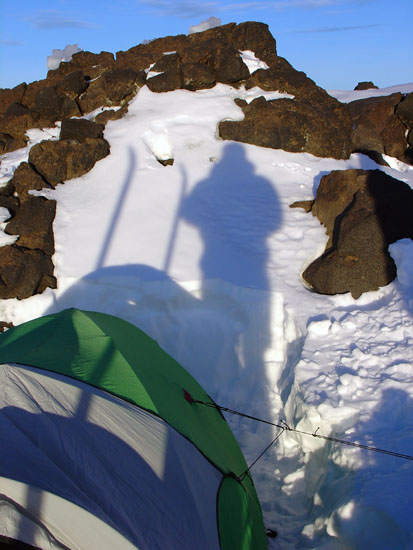 Shadow of Gaper.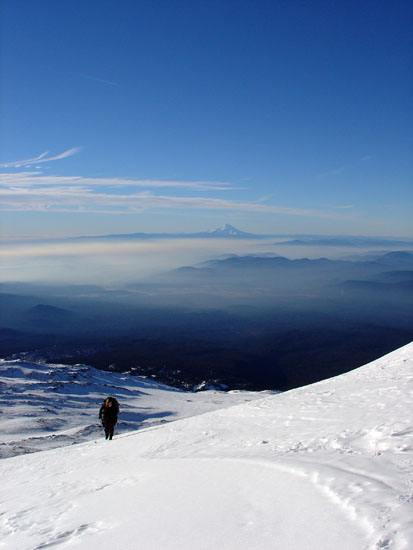 Fern nears Piker's Peak with Hood on the horizon.

A break there is an excuse for Hannah to give us a tour of the aged and famous scrawlings on a nearby rock: "You are piker if you stop on this is the summit. Don't crab, the mountain was here first."
But I am crabbing because the snow conditions from here to the summit: Bizarre wind-blown rounded ice blobs cover the ground, kind of like Art Deco penitentes. I consider leaving my skis here, but drag them along at the last minute. The slog up to the summit isn't short, but it never feels as long to me as it looks. As we come over the last of the steep slopes to the flat summit plateau where we can see the true summit Fern has an amazing burst of energy. She and Hannah reach the summit first as I dawdle along in the rear. We spend a few minutes enjoying the summit: The view is amazing and that we seem to be the only people on the upper mountain this day is a very rare treat. A rubber chicken appears and antics ensue.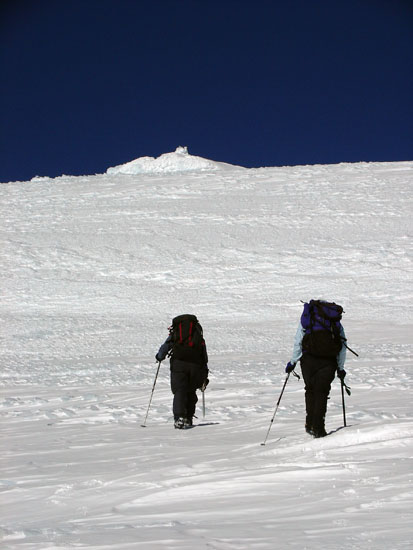 The summit, Fern, and Hannah, as I get left in the dust.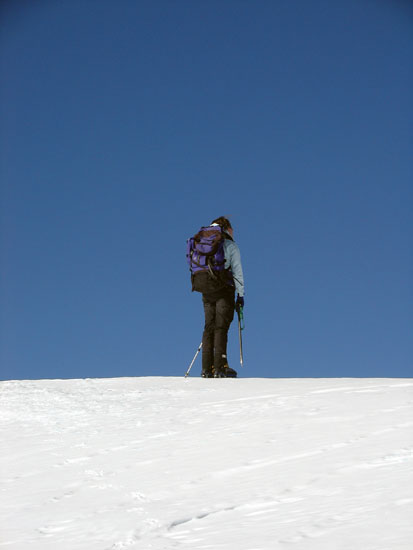 Hannah, awash in her favorite color, discovers where the sky meets the earth.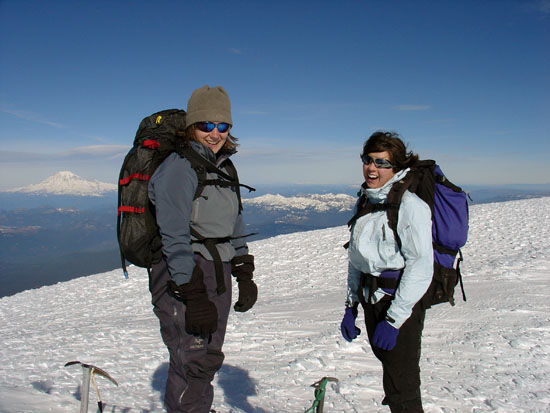 "Everyone say 'Dinners'!"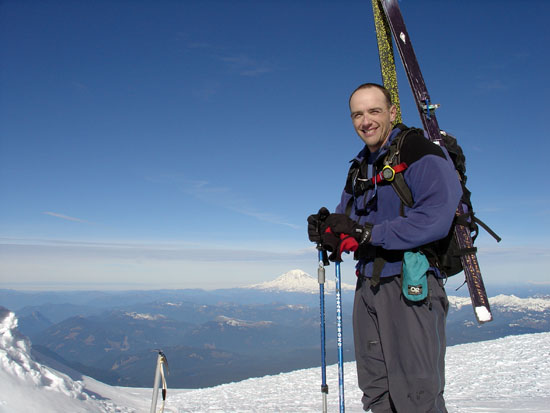 Yours truly. Picture by Hannah or Fern.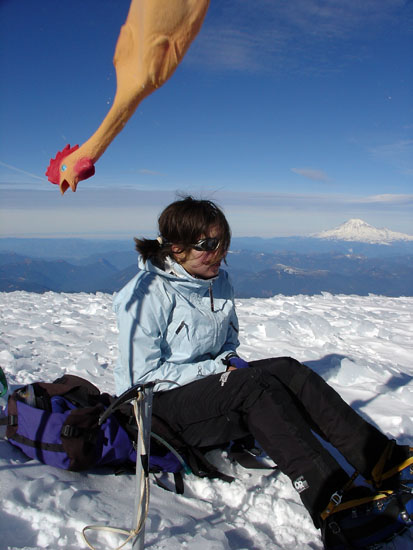 Who says chickens can't fly? Hannah about to be assaulted by a gift she gave me for my birthday.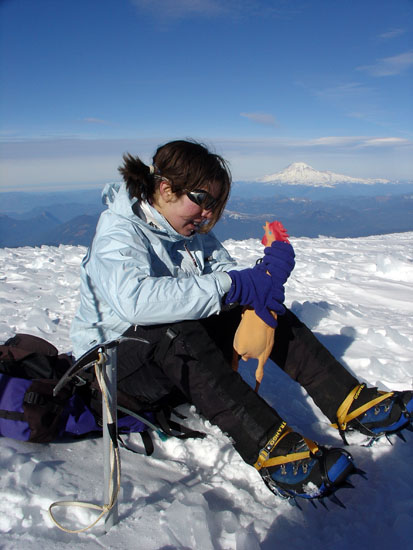 I'll let you insert your own caption here.

"You aren't going to try to ski down this are you?"
"Well, yes. I may not get far, but I'm going to try."
Getting back to the false summit is not fun for me. I find a few pockets of wind-packed powder but mostly I'm just trying to survive the icy, blobby, sorry excuse for snow. Jump turns, kick turns, and all-out survival skiing get me down to the saddle where I coast as far as I can toward the false summit. When the coasting ends I take off my skis and carry them the rest of the way uphill. Bowing to lazy stupidity, I put them back on in the ice and carefully glide back to the crest of the slope below the false summit.
Fern has already departed when I arrive, so I schuss off. Well, the snow from the false summit down makes it all worthwhile. Up high I link long sections of wind deposited powder, avoiding almost all the icy sections that were so nice for cramponing on the way up. The last half is spring-like corn. I can't help myself and whoop aloud as I savor the effortless turns to the base of the slope.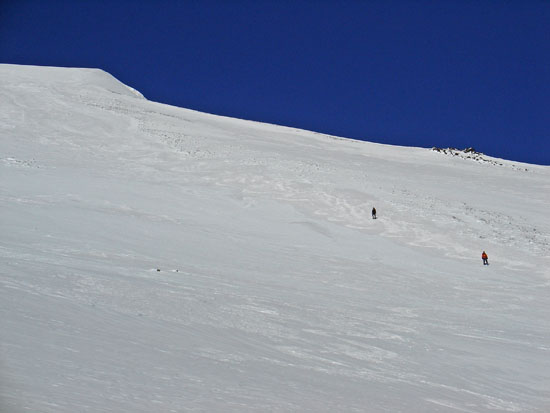 Hannah and Fern descending through my ski tracks.

I coast back to camp, with Hannah and Fern close behind. Hannah seems to have not particularly enjoyed downslogging. We pack up and head out: Fern and I on skis, Hannah walking. The skiing isn't as good here, and it's still skiing. At the Crescent 'glacier' it gets gloppy, softened by the afternoon sun. I huff and puff through the glop with a pack on, and make it down to the rocky flats near the creek. I take off my pack, sit in the shade, and watch Fern making turns and Hannah glissading.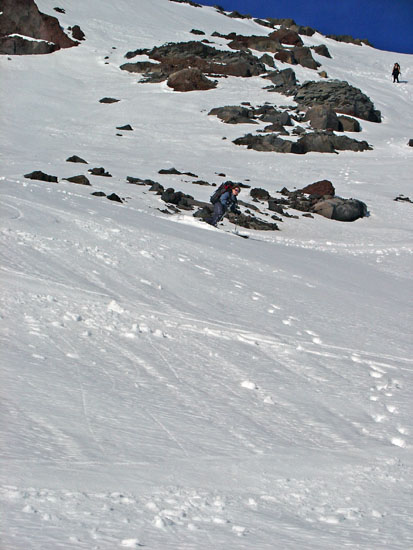 Fern making tele turns below the Lunch Counter. Hannah above.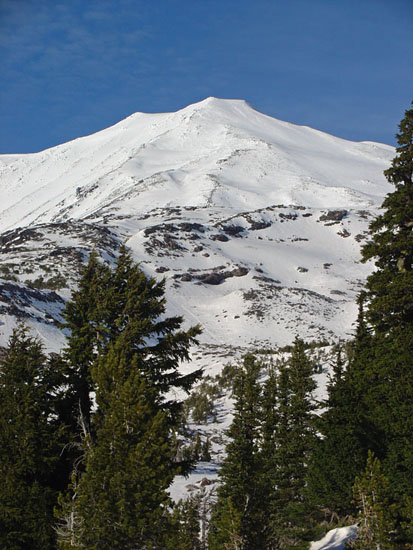 The South Spur. Hannah's glissade track just visible in the center of the picture.

By taking the 'correct' way out, Fern and I are able to ski to the car. I ski a bit, then wait for Hannah, then ski a bit more. Hannah is less than pleased with me waiting for her, but I don't like to leave people behind, even on an easy route on a nice day. So I whistle, hum, and sing as she downslogs along and pretends to glower at me. Later she'll tell me not to invite her on any more trips where I'm skiing. Shortly after that she gets skis. Ironically, it was a late-season climb of the South Spur many years ago that finally convinced me to get skis: I postholed down in wet, sloppy snow while my friend Paul glided effortlessly back to the car.
Dinner is, of course, pizza, and is had a "Papa Pete's Pizza", just north of Vancouver, Washington.
We essentially spent an entire day driving over hill and dale to get to the trailhead, and in the end had a fun climb on an uncrowded mountain under great weather. Thanks to Fern and Hannah for staying the course and being flexible.