Trinity Alps, Canyon Creek Lakes
September 6-8, 2001
On our first trip to this area Thomy and I schemed up a seven day through-hike from Caribou Lake through to Canyon Creek Lakes. The route we want to do is on established or "way" trails except for one section: From Mirror Lake to "Kalmia Pass" (my name for it). We'd looked at Mirror Lake from the pass on our first trip, but we didn't have enough time to explore the cross-country route to the lake.

So we used the need for that information as an excuse to go back for three days.

This time I was told by the people at the ticket counter that my stove and fuel bottle were not welcome on the airplane. My argument that a can of shaving cream is more dangerous was unsuccessful, so I ended up leaving the stuff in an airport locker. Despite the terrorist events since then, I am still convinced that banning liquid fuel stoves and empty fuel bottles is pointless.

But I used that as an excuse to buy a new stove in Redding. The little Primus titanium has a built-in piezo-electric ignitor. It sounds like a MSR XGK when running full throttle. It probably isn't a great product for winter use, for for short overnight trips, it is lighter, faster, and more convenient than a Whisperlite. I just wish there was a way to recycle the fuel cannisters.

But I digress.

We stopped for hearty lunch in Weaverville. Actually, I had breakfast and Thomy lunch. Fueled by a full stomach, we walked the nine miles to our preferred campsite at Upper Canyon Creek Lake in 2.5 hours.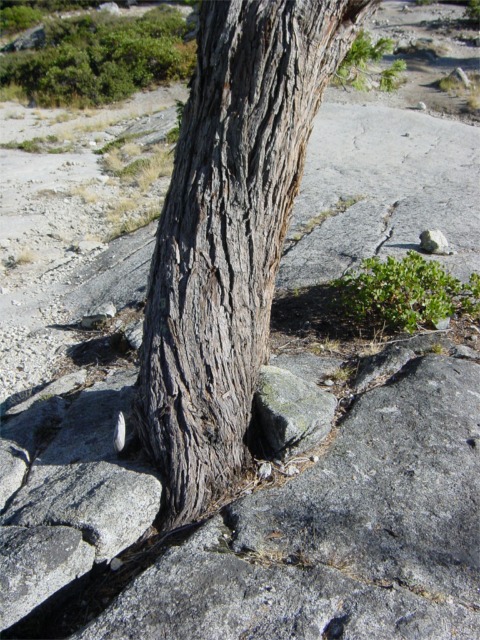 A cedar tree shows what can be accomplished with patience and determination. It struck me as a brilliant reminder.

The sun was already off the lake when we arrived, but we went for a swim anyway. It was hot and I wanted the dusty trail residue off me. Dinner followed closely.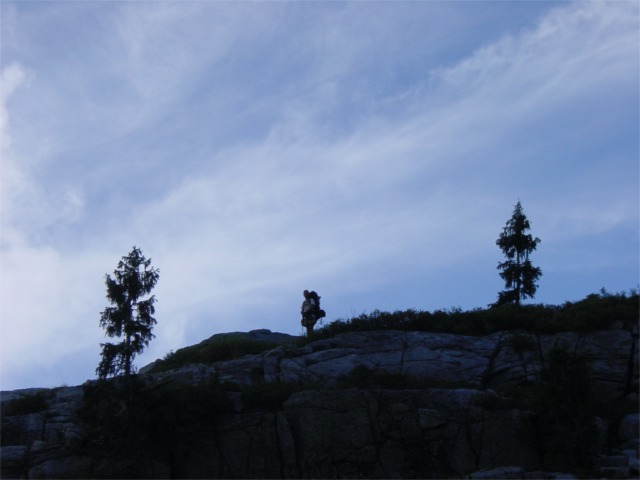 Thomy on the ridge just above Upper Canyon Creek Lake.

We made a casual start in the morning, leaving around 9:30 AM. We walked around the lake and up toward El lake. We crossed the creek and walked through the meadow, then up toward the dry creekbed. Everything went faster on this trip. We talked about whether this was mental, knowing what to expect, or just due to knowing the way, and losing less time to route finding. In no time we were at "Kalmia Pass". We took a short break there, then started down toward Mirror Lake, which looked so close.

Reflections in a tiny spring-fed tarn in the meadow below the pass. I suspect that the bears keep it dug out as a water source. We found bear scat nearby.

We traversed left following deer trails over surprisingly easy terrain. Our plan was to traverse until we could find a way through the cliff bands below us. We traversed and traversed, occasionally stopping to explore below for a route. In the end we had to scramble far to the west before we found a loose, rocky gully that gave us passage to the lower area of the cirque.

Sapphire Lake from the traverse to Mirror Lake. A tiny bit of Emerald Lake is also visible.

Two hours after leaving the pass we arrived at Mirror Lake. It took much longer than I expected, but we found a route that was passable, even with the packs we would be carrying on a seven day trip.
We snacked and lazed in the sun. I swam out to a solid granite island in the lake. At 3:00 we left the lake for the pass. We took a slight shortcut, more technical, but less loose, and were able to get back to the pass in about 90 minutes. Along the way Thomy found the basket from a ski/trekking pole. Has this area been skied in the winter? On the way back we climbed high and traversed just under the steep cliffs at the rim of the cirque. We left some cairns to help us in the summer of 2002.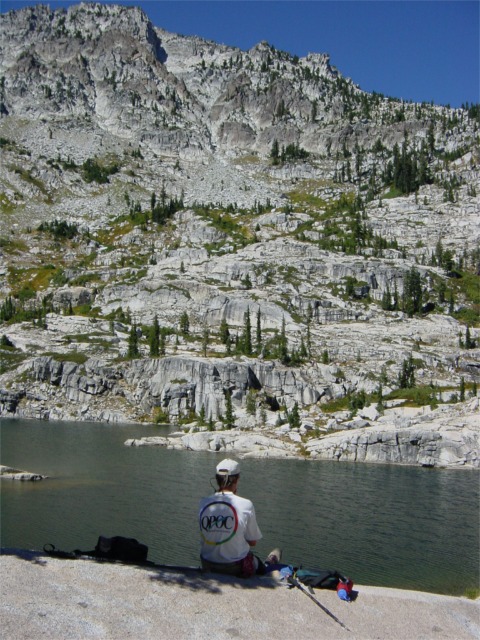 Thomy relaxing at Mirror Lake. We'll be back in 2002 to explore the ridge far above him. How hot was it? Even Thomy wanted to sit in the shade!


Looking at our route from Mirror Lake. The dotted section is in the gully behind the rock buttress.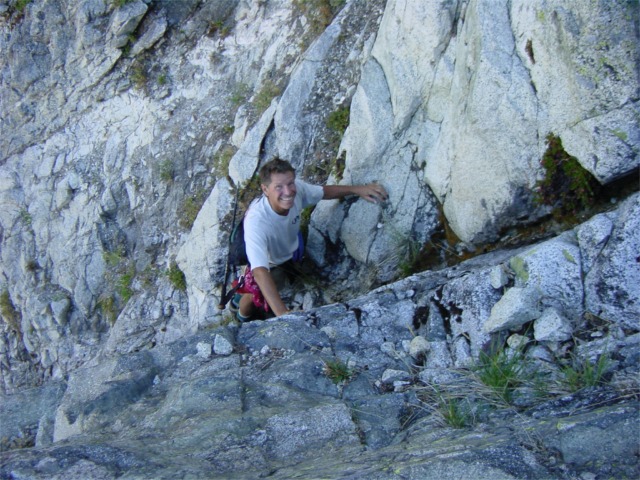 Thomy scambling on 4th class terrain on our shortcut on the way out.


Thomy enjoying the view from the traverse back to the pass.

Another 90 minutes from the pass and we were back at our camp. More swimming ensued, followed by lots of food. I watched amusedly as Thomy went about his usual camp busy-work: Bathing, laundry, fiddling with gear. Together, we make a sort of camping odd-couple, as I am much less concerned with clean clothes and body.
The next morning we considered hiking up to Kalmia Lake. In the end, we just couldn't figure out how to do it, pack up and walk out nine miles, and get back to Ashland at a reasonable time. We opted for a quiet morning at the lake watching the fish jump and an osprey hunt.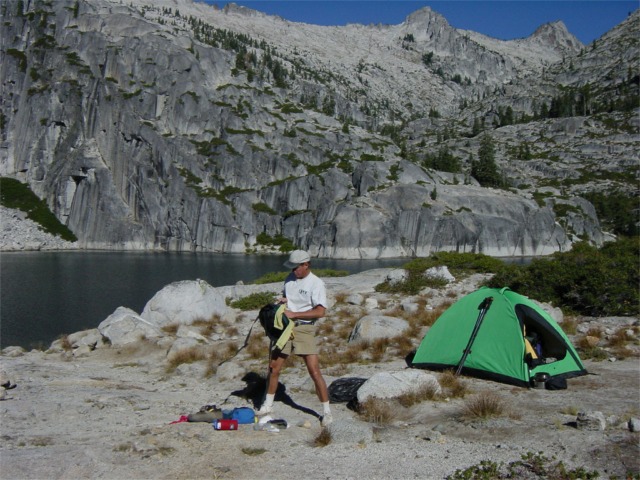 Thomy fiddles with gear at our camp site. The "Gothic Wall", Wedding Cake peak, and Mt. Thompson are the backdrop.

The walk out was long and hot. It took us 2.5 hours, and at one point the thermometer on my Suunto read 99 degrees. One-third of a mile from the car we stopped at a stream to soak our feet and heads is a creek. We ate dinner in scorching-hot Weaverville.
I'll be back in 2002 for a longer visit.