Snoqualmie Mountain
Enigma Gully Ski Descent
May 12, 2001
Jens and I had plans to do something on Saturday, but as usual, we waited until the last minute to decide what. On Friday afternoon I was raring to do a long one-day push, but by early evening my energy flagged as a minor head-cold set in.

My ill health led me to push for a lazy day of play at Snoqualmie Pass, a small playground of 6000 foot mountains only thirty minutes from home. I was in bed at 9:30 and up at 5:30 to pack. Jens showed up at 6:30 and we rattled on up I-90 towards the pass.

We had gear for skiing and rock climbing. On the way to the pass we decided to hike 3200 vertical feet up the standard route on Snoqualmie Mountain and then attempt to ski down "Enigma gully".

In sunny and shockingly warm weather, we traipsed out of the lower Alpental lot at 7:30 AM, thankfully leaving behind a swarm of about 100 members of the Mountaineers preparing for their "Snow 1" training outing.

We quickly lost the summer trail, but had a nice set of steps to follow in the soft, wet, deep snow. Traveling on the west side of the Cave Ridge, we were protected from the early morning sun.

Twenty minutes out of the parking lot we spotted two hikers above us. "Slow down Loren, let's let them keep breaking trail."

I tried to accommodate Jens, but it quickly became apparent that the pair above us was moving pretty slowly and there was not much chance of us benefiting from their trail-breaking. We had been walking up a clearing to the climber's right of the regular summer trail. At the top of the clearing, at a cliff, we caught the other two. They were taking a break, but we kept moving, cutting under the cliff back toward the summer trail.

We passed the clearing where the trail forks: Right to Guye Peak, and left to Snoqualmie. Now we were following old snowshoe tracks. I was feeling okay, but I could tell that I wasn't 100%. But the quality of the day and the anticipation of making some spring turns made the step-kicking worth while. Besides, it had been a while since Jens and I had been out climbing together and it felt good to be in the mountains again with him.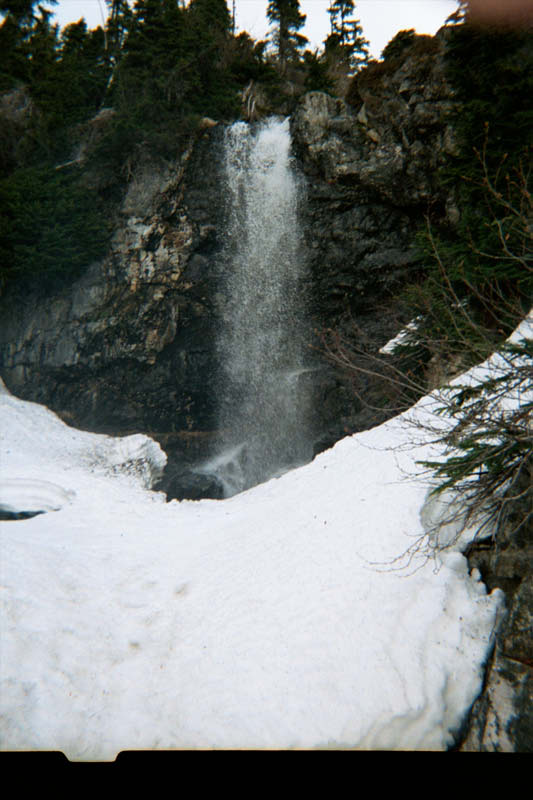 A waterfall on the approach. If it wasn't for all the snow we (usually) get, this would be a fun little ice climb in the winter.


Eventually we broke into the saddle between Cave Ridge and the south shoulder of Snoqualmie. We also broke into a fiercely sunny day. We continued on another 100 yards, then stopped to lose some clothing and break out glacier glasses. Mine we smudged with the sweat from the last time I wore them, literally months ago.

The sun and the snow conspired to make the south facing slope a giant reflector oven, with Jens and I at the center of the rotisserie. We stripped down to shorts and continued shirtless toward the summit, some 1200 feet above us.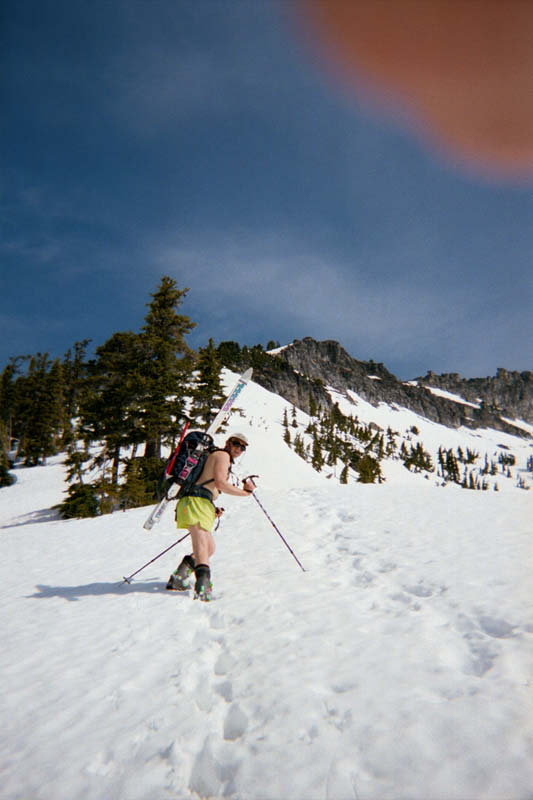 Jens looking for some steps to follow in the mushy snow and bright sunshine. Oh, and look: My finger!


We discovered some fresh tracks and we gratefully followed them, glad to have a ready made stairway in the slush. Once on the ridge proper I heard voices and around the corner we spotted the pair above us. We caught them just 300 below the summit. They'd camped on Cave Ridge, which is why we hadn't seen their tracks below. We thanked them for the steps they'd kicked for us and continued on. Jens led, kicking steps now, while I trailed behind wheezing and coughing.

Then was 9:50 AM and we were on top. In glorious sunshine on a windless day. We snapped a couple pictures, then settled in for a break. We talked about Enigma Gully and whether we'd be able to drop in. We suspected that, given its north aspect, it would have firmer snow. So we ate and drank and sat there in the warm sun. And when the other two showed up we chatted with them a bit.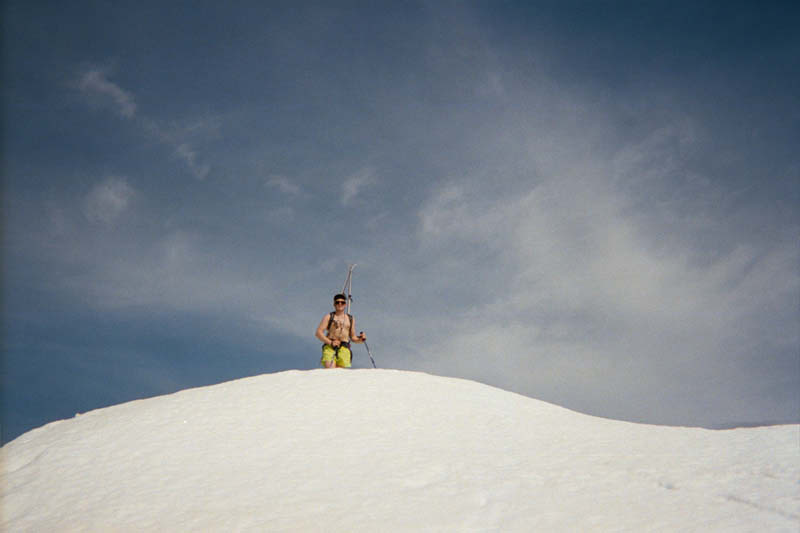 Jens on the summit on a beautiful, windless, warm spring day.


Jens and I scrambled down to a tower just below the summit to scope out Enigma. "Yep, that's it, that's Enigma, Loren."

"Looks steep. Where do we drop in?"

"I'm not sure. We'll have to ski down and take a look."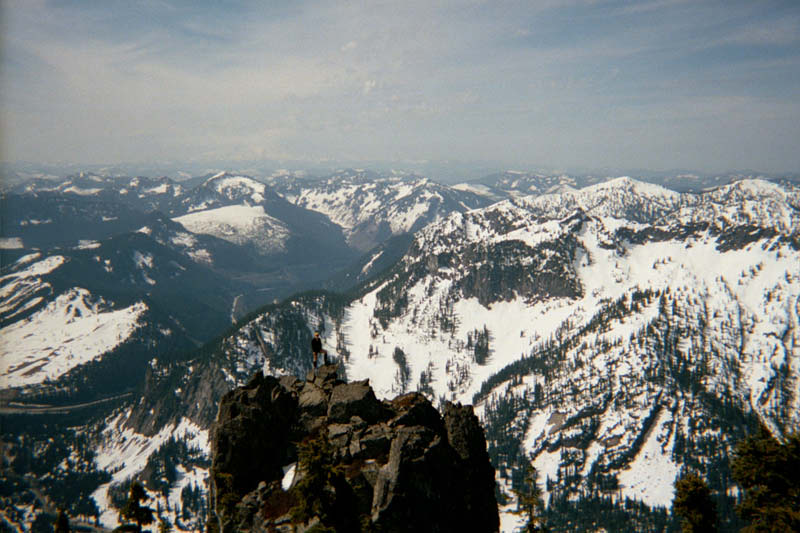 A moment to pose while I scope out the descent route. Denny Mountain is behind me; the Armstrong Express lift runs up the large opening to the right of me.

We clamored back up to our gear and packed for the descent. The other two folks were impressed with our skiing plans. Maybe I just take it for granted now, but if the snow is soft, I can pick my way down most anything that doesn't require big jumps. We said goodbye and started cutting turns down the soft, slightly wet snow. We went down skier's left of the tower we scouted from, then under it and back toward a small stand of trees at the mouth of Enigma. I sideslipped in a bit. "No way this is going to go, Jens. It is down to bare rock."

"Are you sure?"

"Yes. It won't go without a big jump."

Jens looked over to the left.

"How about over there?"

"Maybe, lets go over there and see."

It didn't look good to me, I could see exposed steep rock, but I was willing to check it out.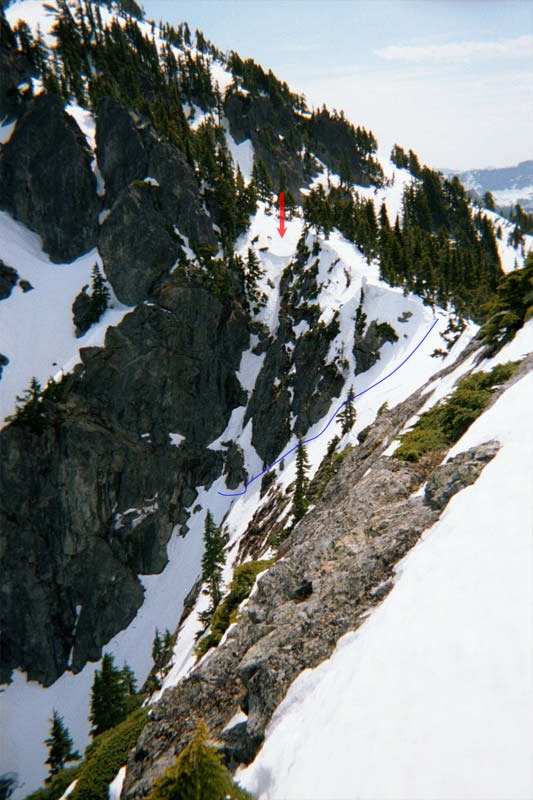 Looking back toward Enigma Gully. The red arrow shows the first place we tried to drop in. The blue line shows where we downclimbed.


So we skied down a bit, and when we couldn't traverse back in, a bit more. Then we had gone too far.

"Loren, let's climb back up a bit and see if we can get in."

"Okay, but it sure is tempting to just ski down the fall line."

I was looking down toward the parking lot far below, and at all the open glades in between.

But the day was young and I too wanted to ski Enigma. So back up we went, Jens in the lead again, and me pressure breathing in an attempt to keep up. When we came to a third class rock section we split up, I skirted under in the snow, since I hadn't put my skis back on my pack, and Jens went over, packing his skis. "One whistle means it goes, Jens, two means no, and three is help."

So I continued along under and the along the buttress until I came to the top. Two hundred yards to my right I could see my ski tracks at the direct entrance to Enigma. The snow ended in rocks just 15 feet below my tracks. Below me was more steep, rocky slopes. I walked back along the ridge top until I could see Jens and the point we'd been trying to get to. "Jens! What do you think?"

"I think it will go!"

"It looks pretty grim below you, we may have to down climb."

I could that the steep snow just below him ended in steeper, moss covered rock that ended in a cliff. But I could also see that we might be able to skirt skier's right under a rock buttress and access the main couloir. I traversed the ridgeline back to Jens. We agreed to put our crampons to use and switched gear around again: Boots to climb mode, skis on pack, axes out, crampons and shirts on.

Jens led in. Though the terrain was not that technical, the cliffs below were imposing and the very soft snow precluded and chance of self-arrest. I was berating myself for leaving my helmet at home. But we continued down, slowly, carefully. At the crux I stopped and let Jens finish, to make sure I didn't fall down on him. In twenty focused minutes we were through and into the couloir.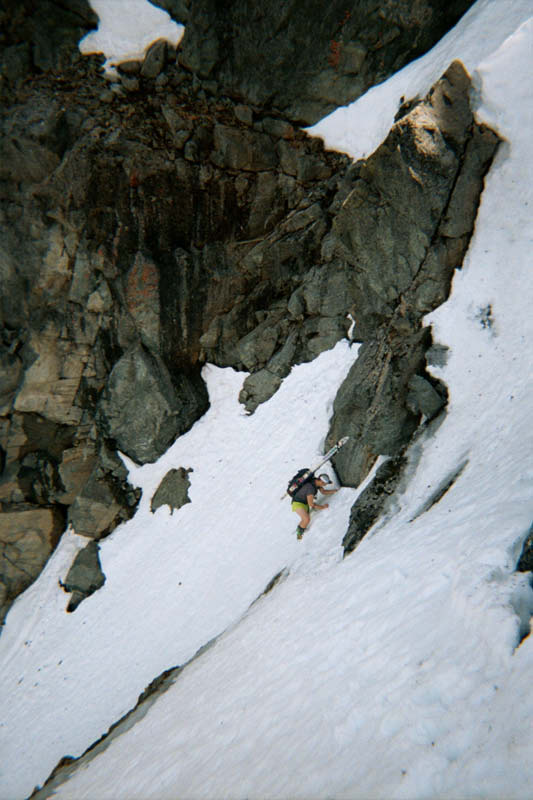 Gloveless Jens finishing the downclimb. I put my skis back on just below where he is.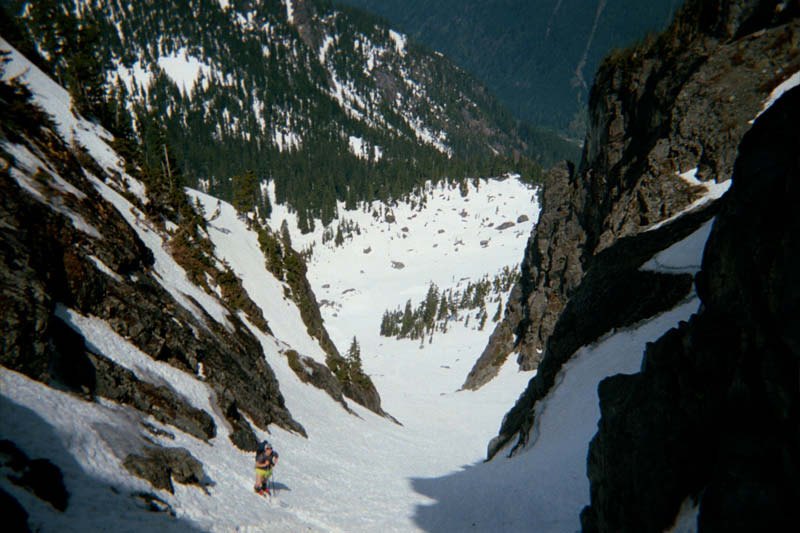 Looking down from the top of Enigma. Jens waits patiently for me to ski.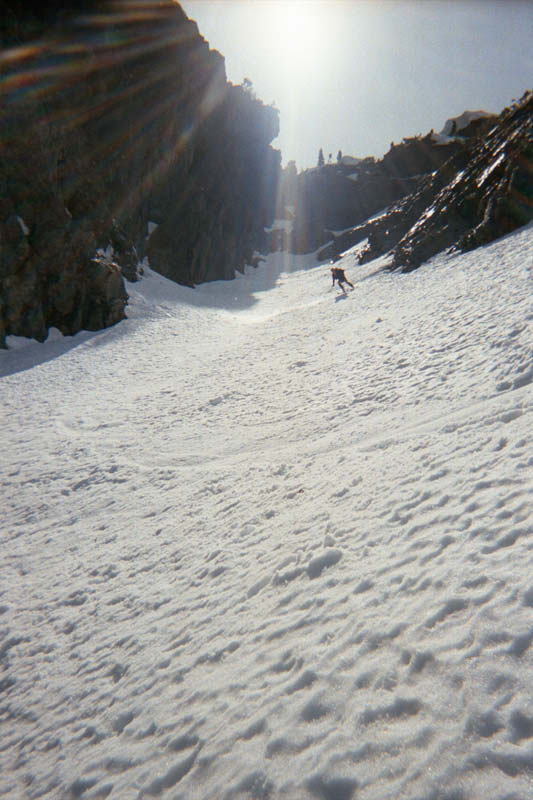 Sunlight streams in as I make some turns high in Enigma Gully. Someday maybe I'll learn some technique. Then again, probably not.

At the head, just fifty feet below my tentative ski tracks in the direct entrance, we switched gear once again. Boots in ski mode, axes on packs, and skis on. The snow in the couloir was spring-like, but not fully consolidated. Under the soft top was avalanche rubble. I learned this when it caught the tip of my downhill ski. The tips crossed and I began one of those clumsy, slapstick ski ballets as I frantically tried to untangle my skis. I was unsuccessful. I went over hard and slid down the slope. When I stopped, I looked up twenty feet above and admired the large impact crater I'd made. "Wow, Jens. Check out my crater."

"Dude, are you okay?"

I looked down at my right boot, which had released from the binding. "Yes, but I'm glad I was on releasable bindings."

We skied the rest of the way down. It was a joy to be skiing in shorts again. In the basin below we stopped at some rocks to switch gear again for the climb out.

Jens looked up at the notch above us. The exit from the basin and entrance to the glades above the parking lot. "That won't take any more than ten minutes to get up there, Loren."

"Hmmm, I'll take that bet. More than ten and you buy the beer. Less and I buy."

"You're on."

We departed the rocks at 12:26 PM. At first I thought I was a loser for sure. But that little notch wasn't so little, and it wasn't as close as it looked. We took turns kicking steps in the soft, deep snow. Just below the top Jens sprinted out and dove onto the saddle.

"Time?!?"

"12:36. I owe you beer."

It had been a grunt, and I had lost a beer, but I was glad to be done with uphill travel for the day.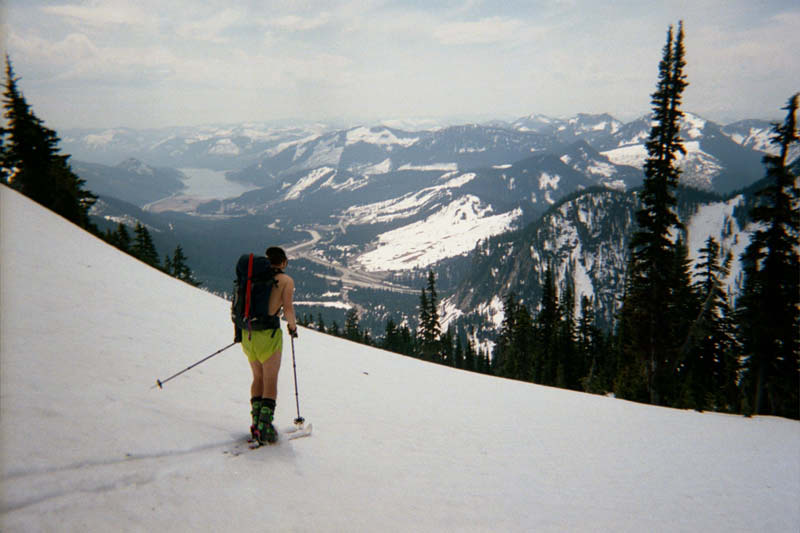 Jens happily skiing away from the pass that accesses the north side of Snoqualmie after winning a beer from me. "The Summit at Snoqualmie" ski area is in the distance.


Back on with the skis and down we went, trending skiers left. After mucking around in the trees a bit, we broke into a beautiful, open area and cut some nice turns. Before I knew it we were just above the cliff bands that were home to hordes of ice climbers last winter. Back off with the skis. We crossed the stream and began "scrumbling" down in the trees. The tedious travel was accentuated by the poor traction of my randonee boots on the mossy, steep slopes. But Jens had made this descent several times before, so we were quickly past the difficulties and in the clearing below the waterfalls. "I'm gonna put my skis back on Jens, we earned these turns, we might as well take them."


Jens working for a few more turns.


And so we did. Amazingly, given the minimal amount of snow this year, we were able to ski to within 100 yards of the car.

Back at the car I pounded down a hot quart of water. Then we drove over to a mini mart and I pounded down a quart of All Sport.

Think the adventure is over? Ha! Keep reading.

It was still early, and we weren't done. So we headed back over to the Denny Creek road (for those not familiar with the area, this road predates the I-90 freeway and weaves under and around it for five miles west of Snoqualmie Pass). We had noticed earlier that it looked open, so down we went. "Do you think we can make it all the way down the the Denny Creek Exit, Loren?"

"Sure, there is no snow here, there can't be much down there."

It went well for a while. Until we reached the trees. But the first few patches of snow we came to already had tracks though them, so I was able to plow through in four wheel drive. We passed a Subaru coming the other way. "Cool, they got through, so we can for sure."

Then we rounded the bend and saw that my interpretation was wrong. The Subaru had turned around in the face of an untrammeled stretch of snow on the road. No one had driven the length of the road yet this year. I stopped and looked at it. "I think we can do this, Jens."

My confidence was enhanced by the avalanche shovels and chains in the back of my 4Runner. I threw it in four wheel high and plowed in. A guy standing along the road shouted encouragement as we went by: "You are gonna get stuck!!"

The tires spun and skidded around, but I had just enough traction and just enough ground clearance to let the tires dig down to the road each time forward progress stalled, and we made it through. "Cool Jens, first we ski Enigma Gully, then we get the first descent of the year of the Denny Creek road."

A couple miles further down we pulled over and snuck in to the little granite stash. It probably wasn't more than 65 degrees, but the sun was beating down and I was sunburned from running around most of the day without a shirt. And then I realized that I hadn't peed all day, despite drinking three quarts of fluids on top of a cup of coffee. I wasn't at my best.

Jens led a devious 10c/d slabby friction affair, which I flailed up with several hangs, low on energy and enthusiasm. The he walked around and set a double TR: One end of the rope on a 10d he'd climbed before, and one end on something new. He pulled through the 10 in good form. The crux is right off the ground, below a roof. He kindly left me an extra hold in the form of a draw on a nut, and after that I was able to pull the roof cleanly. I took a couple rests in the finger cracks above, but I think I could do it cleanly if I was fresh. Given my moniker of "Crack-thrasher", I was reasonably pleased with my performance. Jens took a lap on the other route, an evil looking thing with nothing for hands and less for feet. I gladly belayed while he worked the moves, then lowered him off. I walked around and cleaned the TR gear, then got the nut down with a stick. We ambled back to the car, tired and satisfied.

On the way to North Bend, we decided on ice cream instead of beer. Scott's Dairy Freeze was jammed, but it was well worth the wait for a cold vanilla malt. I was home before 5:30. What a great day.