Mount Rainier, Kautz Glacier
July 23-24, 2005
I'm staring at this blank page, unsure of how to write or even start this TR. So I do the only thing I know to do: Start writing, whatever comes to mind. I wonder what it will be...
At this point in my life and my climbing career (career is a shitty word for it), I climb to be with people I like and who like me, and to be in beautiful places. I like to move at a decent pace, but not feel rushed. I like to know how long I take on climbs, but I'm not concerned about impressing anyone with my speed. I want to go *be* in the mountains, on a mountain, in beautiful, remote, uncrowded places.
The Kautz is an important route to me. To fully understand how and why, you need to read another TR. But I've not finished it, so you're shit outta luck there.
I'm originally from Ann Arbor, Michigan. I moved to Portland after graduating from college in 1991, for a job, not for the mountains, bent on climbing the corporate ladder. As soon as I arrived in Portland I fell in love with the Pacific Northwest: The mountains, the people, the weather (yes, even the rain). But wait. that's starting down the path of a long story.
in 1994 my parents came out for a visit and I, then essentially a non-climber, jokingly suggested to my Father (capitalized for you, and you know who you are) that he could come out in 1995 and climb Rainier with me to celebrate his 50th birthday.
Again taking a shortcut in the story, we reached the summit at 6:00 AM on June 28, 1995 (I didn't know it then, but my first child would be born two years later, to the day). It was hard for me, and very hard for him. That he came out to climb with me, that he gutted it out, and that it became one of his most beloved accomplishments made it a particularly precious memory and experience for me. Especially after he died suddenly in 2000. He always said he wanted to come back out to climb again to sign the summit register, as we'd not gone down to Register Rock on that cold, windy morning in 1995.
Once since then I intended to climb the Kautz, but was diverted onto the DC by crappy weather. I have, since then, planned to go back in 2005, the tenth anniversary, and repeat the route.
Now, with whom to go? If ever there was a climb where I was feeling particular about my partner, this was it. The answer, which I'd pondered off and on for several years became obvious as my friendship and climbing partnership with Hannah grew last year. "It's either you or solo", I told her at some point last year.
So we made vague plans to climb it together this summer. But this summer hasn't been like last summer. Among other things, she works Saturdays and I, at the moment, have no vacation coverage, so taking week days off to be in the mountains is very difficult: We'd not climbed together since May. As July ebbed and reports of alpine ice on the route filtered out I started feeling antsy and anxious about it. I've never been much for climbing alone, but after a fun solo on the Emmons early in the month, I was feeling less disinclined. One last check of the forecast on Friday afternoon and my decision is made. I pack Friday night, happy with the weight of a pack unfettered with rope, harness, pickets, etc. I clumsily drop an ice tool on my rolled up Therma-rest. "Hah, wouldn't that be funny if I poked a hole in it."
I know I might see Hannah at work when I register Saturday morning and I think of a two ways she might react: She'll be happy for me, or she'll be pissed that I'm going without her. Then a third occurs to me and I toss a rope, harness, screws, and pickets in the car.
I feel excited driving down on Saturday morning, and I make good time, just over two hours from my front door to the Paradise lot. Hannah is working, and her reaction is the latter of the first two possibilities I mention above.
Trying to sort it out in front of a crowd of people is hopeless, so, permit in hand, I go back to my car to finish packing up. Pack packed, I look down at my laced boots and realize I've not put on the Goretex oversocks I use with the leaky Trango Ice boots I've chosen for this trip. "FUCK!"
"You have a potty mouth", Hannah says, walking up behind me.
"You're one to talk", I say without missing a beat.
A conversation ensues. Hmmm, what to write about it. Nothing is perhaps best.
We each vent a bit for a while. I fix my socks and muck about getting ready to go. Eventually there is nothing left for me to do other than start walking. "Okay, if you really want to climb it with me here is a car key and there is the rope, my harness and the other group gear. Meet me up there tonight if you like."
At that moment I'm equally happy with the prospect of climbing with her or soloing. She takes the key without words, we hug, and I start up the suck-ass asphalt trail. It's 9:30 AM.
Clunking up the relatively crowded trail I quickly decide against following it up to Glacier Vista and take a sharp left on toward the unpaved, and rarely visited Moraine Trail. Just as on the Emmons climb I'm listening to my iPod and I slowly plod up the crest of the moraine. I see the birthplace of the Nisqually River as it spouts out of the massively receded Nisqually Glacier, many wildflowers, birds, and almost no people until I crest the top of the moraine. Then I can see a climbing team near the Turtle and a large Mountaineer-like cluster of people standing ahead on the last snow patch at the end of the Moraine Trail. As my Simon and Garfunkel disc ends, so does the battery in my iPod. "Fuck."
It really is one of my favorite words.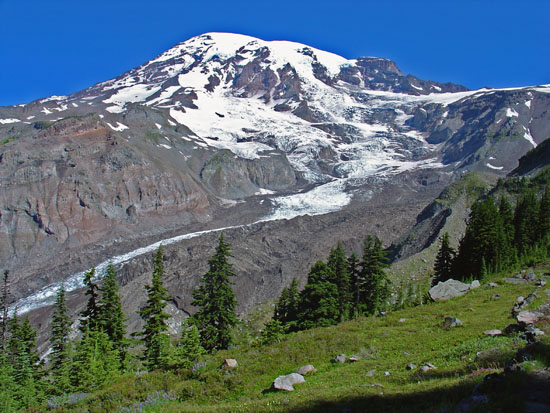 Mount Rainier and the Nisqually Glacier from the beginning of the Moraine Trail.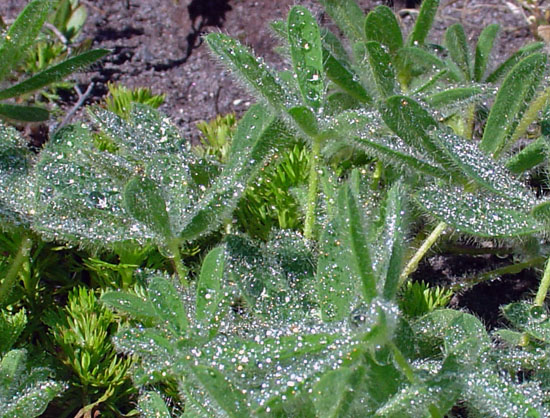 Morning dew.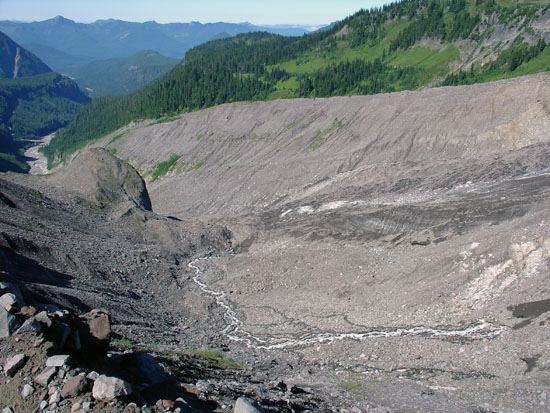 The Nisqually River issue forth from the terminal moraine of the Nisqually Glacier. The Nisqually River Bridge is visible on the left.

I walk along and ponder my unconscious decision to unknowingly depart with a dead iPod, eventually settling on the idea that, on this trip, I don't want to be distracted from the present by music. And then I arrive at the group of thirteen roping up to cross the completely melted out Nisqually, which is now more of a series of big, hummocky loose dirt and rock piles than a glacier. This settles the next decision for me: To cross the Nisqually and ascent the Fan/Wilson Gully, or to climb up the Nisqually and join the standard route near the Turtle snowfield. In 1995 the Nisqually was a generally flat, snow covered affair, and we marched up the Wilson Gully in steps kicked in the snow (we glissaded all the way down). Today I'll opt for negotiating crevasses on the middle of the Nisqually, rather than dodging rockfall on the wholly melted out standard route. As the first rope team of the group of thirteen departs, I decide that this appeases the misanthrope in me as well.
I make a rising traverse across the Nisqually, linking snow patches and icy spots to minimize stumbling through the nasty-loose hummocks. With less hassle (and cursing) than expected, I reach the far side of the Nisqually. I stop to take a break, enjoy the view, and switch gear: Tools come off the pack (one old-school Grivel Supercourmayer and one Grivel Air Tech Racing axe), poles are stashed, and crampons are fitted. As I snap the steel 'pons on I realize that I can't remember the last time I wore steel crampons, other than on ice climbs.
Making my way up through the Nisqually is sporty and fun. The crux is tottering out along a fin of a serac, turning around, sitting down on it like a horse, and carefully lowering myself off the end onto a platform six feet below. This spot almost sent me seeking another way through, as I peered down into the dark, wet, deep crevasse next to the platform I needed to reach: No room to fall here.
The rest is less technical, but still fun. Eventually I see what looks like a boot track in the snow above me. I'm ready for some easier walking in the sun-softened snow, but I don't get it: The boot track is old and I end up kicking steps all the way to the rocky crest along the Turtle snowfield. I take another break there in the rock where I can see eastward toward Paradise and the Muir snowfield and westward toward Tacoma. The day is beautiful and I feel wholly satisfied with my place in it.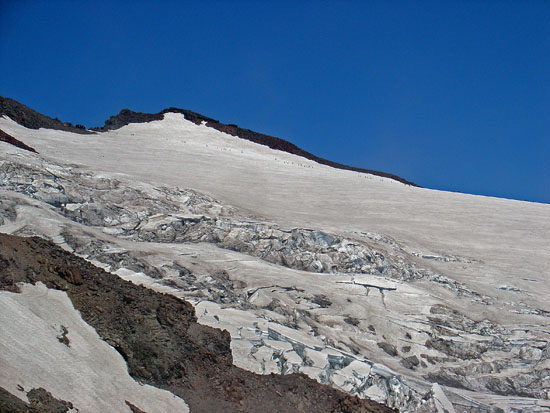 Not my place in the world today: Dozens of "ants" make their way up the Muir Snowfield on a typical summer weekend.

A bit more scrogging through the rock brings me to the real boot track in the snow. This is about where we camped at the end of our first day in 1995, I think to myself. The pictures I have from the trip roll through my head. Ahead I can see a party. I distract myself from missing Dad by deciding to catch them. I don't hurry, but I move steadily. At about 10,000' I pass the first of them. Just above I catch the second, then I stop to chat with a skier. He's looking for a ski that was lost years ago, and enjoying decent turns on a brilliant day.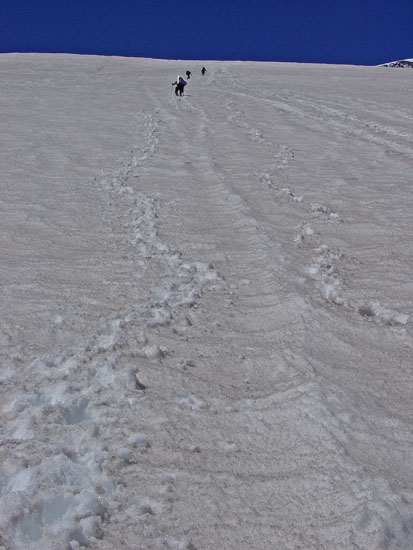 Playing catchup on The Turtle. The shiny thing is a picket.

After a few more slopes the boot track cuts over to a lovely little notch. I follow the steps and find the third member of the party preparing a bivy site. Past him there is a climber's trail in the scree. I follow it up rather than kicking new steps in the snow. I pass many rock walled bivy sites of varying quality. My goal is to get as high as is safely possible. In 1995 we spent our second night at Camp Hazard, but it has since gone out of favor for being too prone to icefall from the ice cliff looming directly above it. I'm also searching for something that I'm not sure I can find.
At 3:15 PM the trail leads me to that thing: The quasi-mythical handline that protects a short rock move used to avoid the descent (and subsequent ascent) from Camp Hazard to the Kautz Chute. I can also see the route from here and what I see relieves me: I feel confident that I can solo up and down it; I now have the option to down-climb the route rather than carrying over.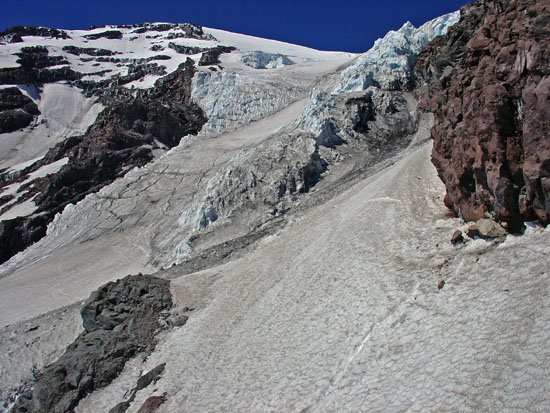 The Kautz Chute and its two ice pitches. I'd draw a line to show the route, but I have a genetic Photoshop skill block that prevents me from using it for anything beyond the simplest color corrections.

I descend a bit and pick the best of the closest clutch of bivy sites. The wind is up and keep an otherwise warm day cool. I keep warm by improving the rock wall in anticipation of cooking and just wanting to be out of the wind. Then I change into dry, warmer clothes, gather snow to melt, and sit back while the stove turns it to water.
I thoroughly enjoy the next few hours. Quiet time to think and feel, time when I don't feel like I should be doing something else (answering email, working, fixing up the house mowing the lawn, etc), is hard for me to create. Indeed, of late I only seem capable of doing so in the mountains. I think about my wife and kids, how beautiful the mountain is, how happy I feel to be there, my Dad, and I wonder where Hannah might be: With her boyfriend? Consuming ice cream or chocolate? Packing to meet me? On her way up? Throwing darts at a picture of me?
While packing on Friday I found a forgotten, half-written TR from my 1995 climb with my Dad. I get out the copy I'd made and read through it. Rare tears stream down my face and drip onto the ground. When they stop I get out my tin whistle and play for a while, when not fiddling with the stove.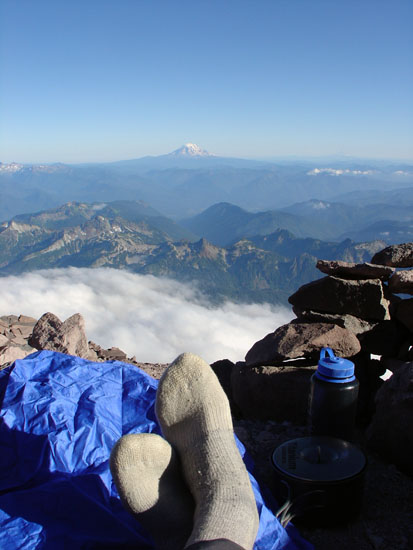 Mt. Adams, The Tatoosh Range, and my feet.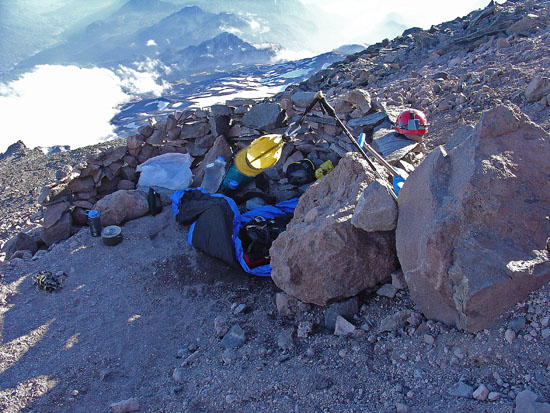 Messy bivy.

I'm not good with the whistle and I'm glad no one is within ear shot, or at least I can't see anyone and can convince myself that no one can hear me. I know only three songs: One that I made up, which I play and a variety of incarnations, Doe A Deer, and (gulp) Material Girl by Madonna. I randomly play bit of each of them, sometimes blending them together in a cacophony that is certainly not melodic, but still pleasing to me. As the sun dips on the horizon I teach myself Taps and play that for a while.
I find myself wanting Hannah to be there, to show up. Somehow I decide that she might arrive around 9:00 PM, or perhaps 11:00 PM. My alarms are set for 2:30, 2:35, and 2:40. I reason that a 3:00 AM start will put me on the summit between 6:00 and 7:00 and back to camp around 11:00 AM. Dinner eaten, I melt snow until both my quart bottles, the 100 ounce collapsible container, and the pot are full. This is more than enough for me, but I'll need it if Hannah shows.
I have tinnitus at two pitches, one of which is close to the alarm on my watch. Though I usually wake up during the second alarm, I'm worried about sleeping through all three and waking up under a warm sun at 8:00 AM. It's 7:30 PM when I crawl into my sleeping bag, still wrestling with the bivy sack I've not used in five or more years. On top of my brain-cloud about how the bivy-poles work, I did indeed skewer my Thermarest pad and it's as flat as Nebraska under me.
I resign myself to sleeping without the poles. True to nature that frees the solution from the dim recesses of my mind. I take care of that business and roll over to sleep. But now I have to pee. It's going to be one of those nights.
Though I deeply relax before, it's after 9:00 when I finally fall asleep. "No Hannah" is my first thought the next time I wake up to pee. I settle myself back on soloing.
Between worry that I'll oversleep and having to pee constantly, an hour rarely goes by during the brief night that I'm not awake. The wind is still up, but the stars are beautiful. And I'm happy each time I wake and see that I can still go back to sleep.
"Loren!"
"Hannah!"
I was asleep, but my reaction is instant, her voice unmistakable.
I'm surprised and elated.
I check my watch (it's 2:40 AM) then wrestle my way out of the bivy sack and see her headlamp above. She'd followed tracks in the snow (made by others after I came up) to Camp Hazard. She picks her way down the rocks and joins me.
We sit for a while, eating, drinking, talking. Hannah tells me about her approach and about a lone tent stake she saw on while crossing the Nisqually far below. "I figured you'd be camped higher than anyone else, and far away from anyone else."
"When I got here yesterday, both of those things were true."
I smile. It's good to be known.
We debate carrying over or downclimbing. I leave it up to Hannah to decide. By the time Hannah has rested and rehydrated, I've eaten and dressed, we've decided to downclimb the route, and we depart, it's about 5:00 AM and Hannah has been up for over 24 hours.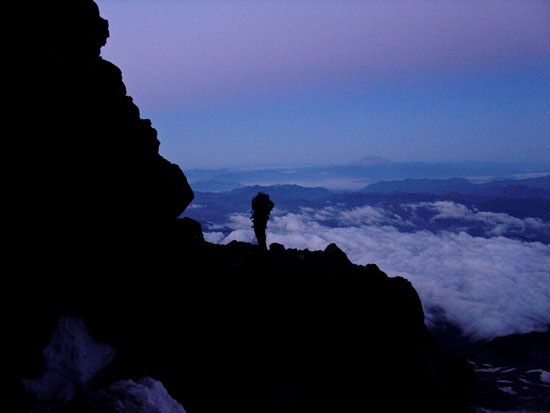 Hannah at dawn.

A party on the upper ice pitch is visible when we reach the handline. We downclimb the rock step, then traverse to the first ice pitch. It's AI 2-. I place one screw along the way and a picket in the snow at the top. The group's leader is still on the sharp end, with his two partners waiting below. Hannah joins me near them, but out of the fall line. After some discussion I coerce her into not waiting for them, but climbing a line to their left. It's steeper, but reaches snow faster.
Moderate ice is probably my favorite kind of climbing. The ice is decent, good sticks are plentiful, there is a bit of exposure to spice it up: I'm grinning ear to ear when I reach the steep snow. I dig through the snow, place the second of our two screws and equalize it with my two tools. Hannah quickly joins me. "That wasn't too bad."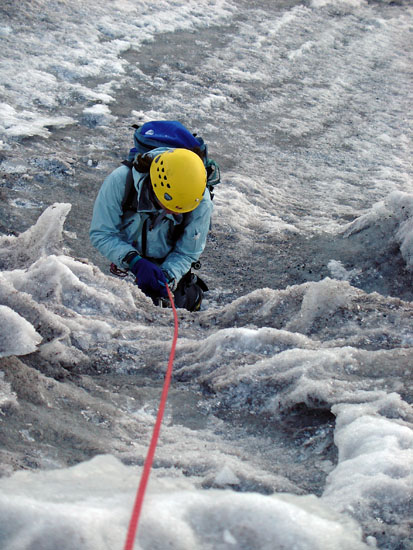 Hannah cleaning a screw just below the crux bulge. For some strange reason, I took no more pictures until we started descending into the chute on the way down.

A short rising traverse on steep, textured snow leads to easier terrain. We continue to a relatively flat spot between the the top of the chute and the steeper slopes below Point Success to stop and rework gear. We each stow a tool (and I get out a pole), and we stash the rope, too. Above I can see a faint boot track crossing the low rock ridge that separates the Kautz from the upper Nisqually. After a bit of talk and a bit of silence we decide to cross over and climb the upper Nisqually, rather than climbing up to Point Success. This is the way we went in 1995 and though I'm not feeling inclined to try to exactly duplicate that climb, I do favor going this way.
We take a brief break on the rock ridge. I think the crater rim is in sight, but it looks too close given that we still have well over 1500' to climb. We're not long unroped on the Nisqually: A large crevasse with an ominously sagging bridge bars the way. The bridge is 25 feet across and we approach from the side, which affords us a chilling look at how thick the bridge isn't. We belay each other across, and then continue up.
At some point I look at my altimeter and note that we have about 900 feet to go. At sea level that's about twenty minutes but at 13,500', where I'm slow and dopey, it can be over an hour. Hannah says something about turning around and wishing we were carrying over. In the moment I take it as her looking for encouragement and say something like, "Nah, we're so close." I'm also much more motivated to reach the summit than I usually am- completing this climb is important to me. We continue up, reaching the crater rim just south of the point that appears, from the summit, to be higher than the summit. Though I've only climbed 3300' that day, I'm dragging as we walk along the crater rim to the top.
"Do you want to go down to Register Rock, Loren?"
"Yes, I want to sit and rest for a bit."
Hannah is antsy to start down, and I'm happy to laze in the sun. We playfully carp at each other until another climber interrupts us:
"Is she your daughter...or your wife?"
We laugh.
"She's 20 and I'm 36. She's my climbing partner, and my friend."
"Well I'm 45 and my girlfriend is 25", he retorts.
I decide to leave it alone, as I can't think of anything nice to say back.
I continue to eat and drink and enjoy being on the summit. I write in the register and leave the copy of the incomplete 1995 TR I'd read the night before.
We rise and begin to pack up, continuing to harass each other.
"Are you two sure you aren't married?"
We laugh again, then leave.
We take a more direct western line on the descent, avoiding one large crevasse with a sketchy crossing. Our crampons start balling up and, just above the crevasse we'd belayed on the way up, we take them off. This is much better. We again belay the sagging bridge, then angle back toward the Kautz. Just above the chute we stop to adjust gear for the ice pitches (rope up, crampons on, tools out, etc), then continue down. The day is relatively late and we have a long descent below Camp Hazard.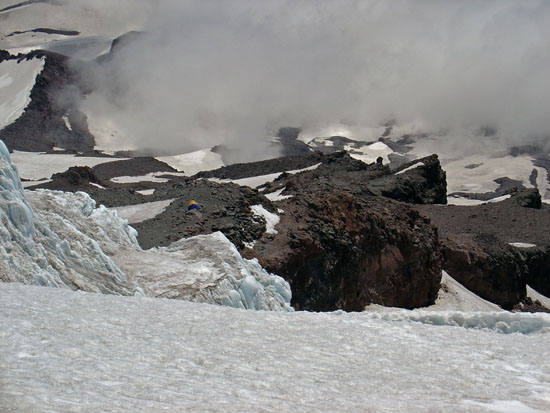 A lone tent at Camp Hazard.

Negotiating our way down the ice pitches takes effort with two screws and a 37 meter rope. Though it's hot in the amphitheater of the Chute, we proceed with care, wishing to avoid a mistake. Eventually we are both at the bottom of the lower pitch. We walk together to the handline, and then down to my little camp.
Hannah is wiped out. Not from the climbing, as she is very strong, but from lack of sleep. She's now been up almost 36 hours.
After some rest and food and a bit of water, we pack and start down. The snow is soft and forgiving. As I'd run out of sunscreen the day before, I'm glad to be out of the sun, on the east side of the ridge at the top of the Turtle snowfield. It takes quite a while (or it seems like it) to get down to the upper end of the Wilson Gully. That's where the real fun begins. Unlike my previous visit here, it's totally melted out, so we pick our way down slowly in the loose rock, picking up slight climber's trails here and there. I'm being very careful of my shoddy ankles- I'm in now way interested in hobbling across the Nisqually at dusk.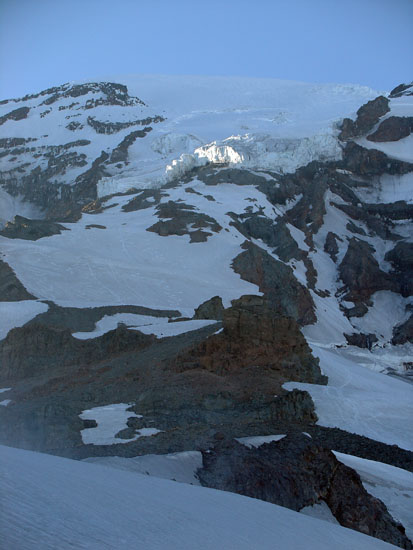 Last light on the Kautz Ice Cliff. Can you spot "The Turtle"?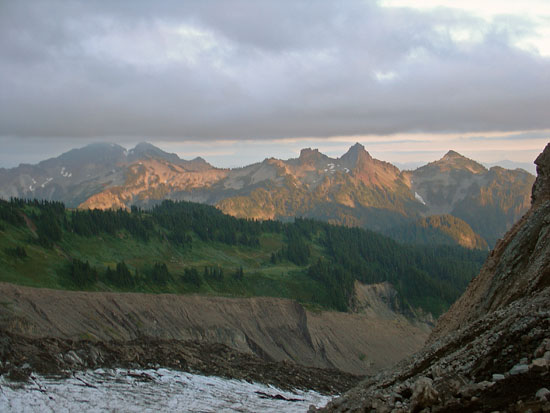 Evening Alpenglow on the eastern peaks of the Tatoosh range.

The only snow is a small fan at the bottom. Goat tracks greet us there, and I take them as a good sign. I'm keenly interested in crossing the wasteland before us under daylight: Hannah points out where she dropped off the crest of the moraine (on the far side) and we depart.
The Nisqually has three distinct sections that we must cross: First loose dirt and rock piles, then exposed glacier ice, then more dirt and rocks. There is nothing remotely resembling a trail. The terrain is somewhat surreal, though I still carp too much about receding glaciers and that I'd prefer to have descended the Nisqually (like I went up) and other nonsense.
We pick our way across the endless indistinct hummocks, eventually reaching the ice. I'm in front by twenty feet or so when I happen to look down at my feet. There, in the midst of the huge glacier, is a tent stake. The tent stake. I stop, smile, pick it up and turn to show it to Hannah. "Yep, that's it."
This kind of thing happens with such frequency when we climb together that I'm almost not surprised. Of course it's the tent stake, and of course, somehow in the failing light on a day that Hannah made endless for herself in order to climb with me, I walk directly to a tiny object that she saw the night before and mentioned to me, because that is the kind of thing we mention to each other, and this is the kind of thing happens when we are together. Our 'connection' and its amazing array of side effects is an endless source of joy for me.
Tent stake in hand we tackle the third section. Along the way we find two very small (in both cases less that three feet wide) 'pondlets' that are deep: I can't reach the bottom of either with my trekking poles. Then the odyssey ends and we scramble up to the crest of the moraine. Again at my urging, we opt to walk down the Moraine Trail, rather than climbing up to Glacier Vista. Crossing the creek is not trivial; it's swollen from snow-melt after a long, hot day. We climb up to the little hill on the moraine, and then continue down. After the last creek crossing I stop to put on my headlamp. We walk together in silence up through the flower-filled meadows, stopping once to admire a strange and beautiful mossy formation.
One last uphill hike and we're back in the meadows above Paradise, and back onto the paved trail. Hannah points upward: Her favorite constellation looking down on us.
Just above Paradise Hannah silently pauses. I turn to see her staring up at the night sky. We don't speak, but I imagine her, like me, to be full of wonder and hope and excitement.