Nisqually Glacier Ice Climbing
September 17, 2000
Jens and I originally planned a day of climbing at Cascade Pass, but my Grand Family Tour of Rainier, and his day of house painting left us both tired, so we made our annual Fall pilgrimage to Rainier's Nisqually glacier for ice climbing instead.

I was running late so we left Jens' house about 6:30 AM. We left the Paradise parking lot under azure-blue skies at 9:00 AM. Following my own advice, I was wearing my approach shoes and carrying my plastics. The asphalt trail that runs from Paradise to Glacier Vista is a miserable experience in plastics, and I've vowed to never do it again.

We took a comfortable pace and opted for the trail on the shady west side of Alta Vista. I've become a true Northwesterner- preferring the shade to the sun, even when the air temperature is in the forties.

Where the trail begins to switch back up toward Pebble Creek, we descended onto the Nisqually. This is never much fun: Losing and then regaining 500 feet in loose rock and dirt. We always say we're going to try to traverse and not loose the elevation, but the fastest way is to drop straight down to the snow and then climb back up. Traversing in the choss is slow, strenuous, and tedious.

At the snow I switched into plastics and then we headed up toward the upper glacier, following a few sets of footprints. A few snowfields and choss bands later we were on the glacier amidst the crevasses. It was about 11:30 AM.

I'm a glacier climber at heart. As such, my nature is to avoid crevasses. So it is always odd to go looking for the biggest, steepest, meanest ones. "Hey Jens, this one looks really grim! Let's rap down into it."

We picked one out to start on, then set anchors and rappelled in.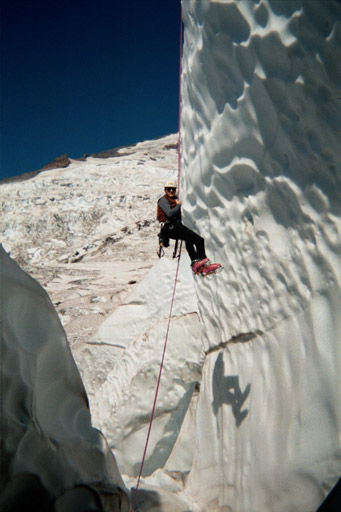 Jens rappelling into the first crevasse.

This one had a good bottom, so we were able to untie and warm up with some bouldering. I managed to solo up and out of the crevasse on a low angle ramp, then rappelled back in. The route we planned to top rope was overhanging about six feet. "I've warmed up enough, Jens. Any more and I won't be able to climb this thing."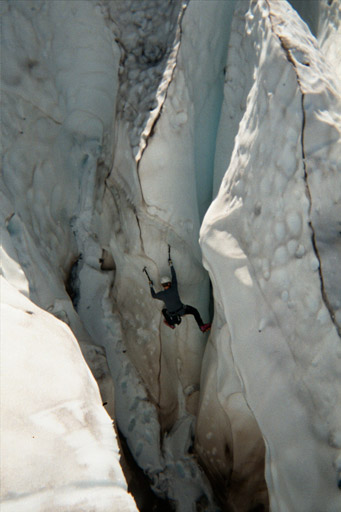 Jens bouldering in the first crevasse.


Jens took the first go, and I belayed from the bottom. He grunted up the wall and past the overhanging bulge at the top. I lowered him off and then I took my turn. The wall was south facing and softening up fast. My tools went in to their heads, but the placements were solid. I can't say as much for feet. I basically had to kick toe-holds to stand in. But I managed to climb up and out cleanly. Jens grabbed the gear at the bottom and bouldered out.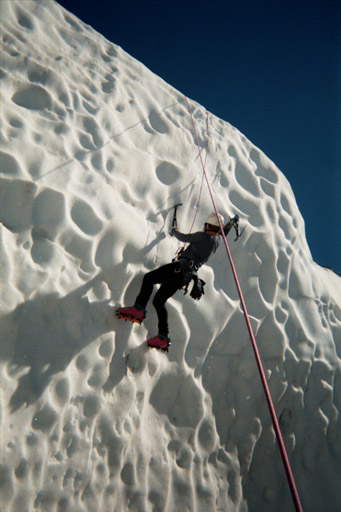 Jens pulling the overhang.


After that pump-fest we scouted around for something vertical or less. It was also getting very warm, so we needed to find a narrow, deep crevasse. Just around the corner we found it. We banged in our three pickets again, equalized them, and rapped in. This one was very nice: Cold, well-frozen, and slightly less than vertical. I rapped in and looked for a stance. All I could find was a small, wedged-in block of ice. It looked like it might fall any second. Below it was twenty feet of air ending in a pool of slush water. Not a place I wanted to take a bath. I planted both tools in the well-frozen wall and clipped off to them. "Off rappel Jens! Bring down three screws."

Jens rapped in with the screws and we built a nice anchor. I clipped in and was glad to be protected by something more than my tools. The climb out was great, such a joy that we each took two laps on it.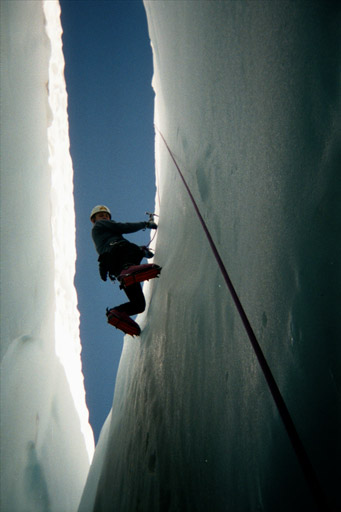 Jens climbing in the second crevasse.

After a short break we went wandering about looking for the next route. After some meandering, we ended up very near where we started. The crevasse was very narrow and we could see that there was not stance. So we set up to belay from above. Jens went in first and climbed up the vertical wall. Then I took my turn.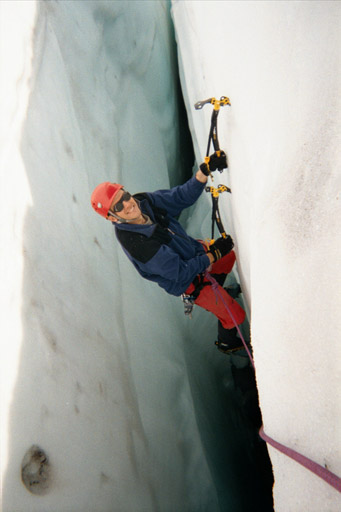 Me, all smiles, in the third crevasse.

We rested, then turned our attention to the opposite side. It was overhanging and as long as anything we'd climbed all day. To add to the challenge, it was so narrow at the bottom that a full swing was not possible. I walked to the other side and pounded in a picket. I could tell I was getting tired by how winded I was from hammering. I rigged a directional from our anchor and lowered Jens in. The wall was consistently overhanging and I could tell from Jens' effort that it was our hardest pitch yet.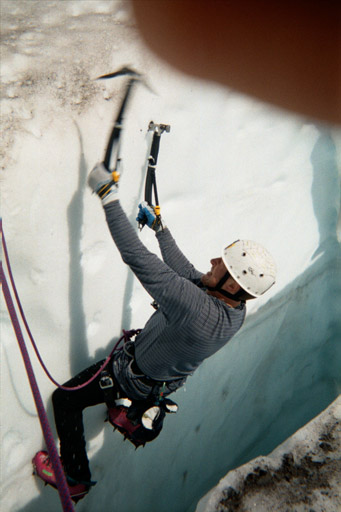 Jens (and my omnipresent finger) pulling the lip on the overhanging side of the third crevasse.

When he pulled over the lip I knew we were close to done for the day. I lowered in, took a few deep breaths, and set my tools. The bottom was great swing-technique practice: With the tiny clearance, short swings with lots of wrist flick was the only way to go. There was a lot of grunting, groaning, and offensive language, but I managed to climb up and pull over the lip without hanging on the rope.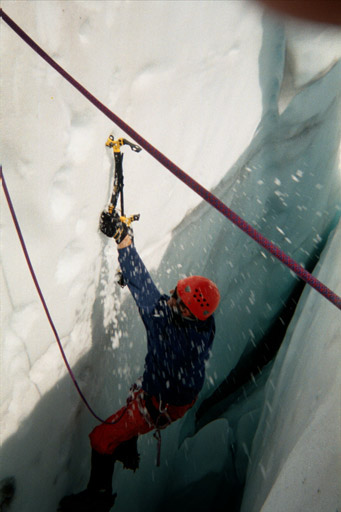 Me swinging and grunting up the overhanging wall.

We each took one more turn in the slot, using only one tool and stemming between the walls (yes, it was that narrow), then we packed up and headed out. The slog up the choss was not much fun, but soon enough we were back to the asphalt trail and I was donning my shoes. A few minutes later we were in the bar at the Paradise Inn where we each drank two 22 ounce microbrews and got great altitude-enhanced buzzes.

Now we are properly warmed up and ready for Lillioet.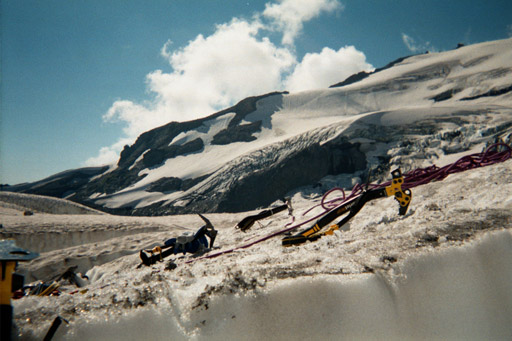 Loren's artsy ice tool photo.