Gibraltar Ledges
This is my favorite of the routes I've climbed on Rainier. In the winter and spring, it is a direct, obvious line to the summit.
The route climbs up toward the "Bee Hive" directly from Camp Muir. No tedious traverses like many of the routes from Muir. The crux traverse across Gibraltar Rock is fun and airy, but not exceedingly technical in early season. It does not protect especially well. The exit gully is 40-45 degrees and many people may want protection here, either screws or pickets, depending on conditions. Amazingly, a solo climber survived a fall here in the late 90s. He tumbled and slid all the way to the bottom of Gib Chute, but escaped with only minor injuries.
From the top of the chute, which ends at the top of Gibraltar Rock at 12,700', the remaining 1750' to the crater rim is very direct.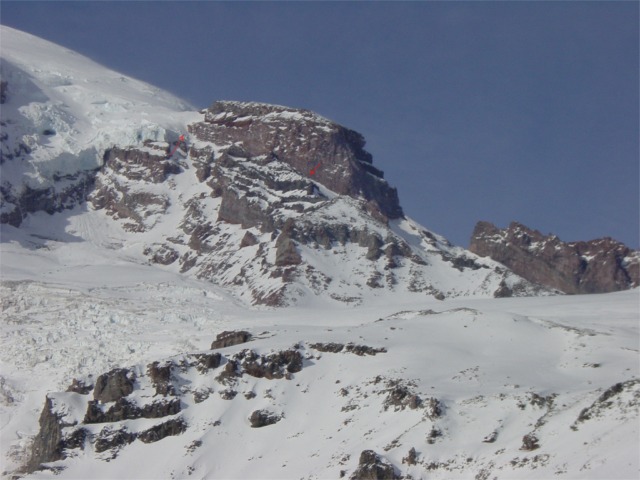 Gibraltar Rock with the entrance to the ledges and the exit gully marked.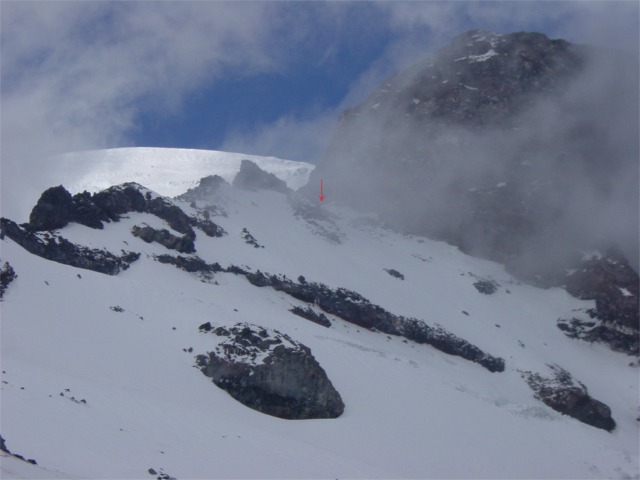 The slopes above Camp Muir that lead to the entrance to the Ledges and the famous eyebolt. The "Bee Hive" is out of frame on the left. The route usually follows the slopes below the ridge, not the ridge crest.