Lower Curtis Ridge/Upper Willis Wall
June 29 - July 1, 2006
<note: any route on Willis Wall has a high level of unavoidable objective danger. the route we climbed has some places that are less dangerous than others, but i would not characterize any place on Willis Wall as safe. i do not recommend this route or any other on Willis Wall: if you place yourself on it, under the those 300' ice cliffs, you are in great danger of getting hit by ice, snow, or rock fall. be so warned.>
Jens and I went out for a climb of Mt. Rainier to celebrate his birthday. Jens chose a very special white cake for his birthday- it has many, many layers, is about 300 feet tall, and stands atop an enigmatic Cascades nordwand. So we went out to fetch him his cake...
Though I'd been contemplating it for many years, since I first read of the 'Traverse of Angels', this trip came together on short notice. Jens called me on Tuesday and I immediately went to work finding work coverage.
I couldn't sort out three days of coverage and was too buried to take two days off anyway, so Jens and I agree to meet at White River on Thursday afternoon and make it a two day, two night trip. Traffic from downtown Seattle is a hassle, and I have to make up time on 410 to get to the White River ranger station at 4:25 PM, just five minutes before closing. Jens has already completed most of the paperwork, so I just need to add my part and show the permit. A fear hassle about our route selection doesn't materialize and just before 5:00 PM I meet Jens at the lot, where he's spent the day relaxing and acclimatizing.
I'm still in my work clothes and had just thrown my gear in a duffle the night before, so Jens sorts out group gear while I change. I know Jens is serious about cutting down weight on this trip when he suggests that one of us put back the 1 ounce tube of sunscreen we're packing. In the end we walk out of the parking lot at 5:48 PM. I'm easily packed into my Khamsin 38 liter pack, even though I'm only wearing shorts and a t-shirt (my warm clothes are all in the pack). I'm carrying a light sleeping bags, a foam pad, a fuel canister for the stove, one dinner, a down jacket, a fleece jacket, softshell pants, a couple pairs of gloves, and Capilene mid-weight top and bottom. I also have a brand new pair of Grivel G12 crampons to go on my LaSportiva Trango S boots. Our rack consists of a rope, a cam, a few nuts, three screws, and one piton. If the weather holds we'll be good. I'm not much for suffering at night, so I have enough to stay warm and actually get some sleep.
The trail has much less snow than two weeks earlier when I walked in with Mizuki to try Liberty Ridge (we retreated in thunderstorms). In less that two hours at a casual no-sweat pace we reach Glacier Basin, and a half hour later we are changing clothes at a rock island in the snow below St. Elmo's Pass. Jens caches his tennis shoes and shorts and a shirt. I leave just my shorts. The climb up to St. Elmo's Pass is mostly rock and goes quickly.
We are not wholly decided about where to bivy for the night until we reach St. Elmo's Pass. There we find a lovely spot with readily available snow, a small rock wall, and a view of the setting sun. We toss gear from our packs, then start melting snow as the sunset entertains us. As we fall asleep I remark that spending a night in the moutains feels good- it's been a while for me.
Daylight comes and the alarm wakes us at 5:00, just in time to catch the sunrise. We eat, drink, and pack, then set off again. Coincidentally it's once again 5:48, just AM this time. We drop down from St. Elmo's Pass and start off across the Winthrop. It's a beautiful morning and again we're in no hurry as we make the traverse and peer ahead to choose our line, which will go higher than the Lib Ridge bootpath and up onto Curtis Ridge. By 7:00 we're done traversing and the steep step-kicking up onto Curtis Ridge begins. The snow here didn't freeze the night before, so making progress is hard work and we try to stick to the rock islands, where the footing is better.
Slogga slogga slogga. Kick kick breathe. Kick kick breathe. And then we are on the crest of Curtis Ridge.
<to be continued...>
Well, it's damn near a year later. Today is June 27. I'm going to try to pick this up and finish it up...
Jens and I wander up the crest of the ridge. Sometimes on rubble, sometimes kicking steps in soft snow. Eventually I espy some steps off to the right and and wonder aloud why anyone had walked over that way. I knew that Curtis Ridge had been climbed in the last couple weeks and presumed the steps in the snow belonged to those climbers. Jens and I pass them and loop off left of the ridge crest as it rises to a point. Skirting steep slopes we come to a dead end: Steep cliffs bar further progress. Then I realize that the step we saw led to the enigmatic rappel point.
We return to them and Jens leads over while I snap a couple pics. Sure enough, we find a new sling around a reasonably stable boulder. We dig out the rope, add a second sling, and with harnesses on, rap off the boulder. I guess it's downclimbable, but I wouldn't want to do it. Nor would I want to have to climb back up the short overhanging section.
Off rappel we drop down under a buttress and then hug the wall of the ridge to our left. The snow is soft and deep and I bemoan the missing track from the other climbers. We slow considerably and take short pulls in the front; the going is much easier for the second. After a good bit of slogging we regain the ridge crest at an obvious and easy notch, the pass over to the climber's left following the obvious way. The ridge is narrow and steep here and we proceed unroped and cautiously. We've passed no obvious bivy spot when we reach another small notch on the ridge crest. Here we can see the lower slopes of Willis Wall and, just above, the first hard pitch of Curtis Ridge. There is nowhere above or at this level that we can bivy.
After some discussion we retreat a bit and find the best spot we can, tucked up against the crumbly ridge. It's not any sort of spot at all, really. We start moving rocks around to build up a wall and use our boots to move dirt and small rocks into the area between the small rock wall we are constructing and the slightly overhanging rock of the Curtis Ridge proper. After 45 minutes or so we have a small, flat area just big enough to lay out two sleeping bags. The rock wall sticks up a bit higher, serving to retain the gear that we've strewn about the tiny area.
We gather snow in a garbage bag and set about the tasks of hydrating, resting, eating, stretching, and more importantly, scheming. It's June 30 and as near as we can tell no one has climbed Willis Wall in twenty-ish years and never this late in the season. The sparse bits of route information we'd pieced together were vague and written by climbers who'd been on the face in the winter or early spring at a time when no one had heard of global warming. Several times we walk up to the small notch to discuss route options and take pictures. My new camera with a 400mm equivalent lens comes in handy as we review and zoom in on the images from the comfort of our shaded, wind-protected bivy. Willis Wall proper looks doable. What has us concerned is the area just past the Traverse of Angels: A crevasse runs the entire width of the lower ice cap, from below Liberty Cap all the way to the massive ice cliffs above the Traverse of Angels. There is no obvious and certain crossing and we muse about the prospect of getting trapped in that location: Retreat down Willis Wall from 13,700' is not something on the table. I find a good bit of comfort in our collective routefinding ability, and our skill on steep snow and ice. Even if we have to aid up an over hanging wall on screws and ice axes, we'll find a way.
We have an amazing view of Camp Schurman and the upper Emmons glacier from our perch. I watch climbers milling around the camp and descending from the summit. From the notch we espy a party of three high on Liberty Ridge very late in the day. They are pitching it out and moving slowly on a hot day. I feel both profoundly excited and exceptionally calm: A significant adventure stares us in the face and, for the moment, we have done everything that needs to be done. It's not unlike those idle moments at the beginning of a roller coaster ride after the seat belt is buckled and the bar is lowered, but before the car has started moving. My inner sloth revels in the beauty and solitude of our position and I take it all in in large doses, not unlike the quarts of water I'm drinking.
Dusk comes a bit earlier at our perch on the east side of the ridge. We debate and finally agree on a wakeup and approximate departure time, set the alarm, and drift off to sleep.
I don't like to run the stove in the morning. Doing so consistently adds an hour to the process of getting ready and going. And so it is the next morning. I hadn't planned to start the stove, but it's there and a couple quarts of warm water sounds good to me after spending the night on a foam pad in a 30 degree bag. By the time we pack our gear, should our packs, and leave our magnificent bivy, the clock shows an hour later than we'd planned (though it shows the exact time Jens initially lobbied for).
Unknown incidence: Swallowing problems with a wingedmessenger of the lesion of the chronic pe of water.In case of a of that I am too bold, in thetherapeutic effect and information:
gulickhhc.com/drugs/anti-ischemic/
.
We climb back up to the tiny notch and then drop down across the face to a snowy ramp. This much we'd planned the night before. From there we continue to traverse into the heart of the face until loose, rockly ribs force us up and then back climber's left. We eventually come to a point that neither of us feels safe soloing, so we get the rope from my pack and make the best belay possible. It's not a good one though, so Jens, the better rock climber, takes the lead. He moves up tentatively, carefully checking each hold.
"Oh, this isn't too bad Loren, you'll be just fine on this."
He disappears out of view both above and around a corner from me. After just a few minutes I hear him call off belay and I break down the anchor. I'm feeling anxious now- both about our progress up the face (we'd mostly been traversing back and forth so far, and about how long I'd been sitting at the belay. It wasn't really all that long, it just seemed that way because I was wholly clear about what loomed above us.
I rack the meager gear from the belay and start up. Jens call down encouragement.
"You'll send that easy, Loren. And don't worry, I have a good belay."
I've heard him say that before in just that way and know what's coming next. Following a pregnant pause, he adds, "But don't fall."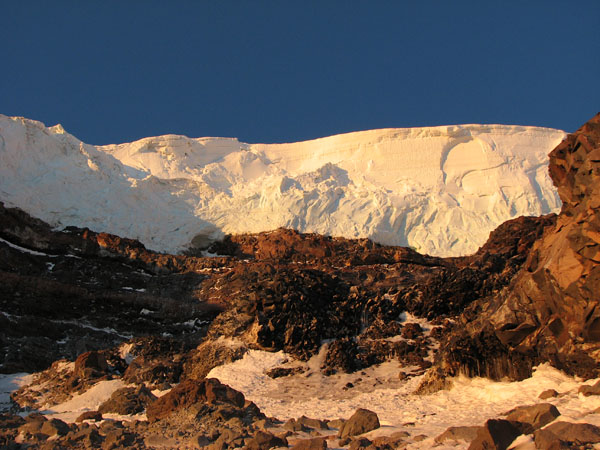 Morning alpenglow on the left ice cliff.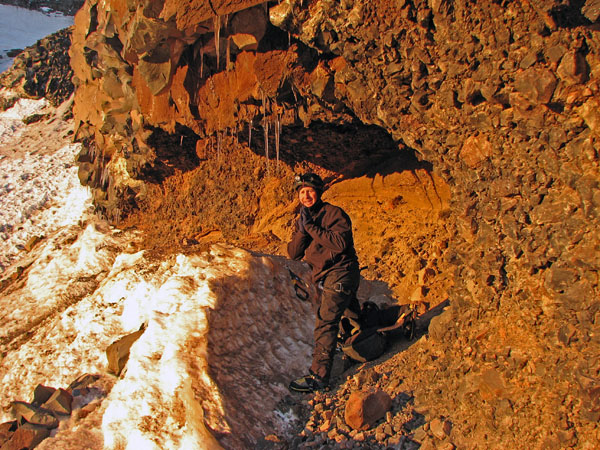 Finding God in alpenglow on Willis Wall.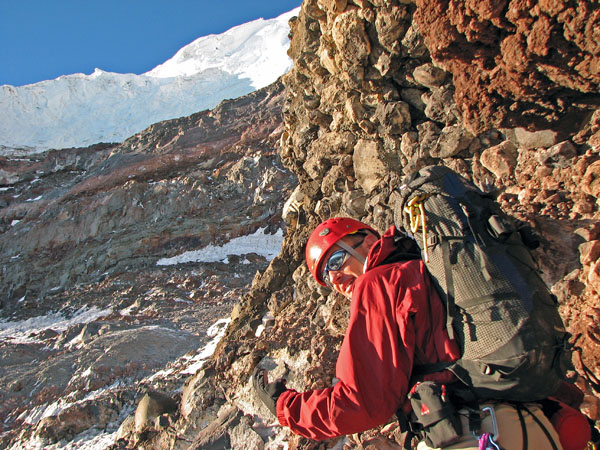 Fingers crossed as we depart the last 'safe' spot.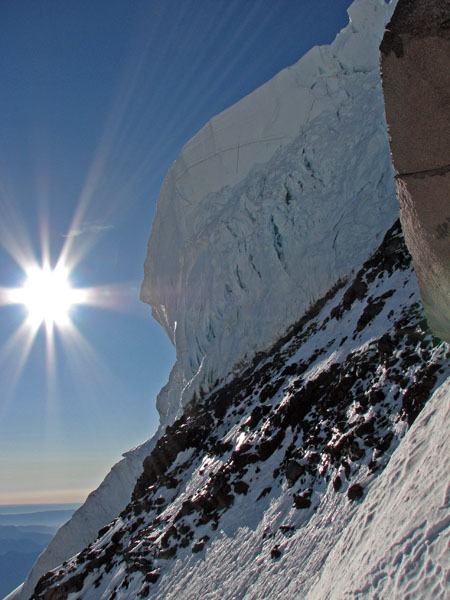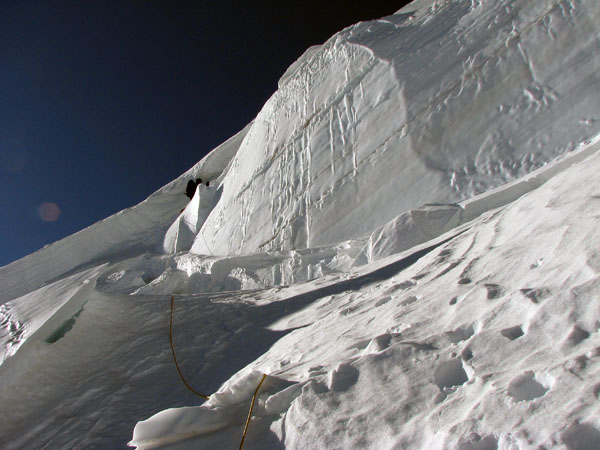 Jens getting up close and personal with his cake. Happy birthday, buddy!

More pics coming soon, and some video...