Mount Formidable, Northeast Face Direct, First Ascent
July 19-20, 2002
Jens had been scheming this for years. His 1997 climb of the North Ridge was intended to attempt the Northeast Face, but the tedious, time consuming approach up the Middle Cascade river foiled his plan. Lucky for me, as I just happened to be itching for a weekend trip...
My Friday afternoon open, we agree to leave early. "I think I can be ready by 1:30, Jens."
Well, it was more like 2:00, but we scooted out of Issaquah early enough to avoid the obnoxious traffic on I-5. Full of optimism, we agree that we should be hiking by 4:30 or 5:00. And then we reach Woodinville. And the traffic jam from Hell. What can you do? Put in some good music (well, I think so anyway) and try to enjoy the leisurely ten mile per hour drive all the way through Everett.
At my insistence, we make a quick Taco Bell break before heading east on Highway 20. We stop at the ranger station to get a permit, where the nice ranger-lady tells us that we don't need a permit if we plan to make it over Cache Col that evening. She seems just a bit incredulous when we announce our intent to make Kool Aid Lake that night, but lets us go on our merry way permit-free.
Jens tales the wheel and starts up the Cascade River Road at a pace that has me regretting my three Taco Bell burritos. We make the parking lot at 6:00 PM, for a snappy four hour drive from Issaquah. We pull out our duffel bags and start packing up for a two-night trip. A guy parks next to us and starts chatting us up. "Where y'all headed?"
"Uh, we're just going for a little walk", says Jens.
I can't help but chuckle at his bravado, professing to be headed out for a walk with sleeping bag, tent, stove, rope, crampons, and a pile of food.
"Oh", says the guy, "I'm not going to rip you off or anything."
We fess up that we are headed up toward Cascade Pass, but nothing more. He announces his intent to spend the night in the back of his truck just down the road. As he drives away I write down his license plate number, just in case...
At 6:40 we finally walk out of the parking lot, through the camping area, and promptly into the brush. Our plan is to save some time by hiking straight up-valley and traverse high above Cascade Pass. We find a way through the alder, brambles, and berry bushes, cross the creek without getting our feet wet, and proceed up the snowy avalanche remnants. Though the sun is low, it is warm, and we are sweating hard by the time we reach the end of the valley. We stop to drink and pick a route through the myriad of cascading creeks, steep brush, and heather benches. From below our chosen route looked easier than it was. But we persevere through loose rock and slippery heather without too much monkey business.

Evening color past Mixup Arm

We traverse a snow slope, pass a small moraine, and finally reach the crest of the ridge above Cascade Pass. Getting down turns out to be slightly challenging, as recent persistent warm weather has made the moats into end of season gapers. We eventually find a little bridge that gives us access to the steep snow. From there we spot old tracks below us and traverse down toward them.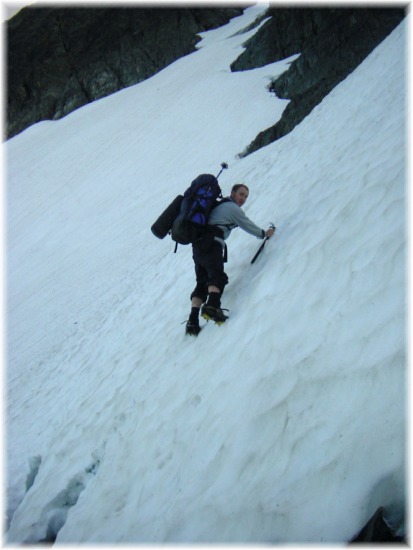 Jens finds a way off the ridge.

The evening sky begins to come alive with color and misty clouds start to build in above us as we follow the steps up toward Mixup Arm. From the Arm, through the thickening mist, we can see our next objective: Cache Col. We're going to have to lose some elevation and climb way up to get there. We conference about our chance of making Kool Aid Lake and agree to just keep moving. The climb up to the col, in failing light, growing wind, and dense fog is demoralizing. With no trees and poor light I can't judge scale at all, so I can't tell if it is another 100 feet or 1500 feet. I'm feeling tired and the battle becomes mental, but I keep trudging along and finally pass the little bergschrund to reach Cache Col just as darkness envelopes us.
We know it is all downhill to the lake from here, but we can only see enough with our headlamps to stay on the faint footprints in the snow. After some moments of confusion, we finally discover the lake and a snow-free campsite at 11:20 PM. We're only four hours forty minutes our of the parking lot, but it feels like much longer to me. Now we're both thinking about what we should do tomorrow, measuring our energy reserves, calculating hours of sleep, as we silently assemble the tent and disgorge our packs.
I'm feeling whipped, but Jens makes a compelling argument for us to try our primary objective the next day: "Look, it is going to be a long, long day. If we take it easy tomorrow then we might be faced with packing up in the dark on Sunday and then walking out, and then driving home."
He's right, of course. But I need more than an hour's sleep. "Okay. But let's set the alarm for 4:00 AM. We're not sure how to access the lower Middle Cascade Glacier from here and we could lose hours stumbling around in the dark."
"Agreed."
I felt good, actually. It had been far too long since I'd spent a night in the mountains, and even in the darkness I can sense that this is a spectacular place. I'm slow to fall asleep, but awake to the alarm feeling nicely refreshed. It is good to sleep in the mountains.
We're moving by 5:00 AM. We follow tracks toward the Red Ledge across alternating heather and snow. The snow is firm. After the first snow crossing we opt for crampons.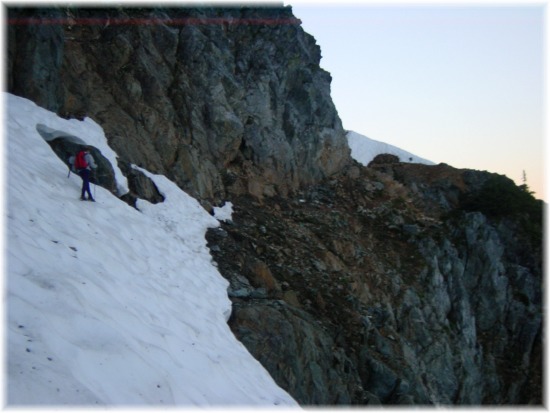 Jens near the end of Red Ledge

Past the ledge we continue along the boot track. As if on-cue we depart from them and start descending. At almost exactly the time that we determine that our route down will work another pair of climbers suddenly appear. We know they didn't camp at the lake, so either they camped this side of Red Ledge or, more threateningly, came in from the parking lot. Even though our intended route had never been climbed (as far as we know), we're both still paranoid that a fast, strong team might be poaching our line. After some brief pleasantries, during which they announce their intention to climb the north ridge, we step up our pace.

Our route up the Formidable Glacier.

From a distance the Formidable glacier looks wicked steep, two-tool country for sure. For time's sake I'm relieved that it looks lower angle as we cross through a maze of ice blocks in the basin below the upper icefall of the Middle Cascade glacier. In fact, I was still without my axe when we arrived at the base of the wall at 7:30 AM. We're both relieved that the approach had taken less than three hours, since 1300 vertical feet of unknown rock now loomed above us.
On a plumb-line below the summit we rope and rack up. With a picket for a belay and still wearing crampons, Jens steps across to decidedly downsloping, compact, and muddy rock. After few tenuous minutes searching for holds and gear to no avail, and a few glances down into the moat, Jens announces that we will be starting the route elsewhere. I know if the moves are giving my partner pause then it really is time to find another way. He steps back onto the glacier and starts walking along the moat to our right while I pull the belay and follow. The moat is deep and wide, barring passage in most places. After a hundred yards or so we find a spot where we can access the rock and the moves look manageable.

Jens heads for Plan B.

It is now 8:00, but this time Jens finds a gear placement just after crossing the moat. He moves right and in a mess of mud, loose rock, and ice, starts up.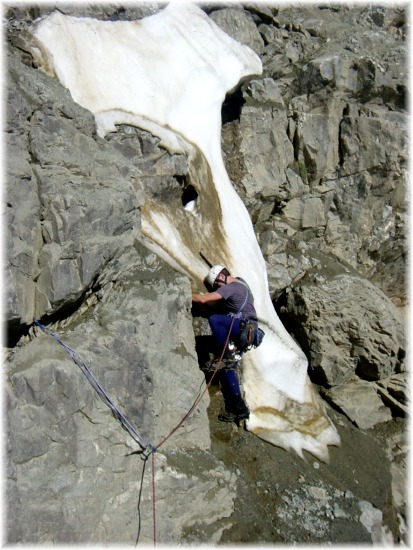 Jens start up in mud, ice, snow, and rock.

The first pitch goes, with a good bit of rock fall, at almost a full fifty meters. Jens calls down that I am on belay, so I don to evil pig and start. The move up next to the ice is one of the two most memorable on the route. Cramponed left foot on a small edge, right foot in the ice, right hand with axe placement, and left hand jammed between ice and muddy rock. I daresay I'll always remember that one. At one point on the first pitch, per our agreement, I yarded myself and the Evil Pig up by the rope. Our primary objective was to climb the face, and if that meant that the follower and the Evil Pig had to depart from free climbing, then so be it.
Amid rockfall I join Jens at the belay. I give him the gear and he quickly leads out again. The belay is under an overhang, and it is a good thing: A near constant barrage of rock, unavoidable displaced by Jens, tumbles over my head. When the rope runs out I pull the belay and follow. The second pitch is much like the first: Dirty and loose and I resort to pulling on the rope once more. The belay is similar, to the first, too. Jens leads out on the third pitch, this time traversing leftward across the face. Again the rope runs out so I pull the belay and we simulclimb. The terrain is moderate and clean, traversing a ledge system. Jens' belay is a boot-axe in a small snow patch. I join him and we agree to scramble together toward and inviting looking couloir. As he stands up and pulls on the Evil Pig one of my trekking poles comes loose and lands at the edge of the abyss. Then, ever so slowly, it tips down and disappears off the face. Damn. We scramble in coils up to the couloir.
I take the lead and start up. Protection is good along the right side, allowing me to safely lead through two mixed sections where the snow and ice are melted out. Again, the rope runs out and I holler down to Jens to start climbing. At the top of the couloir, which is more than 50 degrees, I make a belay and he joins me. This pitch is one of my favorites on the route.

Me leading the couloir pitch. Photo by Jens.

The belay is built in the rock with a stance in the snow. Leading again, I opt to exit left on small ledges rather than passing the chockstone at the top of the couloir. On the crest of the ridge I finally lose my crampons for the day.

The crampons finally come off. Photo by Jens.

Now in the sun and on better rock, I traverse around a rib and set a belay. Jens joins me and we add both sets of crampons to the Evil Pig. Though the rock looks clean above, neither of us has the heart to swap into rock shoes, add the weight of two sets of mountaineering boots to the onerous Pig. Jens suggests that we take turns carrying it: Two pitches leading, two with the Evil Pig. That, of course, makes it my turn with the Beast.
So Jens leads up a series of step and ledges. While I belay, a rock silently zings down the face and hits me in the chest. I never saw it coming, but it must have been quite small as I was unhurt. Later a larger rock grazes my shoulder. I hunker in as close to the belay as possible.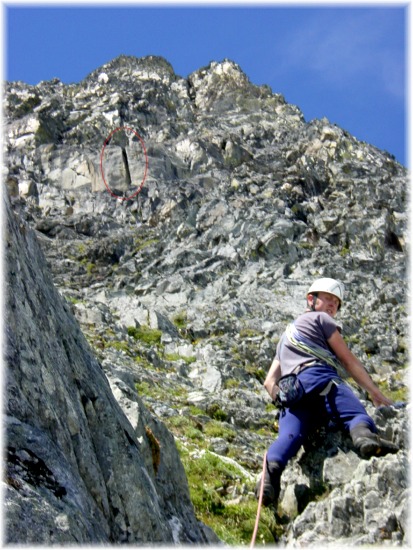 Jens leading the seventh pitch. The Duolith is circled.

Again we simulclimb part of the pitch to his belay. I huff and puff upward, glad to make the belay and have a chance to rest. Jens quickly leads another pitch linking ramps and ledges. Too soon, I have to climb again, but I know that I'll be handing over the Evil Pig at the end of this one.
My next lead is one of my two favorite pitches of the day. I start up on moderate ground. When Jens calls out "Halfway!", I'm still looking for my first piece. 120 feet out I finally get a nut placement. The route gets steeper and I soon find another placement. The next fifteen feet turns out to be the hardest pure rock moves on the route at about 5.6. Soon after I pull onto a large, sloping, sandy bench. At the top stands a striking granite duolith forming a beautiful offwidth/chimney. At its base I make the belay and bring Jens up.

Up close and personal with the Duolith. As pretty as it was, I'm glad I didn't have to flail up it.

I lead up one more pitch on nice granite, past a notch, and up to a marginal sling belay. Here we have a choice of dropping down twenty feet to a grassy ramp or continuing directly up. It's Jens' lead and he says, "Let's go up, the north ridge can't be much more than sixty feet above."

Jens scopes that last pitch to the North Ridge, while Logan looms on the Horizon.

He is right, and soon I join him on the ridge. He takes in coils while I hump the Evil Pig and we simulclimb the last sixty feet along the ridge to the summit. It is 1:20 PM.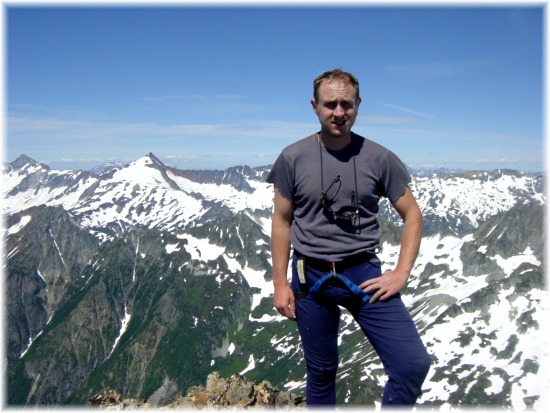 Jens on the summit with Sahale and Ripsaw Ridge to his right.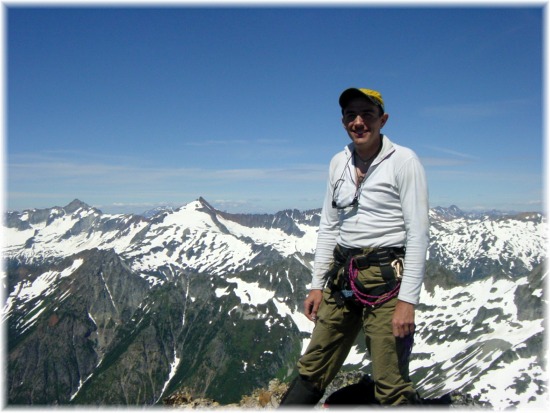 My turn, same shot. Photo by Jens.

We're both out of water and dehydrated. A tiny snow remnant near the summit provides enough moisture to slake our thirsts. We take a long, relaxing break in the sun. The summit register is soaked, so we gently unfold the pages, most of which are photocopies of the Becky route description, and carefully dry them in the sun. Jens adds a new piece and we sign: FA- Northeast Face Direct.
After a nice, long rest we depart the summit for the unknown (to us) Southeast descent route at 3:00 PM. We scramble down 2nd and 3rd class terrain toward the southeast. The face is riddled with gullies, most of which end in cliffs. Adjacent to the southern, largest one (which had some ratty old rap slings in it) Jens finds a passable "4th" class downclimb. It felt more like low 5th to me, but it got us down to the snow.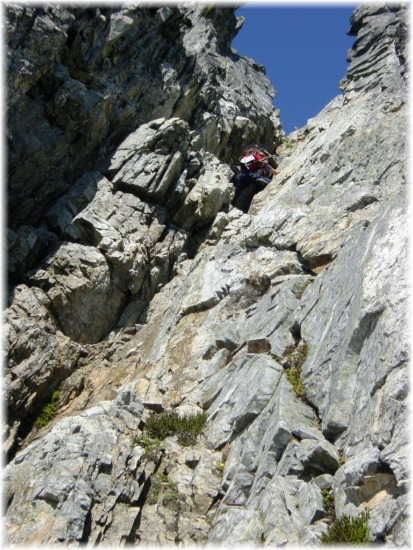 Jens downclimbing Becky's 3rd Class "South Route".

We put on crampons and start a long slog across the slope toward the climb up to Main Divide. From a distance it looks like a long, steep climb, but it turns out to be short and moderate.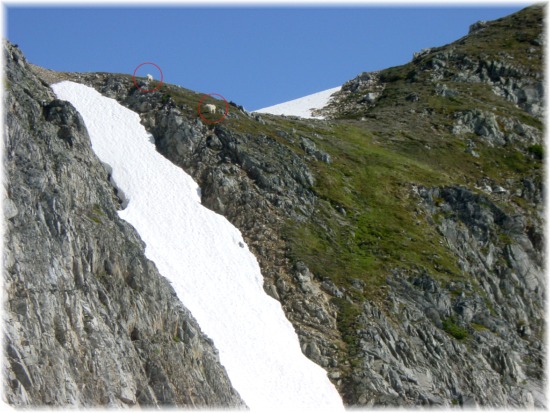 Goats at what Becky calls "Main Divide".

Two large goats stare down at us from above as we huff and puff our way up. The view from the pass is drop-dead gorgeous: We have a commanding view of two spectacular valleys walled by snow-capped mountains. Far below small lakes are beginning to melt out from the depths of winter avalanche deposits. One is aquamarine and the other is azure blue, matching the sky. we dawdle for a few minutes while I snap goat pictures, then start down-slope toward the traverse to Spider-Formidable Col. We're tired as we approach the gloppy snow-slope up to the col. We take turns kicking steps until we crest over back into the basin where we'd started the day, now at the head of the Middle Cascade Glacier.
We sit, enjoying the view, and I feel quite good that we only have to make it back to camp that evening; that I get another, longer, night's sleep in the Cascades. We snack and drink and then start down the glacier, following the tracks of the climbers who'd intended to tackle the North Ridge, but ended up climbing the Formidable Glacier instead.
A couple long, and carefully chosen (there are crevasses on this glacier) glissades bring us to the Ptarmigan Traverse way-trail, which we follow back to camp. Tired, hungry, and satisfied, we arrive at our tent at 7:30 PM, 4.5 hours after departing from the summit.

Tents at Kool Aid Lake from near Red Ledge.

A large group has arrived during our absence, setting up their tents on the far side of the lake outlet. As we laze about eating our dinner their leaders come over to get news on the conditions of the Middle Cascade Glacier. They are from a college on the Olympic Peninsula, and are headed through on the traverse. One of the leaders is an original "Sherpa", and quietly informs us that he'd helped usher Jim Wickwire up Rainier for the first time. After a pleasant chat they head toward Red Ledge, scoping out their route for the next day.
As the sun sets the temperature drops rapidly. I end up in my sleeping bag as the day departs and evening colors light up the sky. We talk about our options for the next day. We agree to sleep in, with NO alarm set, and then perhaps head toward Art's Knoll or S Mountain (Hurry Up).
Both of us fall asleep easily, and sleep soundly.
I'm slow and lethargic in the morning. I even fire up the stove and make up the mashed potatoes I'd been too full to eat the night before. Eventually I'm ready and we stroll out of camp up toward the notch between S and Art's Knoll. At the notch we break into the sun and sit down to take in the view. We agree to start with the route above us, the east arete of Art's Knoll. We scramble for about a pitch on nasty, loose rock to a small notch.

Flowers on Art's Knoll.

Jens takes the first lead and reports rapidly improving rock above. On TR I take the 'headwall direct' variation, which I highly recommend. They is some protection, though it doesn't appear that way from below.

Jens at the start of the first pitch.


Me leading the fun but short slab pitch. Photo by Jens.

I get the second, short pitch, a fractured slab. It is fun, but ends all too soon just below the summit. We loop around the top and find some slings from 1993 laying in a gully. We down climb a bit, then use the slings to beef up an antique rap station. Two more raps lands us back at the notch where we put our boots back on and return to the col and our packs. There we debate the merits of continuing the day by climbing S (Hurry Up) or returning to camp and bugging out. The call of a big meal at a Mexican restaurant wins us over and we glissade back to camp where we discover some visitors.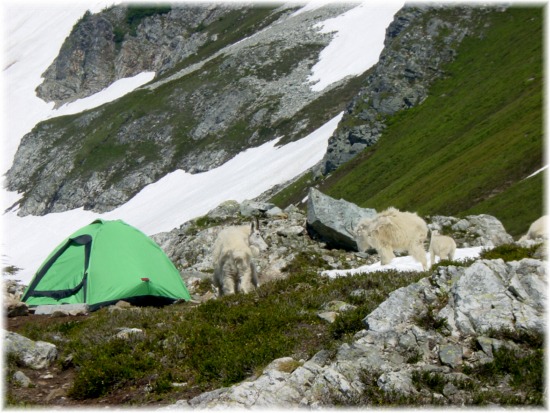 Unexpected visitors.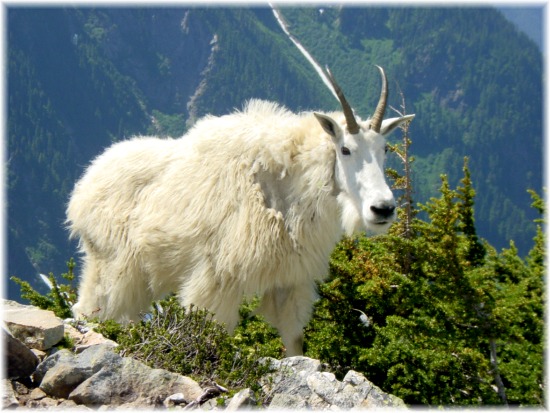 Boss Goat.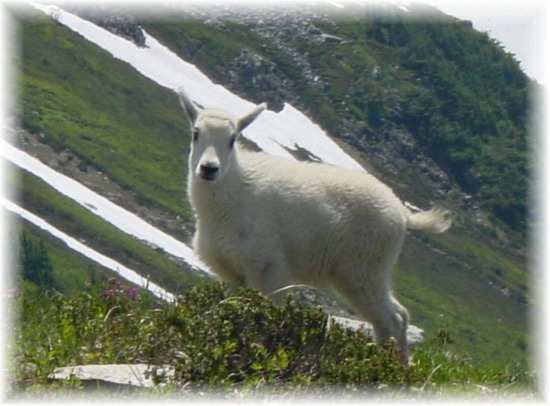 Baby goat.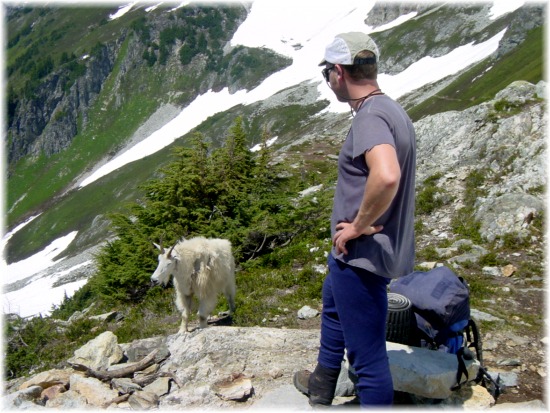 Who's watching whom?

After I snap oodles of pictures, we start packing up. The climb to Cache Col is slow and hot. It ends up taking only fifty minutes, but it sure felt like longer with the hot afternoon sun beating down on us. We glissade from the col to the basin below Mixup Arm.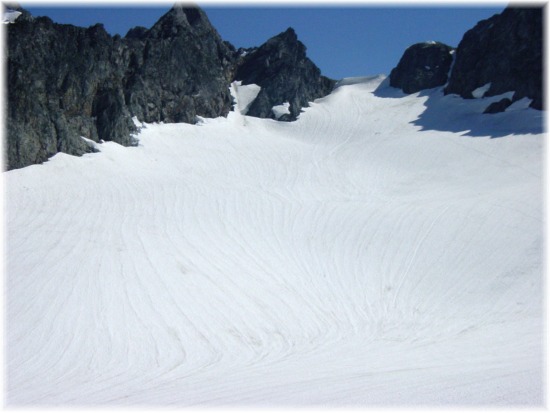 Cache Col from the lower Cache Glacier.

We find a shortcut back onto the Arm and traverse back to Cascade Pass. I'd been lobbying hard to skip the wet heather ledges of our inbound shortcut for some mindless walking on a nice trail. Besides, the map showed only five or six switchbacks on the trail (neither of us had ever walked the trail before).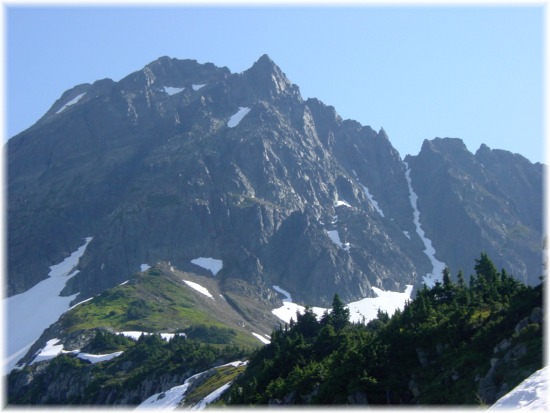 Mixup Peak from Cascade Pass.

Well, we make haste down the trail to the switchbacks, where I start counting (a weird habit of mine). We quickly pass the six I expected. And more and more and more and more. This trail makes the Ingalls Pass trail seem steep. In the end we make the lot 70 minutes after leaving Cascade Pass. And for those who collect such info, the trail features 36 lovely switchbacks.
Walking up to my car I notice it leaning in an odd way. "It kinda looks like I have a flat, Jens. Oh. I guess that's because I do have a flat."
I quickly glance at the windshield and notice a slip of paper in a plastic bag. "Shit! And a ticket on top of that."
I drop the spare and start changing the tire. Jens pulls the ticket off the windshield. "Whoa! Dude. Look, we had a great weekend and a great climb, right? So this is just a little thing."
I take the slips of paper from Jens. It is decidedly not a ticket. The first says, "Sorry. Backed into you. 7:26 PM 7/19."
It also included his name, telephone number, and insurance policy number.
The second slip reads, "Toyota owner- If you need LE report (accident report) for insurance claim, contact me- Kelly Bush, Park Ranger."
It makes my day. First the dude who bashed me was honest enough to fess up, and second, the park ranger must have taken pity on my, what with a bashed car and a flat, and left a nice note instead of a ticket for no Trailhead Parking Permit.
We pack and flee, enjoying air conditioning. Jens jumps in the river to clean up just short of Highway 20. And the Mexican food? It was good and plentiful. At 10:00 I'm home with my family.
Great climb, great fun. Thanks to Jens for including me on this long-planned climb.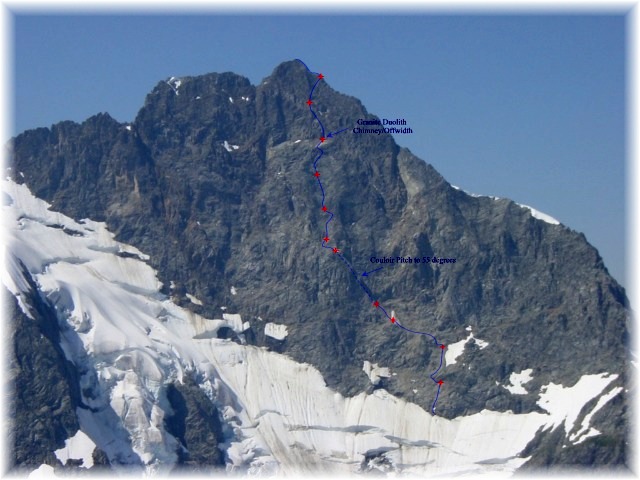 Mt. Formidable, NE Face Direct. Grade III+, 5.6