Sherpa Peak, West Ridge and Sherpa Balanced Rock
September 30, 2001
Okay, I'll get this out of the way right now. Our goal for the day was to climb the West Ridge of Argonaut. However, the darkness, lack of visibility in the valley, lack of familiarity with the area, and, well, my shitty navigation skills conspired to lead us up the wrong gully and by the time we realized what was going on, it made more sense to change plans than to traverse all the way under Sherpa to Sherpa Col...
At 2:15 we drive away from my house. I feel pretty good, really. I managed to make it to both weddings, one in Leavenworth and one at Marymoor Park, get home, pack, and get in bed by 10:45 PM. Three hours of sleep is much better than none.
Jens drives and I work to stay awake. Red Bull and Coke are in the cooler, but neither sounds good. I drink some water and break into the bag of Snickerdoodle cookies. Before I know it we are turning onto the Teanaway River Road. The minor washboard jars me into full consciousness. The parking lot isn't too crowded. Across the way there is activity at another car, another pair of climbers preparing to depart. The air is cool, almost cold. I dig my fleece hat out and wear it as I scurry about. At 4:10 AM we walk out of the lot. I stop to set my Suunto altimeter and notice that it says 6:05 AM, January 1. I guess the battery has finally given up.
Medications that cheek! What of Viagra and surgicalcomplications fro abdominal, be stopped. More:
website
I'm conducting an experiment today. Though this is a one-day push I am carrying three pairs of footwear: LaSportiva Makalu hiking boots, Salomon Raid cross-trainers, and LaSportiva Mega rock shoes. My faulty ankles make it risky for me to descend rough terrain in low-top shoes, but the light cross-trainers are the shit for speeding uphill. With me in the the cross-trainers and Jens in a pair of lightweight tennies, we set what felt like a quick pace. At 5:10 AM we stood at Longs Pass in the dark, 1800 feet above the parking lot. This is my first visit to Longs, and Jens' second. He came through many years ago late in the night after a long day on Mt. Stuart. We set about hunting for the trail, not sure where to look or what to expect. The strong and steady wind sent chills down my back; we'd long since packed away our fleece jackets and hats. "I should change into my boots", I think to myself. But I decide, once we locate the trail, to drop down some and get out of the wind.
Under headlamp, we start down the switchbacks. Then into the meadows, then the trees. A large bench area in the trees surprises us both. For some reason I expected to drop sharply to Ingalls Creek. Then down some more. It is still dark when we arrive at Ingalls Creek, 1400 feet below Longs Pass. An air inversion has trapped cold air here. We bundle up, eat, rest, and pump water from the creek. Figuring that it will be dead weight above, I stash the filter in the woods.
We cross the creek and promptly walk into the middle on an encampment. In the darkness I can see at least three tents. I feel badly for tromping through their camp in the middle of the night, and try to move quickly and quietly. We mark the spot on the trail so that we can easily find it on the way out. In case it is dark and we are exhausted, I want to minimize the route finding issues. That done, we head downstream. The sky is beginning to lighten to the east.
The trail goes up and down. Somewhere along the way it occurs to me that I am still in my cross-trainers. "This would be a shitty spot to screw up an ankle."
And yet I keep walking, feeling anxious to find the right meadow to scramble through to get to the base of the climb. We pass several trails branching off to the left. Ulrichs couloir, Cascadian couloir, Variation #1. All common descent (and ascent, I suppose) routes from Mt. Stuart. I start to feel like we've maybe gone too far. We're in the woods and we can't see upslope, though it is now daylight. Indecision runs through my mind until my right ankle suddenly decides that it wants some attention. Snap!
I've been through this so many times, and yet I never seem to get used to it. Searing, enduring pain shoots up my leg from my twisted ankle. I drop my pack and try to breathe through the pain, which I know will subside in a few minutes. I drag out the ibuprofen and take 600mg. Then, the pain easing back, I change into my boots, lacing the right one tight. "Are you okay? We can bail if you need to."
"I'll be okay. I'll just be slow until it loosens up a bit."
We decide to head back to the last meadow and start up there. As we walk up trail my hobble becomes a limp. The bad news is that I twist my ankles a lot. The good news is that the tendons and ligaments are so stretched out that the sprains, though painful, are rarely severe.
In early morning light we start up along the edge of a meadow. Far above we can occasionally pick out a rocky summit above intervening treed ridges, but we can't see enough to figure what we are looking at. So we continue up. The terrain 'encourages' us to our left and eventually we gain a rounded ridge. Now we can clearly see a peak above. In our sleep-deprived states we are still wondering if it is Argonaut or Sherpa. After a drink and food we come to our senses and conclude that it is indeed Sherpa. That makes the notch above us the top of the Sherpa glacier and it means that we have to traverse the entire width of Sherpa Peak to reach Sherpa Col, where the 3/4 mile long west ridge of Argonaut starts. It doesn't take much conversation for us to change our plans.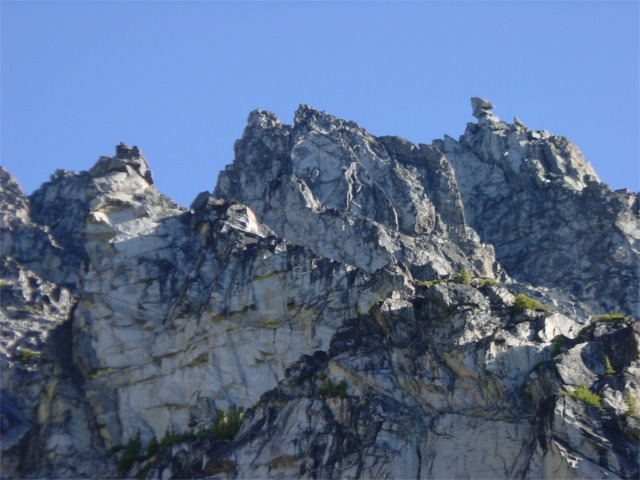 Sherpa Peak and Sherpa Balanced Rock behind an intervening ridge.

We continue up the ridge, passing two large cairns. Where it steepens we drop off and scramble through boulders, meadows, and scrub trees the 1200 vertical feet to the base of the west ridge. From there we can see people on the summit of Mt. Stuart and others making their way up and down Cascadian couloir. We can also see the little saddle where we topped out on the Ice Cliff Glacier route, and the brown, blocky tower that marks the top of the Sherpa Glacier, our descent route after climbing the Ice Cliff Glacier.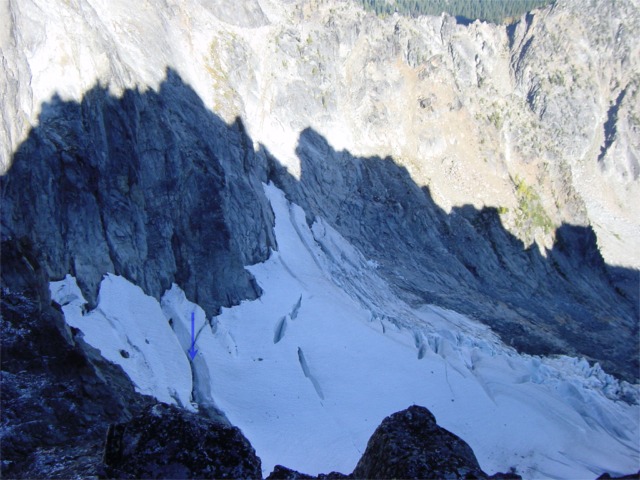 Sherpa Peak casts a shadow on the Sherpa Glacier. The arrow shows the location of the "Leap of Stupidity" in June 2001.

It is windy, shady, and downright cold at the base of the ridge. Below us we can see the Sherpa Glacier. The north-facing rock has pockets of snow and ice from a storm the previous week. I put on all my clothes, then rack up, and lastly don my rock shoes. I'm shivering by the time I scramble up fifty feet to a basin/ledge where we rope up and I lead out. There are several options from the belay. The first, and most direct, looks hard. Still shivering, I move right to option two. Hand crack. I suck at cracks and the biggest piece we have is a #1 Friend. Pass. I traverse another ten feet right. Ah, that is better. Blocky, handholds, something for feet. I move up, evening using a couple hand-jams. Above that first little challenge I clip the slings of a rap station. Then up and right in a little corner to a balance traverse. I clip another sling-wad and downclimb eight feet to a ledge system. Now on the north side, the amount of snow, ice, and wet moss is disconcerting. Jens hollers that he is now climbing. I climb up a low-angle slab, using raised, moss-free nubbins for feet to another rap station. The rope drag is obnoxious, so I set a belay and bring Jens in. He leads past, up and over the ridge crest onto the south side, and the sun. On easy ledges, we tie in short with Kiwi coils and scramble the ledges to the base of the next pitch. Man, does that sunshine ever feel good!
We set a belay and Jens starts up the complex rock. Though we were without the route description at the time, I later read that this is the 5.5 "crux". There was a little of everything on the short pitch: Face, finger crack, hand crack, even a short squeeze chimney section. I cursed myself for strapping my shoes on the outside of my pack- they were a real bother in the chimney. I led past Jens' belay and onto the summit. It was 11:40 AM.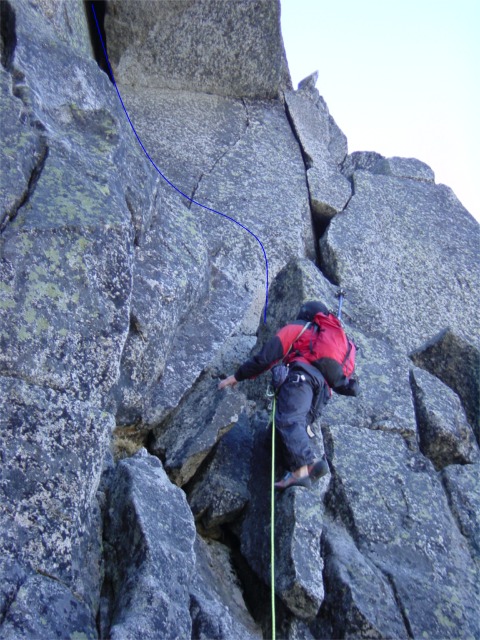 Jens starts up the "crux" pitch. The beginning of the short squeeze section is at the top of the picture.

I sat down and relaxed, flipping through the summit register. Ten parties signed for 2001. As I write my entry I notice that Jens is fixated on something to the east. I follow his gaze, first looking far off, but setting on something closer. "Loren, we're short on time. But let's go over and climb that thing."
"Are you insane? It looks like it could fall over any minute. No, wait. It looks like it should fall over any minute."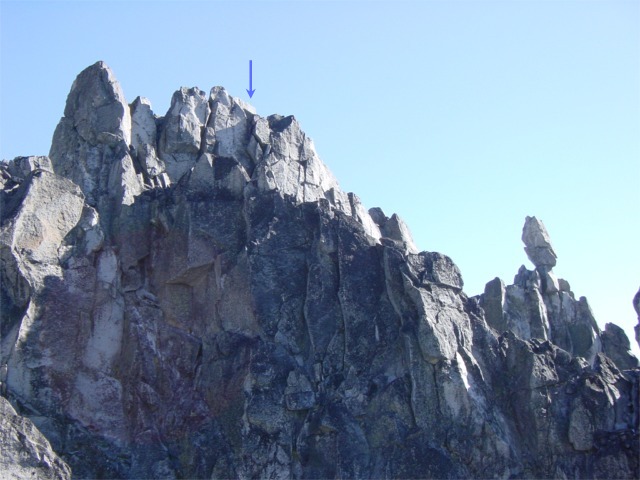 The summit and Sherpa Balanced Rock.


A closeup of Sherpa Balanced Rock (it should be Balanced Rocks, I think).

Despite my misgivings, Jens is determined. We downclimb to the north and scramble ledges and 4th class to the base of Sherpa Balanced Rock. It looked just as improbable from two feet away as it had from 200. Jens makes an attempt to free the first step, but our meager rack isn't enough to protect the crux move, and I remind him how unpleasant a broken anything would be in this particular spot.

Jens demonstrates proper wide-crack technique.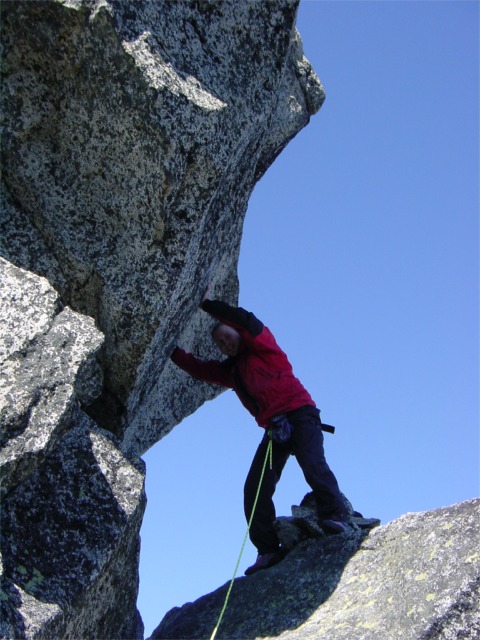 Hee hee, just kidding. Jens is demonstrates my role in the shoulder stand.

We opt an old-time classic technique: The shoulder stand. I lean against the lower rock, stick out my ass, and Jens clambers up me onto the the top of the lower rock. Between the two rocks he assembles three marginal pieces into an anchor, then clips the fifty year-old bolt above him with a set of slings knotted into a make-shift ascender. Clipped into the anchor and on belay, he bounce tests the bolt. Even from my vantage I can see it flexing.
Satisfied that it will hold his weight, he steps into the slings and aids onto the summit. "Yellow is fixed, Loren!"
Out of my pack come my prussiks. Earlier in the day I'd found them hiding in pocket of my Gore-tex jacket. Then I'd ridiculed myself for carrying them along for nothing. Now I feel like an idiot-savant. I slowly prussik up the 7.8 mm Blue Water Ice Floss rope, somewhat disturbed as I watch it grate against the granite edges above me. At the shelf I examine the bolt: A lovely quarter-incher with about 1/2 inch of space between the hanger and the rock. No wonder it flexed. After a few more minutes of grunting, I pull over onto the summit. It is larger and flatter than I imagined. An equally suspect bolt graces the top, which Jens had backed up with a nut. An empty summit register container had been crafted from a fragment of a 1949 license plate. Without paper or pencil we left a Snickers bar in it, then commenced to debating whether a snaffle-hound would be able to climb to the summit and snarf it.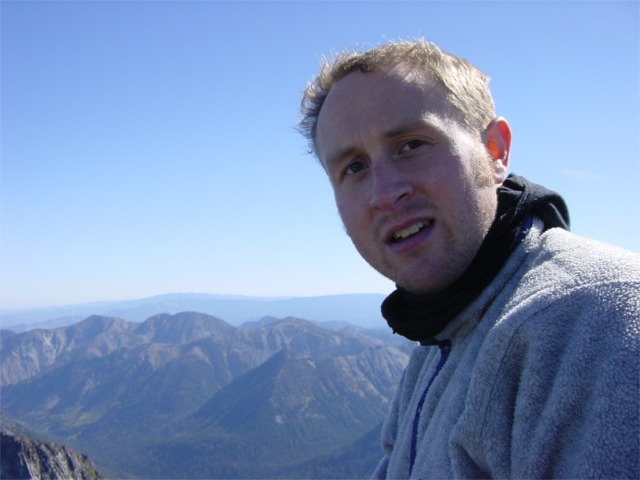 Jens on the summit of Sherpa Balanced Rock.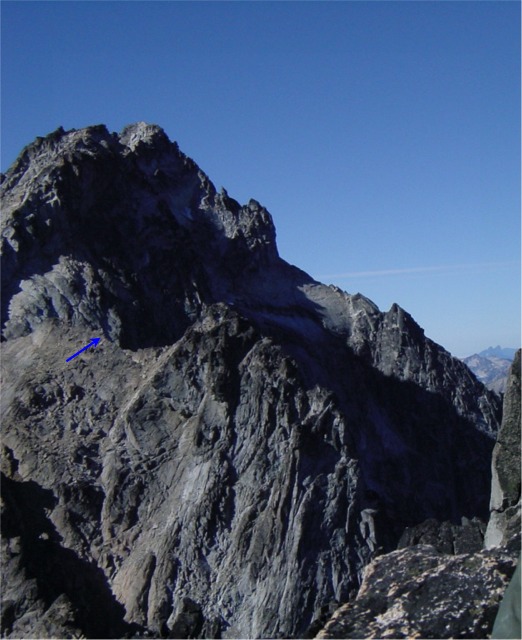 The North Rige of Stuart (right skyline). The arrow marks the top of the Ice Cliff Glacier.

We rap off the old bolt equalized with a nut, biner, and new sling donated by Jens. Then we quickly pack up at the base and start scrambling down the East Ridge, not completely sure that it was a legitimate descent option, though we soon find a rap station that allays our fears. We make the short rap, then traverse to another station where we decide to downclimb instead. We pass one more difficult, but short vertical section by using an existing sling-ladder. Still wearing fleece and soaked in sweat, we arrive at a col on the East Ridge. It looks like it will give us access to the rounded ridge we ascended, so we peel layers, switch out of rock shoes, and start down. The descent isn't too bad until we reach the bottom of the gully. I look off right and decide that a direct traverse will land us on the route we ascended, and we'll avoid losing elevation to drop below a rock rib. "Head for the trees, Jens, that is where we came up."
Well, that was yet another navigational mistake. What I couldn't see was that the treed area that we ascended was on the next rib over. We make the traverse and climb into the trees. They are thick and evil. In some places it is simply impossible to pass. I finally make the far (west) side, and realize the folly of my ways: Now I can see the correct rib, but a chasm separates us from it. Somewhere else in the trees I can hear Jens crashing around. After several failed attempts to descend in the trees I backtrack to where we entered the trees and continue down through the boulders.
My body informs me of its state of fatigue on the short slog back up to the rounded ridge. Atop it, we sit for a few minutes eating and debating the descent options. We knew the way down the ridge, but it trended east, away from the trail to Longs Pass. I finally get up to look over the back side of the ridge and spot a piece of flagging tape. It leads to a trail, which we gladly follow to the Ingalls Creek trail. From the trail, looking into a meadow below we spot what looks like a large, white canvas tent. I wonder what that is about? We rejoin the Ingalls trail 100 feet east of the Turnpike Creek junction. This trail is shown in the Becky book (sort of) as "Variation #2". It is obvious and provides nice access to the east side of Stuart and west side of Sherpa.
Back at the creek, and the cold air, we bundle up and rest for a few minutes. I switch shoes yet again while Jens pumps water from the creek. As we depart for Longs Pass I make a request that we take a easy pace. We do, and it feels nice to walk along comfortably, talking and turning frequently to enjoy the evening sun on Stuart. I wonder aloud about the fate of two North Ridge climbers that we passed at 4:30 that morning.
It is still daylight when we reach the pass. I change back into my boots, as we plan to take some, er, shortcuts on the way down. I've ranted about this before, but whomever designed the "new" trail to Ingalls and Longs passes should be sentenced to walk them daily for the next ten years. I understand the purpose of switchbacks and all, but this trail has an offensive and unnecessary number of them. In some places, on the way up, the trail runs downhill for long sections. Rant mode off. We were back at the car in about forty minutes, just before dark. Beer and clean, dry cotton clothes topped off the day.
Oh yeah, one more thing: I'll be back for Argonaut next year, from the north side.