Mt. Rainier
Gibraltar Ledges with Gibraltar Chute ski descent
April 22-23, 2006
Washington state has five glaciated volcanoes, but only one can be identified with the seemingly generic moniker, 'The Mountain'. I've spent a goodly amount of time on each of the five, plus five more in Oregon and one in California and Rainier just feels and climbs differently. It's different, it just is, and in a wonderful way.
I've had some unwritten and largely unspoken goals on Rainier for years. Last summer I soloed and skied the Emmons-Upper Winthrop route and as an aside to a magical, spiritual experience I ticked 'Rainier solo', 'Rainier summit ski', and '10,000 vertical feet climbed in a day' from my list. But that wasn't the whole of the list...
Family commitments and crappy weather prevailed for several weeks. But on the Wednesday before Easter the hair stood up on the back of my neck and I just knew that the weekend after Easter would be good. On Easter Sunday my youngest daughter got suddenly and rather violently ill as we waited for our Easter dinner to be served in the Space Needle restaurant. Tuesday morning was my turn, and though the worst was over by Wednesday afternoon, I felt exhausted and napped every afternoon and slept 10-12 hours each night through the week. I whined and complained to my friends as the weather forecasts for the weekend rolled in.
I arrive at my last client appointment for the week on Friday afternoon. Though I awoke feeling energized, now I can barely keep my eyes open. The sun shines outside and I resolve to throw my gear in a duffle that night if I can at all summon the energy. On the way home I talk to Hannah. "I'm so tired, but I'm equally pissed off. Maybe just enough to get packed up tonight. Of course the forecast is stellar, I'm sick." She doesn't say it, but she could have: "Waaaaaa". Instead she just says she's thinking about going with a big group to climb and ski Mt. Logan.
At home I don't feel much better but I also don't feel worse and in some sort of twisted way, not getting worse means getting better this week. I toss gear in a duffle, fill water bottles and chuck it all in the car. Then I go up to bed.
"Are you going tomorrow, honey?"
"I'm going to set the alarm and see how I feel."
I'm awake before the alarm goes off Saturday morning. I dress, eat, check the web cams and take notice of myself. 90% better, I estimate. Still, I'm on the fence. The lawn needs to be mowed. My office needs to be cleaned. I need to get all better. I can and do think of many reasons to bail. In the end I go back upstairs and lay back down in bed.
"Honey", she says, "you need to go. You'll have a great time and you'll feel better. Even if you just go up to Muir for the night, go."
This woman knows me well. Five minutes later I pull out of the driveway.
The drive to Longmire passes quickly, though I carefully avoid collecting another speeding ticket in Eatonville. At the Longmire gate I pay for a new yearly pass and at Longmire I dutifully await the 9:00 AM opening of the little visitor center. I present my solo permit to the friendly and inquisitive NPS staffer and drop an empty envelope with my credit card info on the outside into the most absurd "Iron Ranger". Hoops jumped and red tape cut, I proceed up the road to Paradise where I park in the day lot and make sense of the clutter of gear in the duffle.
I opt for lighter gear across the board: Single walking axe, aluminum crampons, thirty degree sleeping bag, no rope, no harness, no tent, one fuel can for the stove. I strap my Trango Ice boots on the outside of my pack and set pack, poles, and skis against the ominous X-Files looking military 'water purification' trailer in the parking lot. The door is ajar and I peek in half expecting to see 'The Smoking Man' whispering on his phone or telling cryptic half-truths to Scully or Mulder. Curiosity satisfied, I drive my car around to the winter overnight parking area, return to my gear and schlep it up the snow ramp where I dump it again to put on my skis. I shoulder my pack and turn to take a picture to mark the time: 10:13 AM.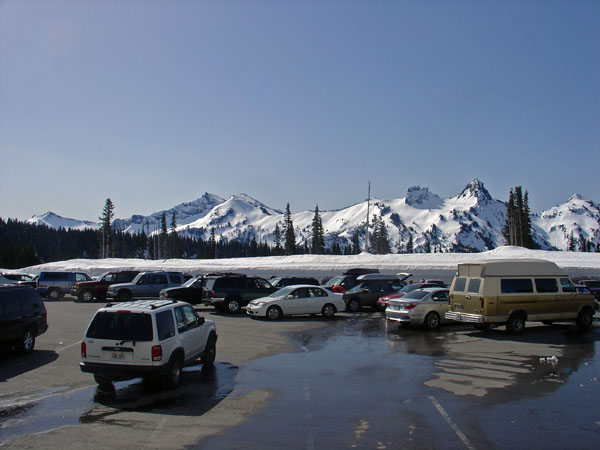 Sunny Paradise parking lot, with Unicorn, Castle, Pinnacle, and Plummer peaks in the background.


"The Mountain" aka "The Big Hill" aka Mount Rainier.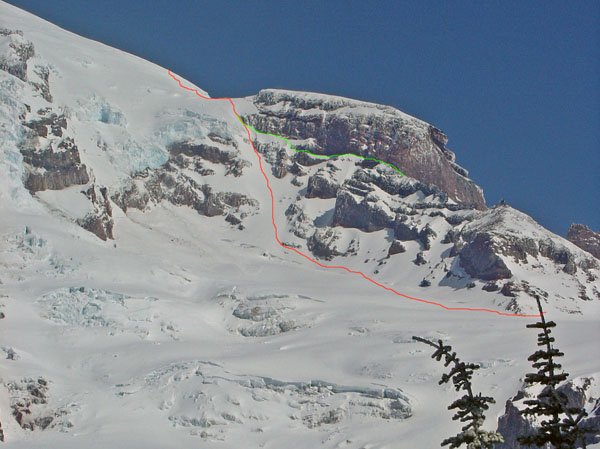 Climbing plan in green, skiing plan in red.

This trip is something of a self-evaluation: I've been training for a couple months so that I can once again climb at a reasonable pace without suffering. I don't care about being the fastest, I just want to be able to not be the slowest without having to work too hard. I strike out at my 'all-day' pace on a good trail in excellent snow toward Pan Face. Near its base I see that most folks are boot-packing up, many carrying skis. Pan Face is the steepest part of the winter route to Camp Muir and while it's not a short hill, it's not long either and it's a bother to pack skis at the base and unpack them twenty minutes later. I take the lazy-man's approach and start skinning up. It's in fine condition and I actually seem to have an easier time than the walkers, who are in a boot-pack that isn't as good as it looked from below.
I inadvertently packed my iPod deep in my pack, but decide to retrieve it when I stop for a break, which I usually do between 8500 and 9000'. Just past the second roll above Pan Point I count all the people ahead of me on the way to Muir. I'm #55 in line on this summery spring day. I'm not much for crowds, but on a day like this one love and joy crowd out my inner-grump and I smile and chat with the people I pass and that pass me.
Between taking in such a day and the excellent skinning conditions I putter all the way to Muir without my usual break, arriving at 1:22 PM. A light breeze is up, but the sun warms the place nicely. I set up shop in the public shelter (thank you to the nameless person with boundless energy who shoveled it out, but ahem, I think you left some snow on the floor) and start melting snow. As that task progresses I empty my pack and select from the remaining bunk spaces. When my bottles and the pot are full, I pour a bit of boiling water into my mug and venture out with a hot cup of Lapsang Souchong tea.
I sit on the gravel platform and soak up a splendid afternoon. I even break out of my usual quiet demeanor and chit-chat with day trippers and other climbers. It seems like two or three other parties are planning to try for the summit. In the way that climbers do, we cautiously share bits of plans and resumes.
I strike up a conversation with two day-skiers sitting below me at the foot of the rock platform. Ten minutes into the conversation one of them realizes that our wives are friends. He drives my daughter's school carpool a couple times each week. Small world.

Me (yellow hat) and (I think) the Ingraham Direct team taking in the afternoon from Camp Muir. Ahhhhhhhh. Photo by Mizuki.


The newly updated (moved bunks, added bench, cubbies, door, solartubes, ventilation fans) and roof-fanged Camp Muir Public Shelter. First come, first served, just don't plan to actually sleep. My skis and drying socks and skins, too.

Throughout the afternoon people come over the rise, several of them of the blue jacketed female variety. On a day like this, despite her plans to go to Logan, I can't help but wonder if each one is Hannah. But none are, and as the sun drops in the sky I retreat to the shelter and prepare dinner. My AlpineAire fettucine is soupy, but I slurp up every bit anyway. After dinner I wander back out to take in the evening light on the Tatoosh. I'm surprised to find two tents setup on the platform where I'd spent the afternoon, perhaps the spot most exposed to wind at Camp Muir. Another person tells me they'd pitched their tents with wire stakes and both had promptly blown off the platform. They'd retrieved the tents from the snowfield but lost several foam sleeping pads. I'd seen another three blow away while coming up the snowfield, too. After the climb I found out that the folks in the tent had a rough night, with the wind breaking two of their tent poles. It's real estate folks: Location, location, location.
As it sorts out there are two soloists (including me) and a team of two planning to head up the next morning. Mizuki, the other soloist, is also planning on Gib Ledges. The other two are headed for Ingraham Direct. The hut quiets down as much as it ever does and I try to get to sleep. And as the hut becomes quiet my mind starts working on me. I worry about my ability to make the climb without being miserable and about my plan to ski potentially crappy conditions up high and then down the steep (for me) Gib Chute. As strange as it sounds, I tussle with this for an hour until I think to give myself permission to walk down if I prefer. It seems so simple in retrospect...
I get up a few times during the night to pee, as usual. I'm surprised that the brisk wind is warm; without the cold wintry bite that I expect. This lifts my spirits.
Though my watch is next to my face, someone else's alarm wakes me just after 2:00 AM. As usual, I slept through the first two of the three alarms on my watch. Mizuki is first to action and is not messing around. The two bound for the ID take their time getting up and are making breakfast, leaving me in the middle. At 2:50 AM Mizuki is first out the door. Twenty-three minutes later I follow her.
I select Simon and Garfunkel's Concert in Central Park, and start up toward Mizuki, who now looks to be far above me, in my all-day pace. I feel happy to be moving up, and moving up in established steps in the powdery, unconsolidated snow. I'd planned to take the left variation onto the ridge and up to the Bee Hive, but when I reach that point the idea of following Mizuki's steps seems better and I follow them off to the right. Most of the time I can see her above me, but once in a while she tops over a roll and goes out of sight. About 3/4 of the way to the notch I look down and see the two-person team headed across the Cowlitz.
I catch Mizuki about halfway up the last slope toward the notch. I'm impressed by her endurance- she'd kicked many, many steps in tiring conditions. I offer to take the lead for a while and she accepts. Now I huff and puff upward, trying to stay on a single set of older tracks that, because of the compacted snow, are now raised above the surrounding wind-eroded snow. The wind comes up as I approach the notch. Once there I drop my pack to adjust gear: Helmet on (Jens narrowly missed getting brained in this very spot by a bowling-ball sized rock), pack up one ski pole and get out my axe. The ledges and exit chute are my favorite parts of this route. I sip some water from my one quart, eat some Cadbury Minieggs, and continue on. The snow on the ledges is also soft and generally tedious, but not awfully so. Halfway to the exit chute, at the second 'balcony', the track from the earlier climber goes down into a gully. This doesn't seem correct to me and I confer with Mizuki. She concurs and I wallow up to the face of Gibraltar Rock.
The going is easier here, but not easy. When I turn the next corner I know the decision is correct: The next obstacle is the short steep section that regains the upper ledge, a portion of which fell away years ago. Atop this short, steep section daylight greets me and ahead I can see the exit chute. It's closer than it looks and shortly I am tucked in under the bit of rock adjacent to the entry, where I stomp out a platform large enough for Mizuki to stand with me. I asks if she wants to go first and she is indifferent, so I start up. The snow is perfect: firm and consistent without being hard or icy. On the way up I sneak a few peeks down at Gibraltar Chute. I'm pleased to see that it doesn't seem idiot-steep and the snow in it is smooth. The chute comes to an end and I slowly make my way to the top of Gibraltar Rock, elevation 12,700'. With the sun shining on me and 1741' to go, I find a relatively flat spot in this very scenic location and sit down for a break. It's 6:20 AM.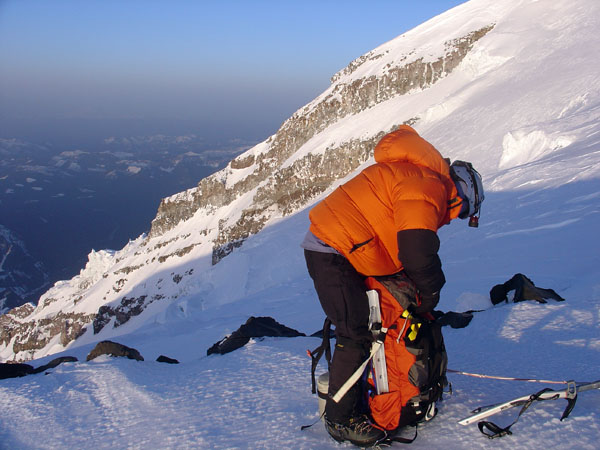 Mizuki atop Gibraltar Rock.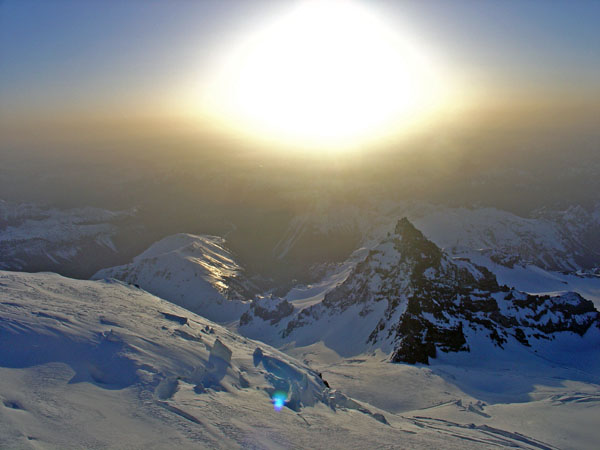 Sunrise over Little Tahoma.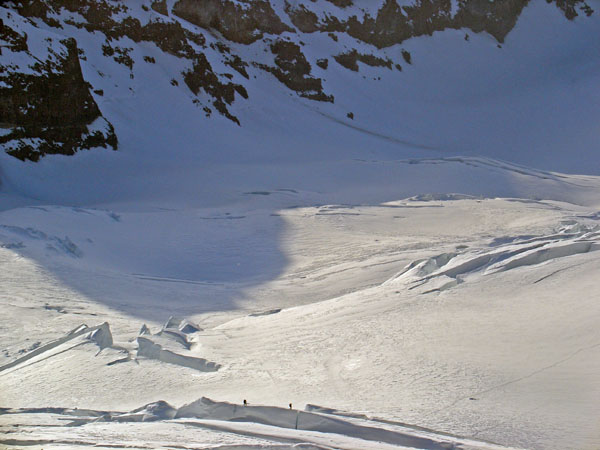 The Ingraham Direct team negotiating crevasses.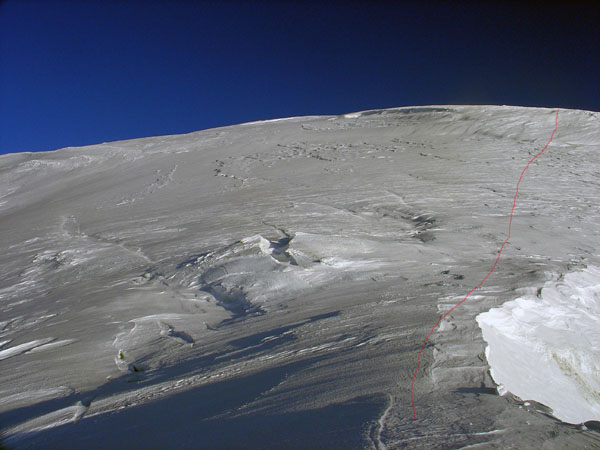 The upper mountain from the top of Gibraltar Rock.

Morning light bathes Paradise and the Tatoosh peaks. St. Helens and Adams are out. I peek over the cornice behind me and see the team of two far below negotiating crevasses on the Ingraham glacier. The wind is up a bit and even with a down jacket I don't tarry long: Numb fingers snap a few pictures and I'm on the move again at 6:40 AM. Mizuki, just like in the morning, is out ahead of me, and I follow her lead up the smooth, firm snow. I'm smiling because I know I can ski this part...
I'm always slow about 12,500' on Rainier, so again I take up a pace that doesn't leave me panting and that I can maintain. Above a filled in crevasse disguised as a roll, the smooth snow ends and the wind-whipped sastrugi begins. The flat benches it creates make for easier climbing, but in the spaces when I'm trying to resist obsessively check my altimeter I consider skiing the frozen, highly textured slope. "I can always just take off my skis and walk."
1740' to go becomes 900' becomes 400' and then the crater rim is in sight. A bit of pressure breathing, a few more steps, and I'm in the crater. It's about 8:15 AM. There is a bit of wind in the crater and I choose a somewhat sheltered spot to drop my pack, then plod across the crater and up the final slopes to the summit at 8:40 AM.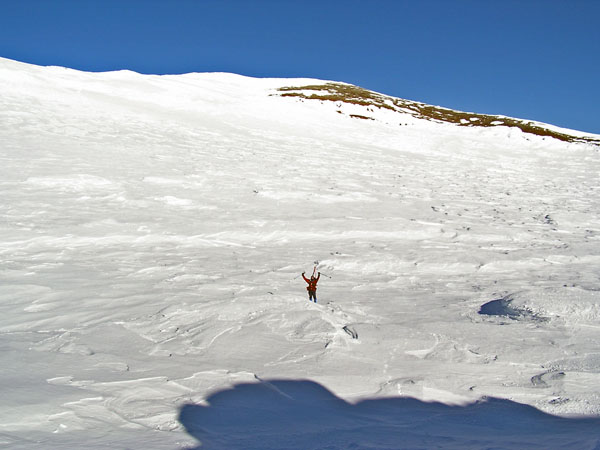 Yours truly elated in the summit crater. Photo by Mizuki.

We snap a few pictures and take in the view. It's cold, but the sun is warm and it feels more like July than April. I walk down to Register Rock and excavate the register box from the snow. The last entry is from early December, 2005. Under the register book I find the note I left last summer after my Kautz climb with Hannah. I reread it and tears stream down my face again. I sign the register and then walk back down the moist, steaming volcanic soil to the floor of the crater, and the back across to the packs. It never ceases to amaze me how much easier it is for me to walk even slightly downhill than slightly uphill at 14,000', poor panting sea-level dweller that I am.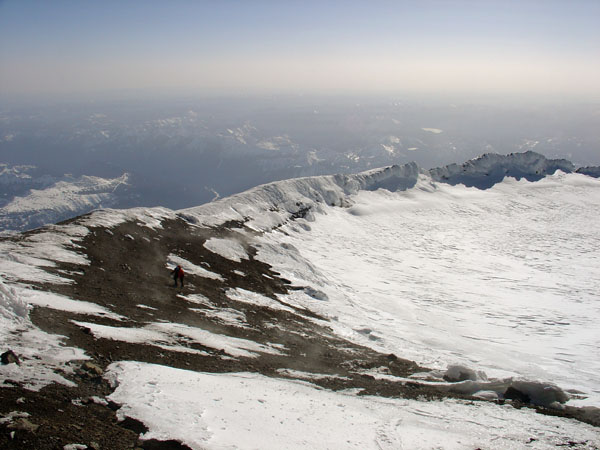 Mizuki ascending steaming scree above Register Rock. We're almost there!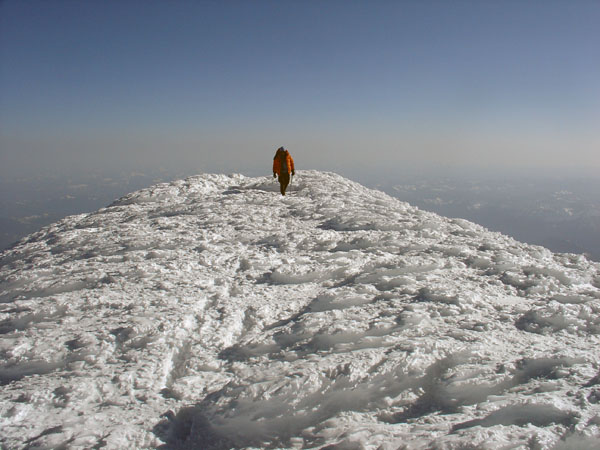 Mizuki's final steps to the true summit.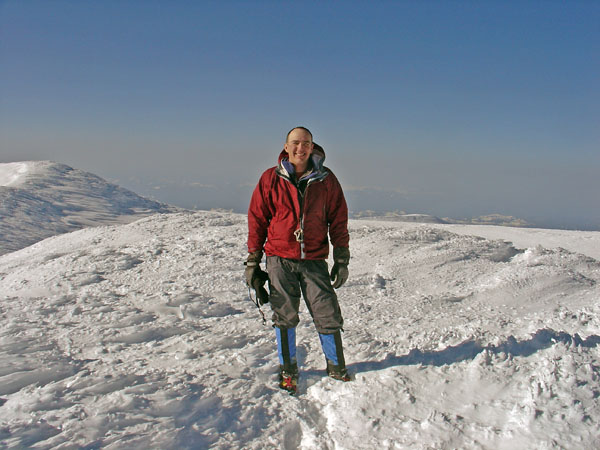 Loren on the summit for the 13th (I think) time.

I empty my pack, put on my down jacket, and let my ski boots warm in the sun. Mizuki, headed down the Ingraham Direct, packs up and departs, leaving me alone in the crater- a first for me. I soak in the sun in this most amazing place, snack, drink, and begin my change from climb-mode to ski mode: Swap boots, helmet back on, change gaiters, etc. At 10:00 I rise and tote my skis up to the crater rim. At 10:09 I start down.
The snow is at first frozen, but smooth, making for easy turns. But soon I am into the sastrugi, which is made up of wind-packed powder, so it gives some (thankfully) but is still a challenge for me. I cut back and forth across our crampon tracks until I see the team of two coming up. I make a turn go talk to them and promptly fall for the first of two times this day. My crash is a good one too, with skis up in the air, one boot out of the binding, and a goodly amount of embarrassment on my part. I reassemble myself and continue over to them.
They are clearly not impressed with my skiing abilities: "Hey, dude, there are some big crevasses just below here. You might want to take those off and walk."
I'm glad to have come up this way because I do know what's below and I know I can ski all of it, at least until I get to Gibraltar Chute. I congratulate them on postholing up the Ingraham and encourage them to continue on, then ski down toward the roll just above Gib Rock. It's the steepest part on the upper mountain, but the snow is smooth and easy from there all the way down to Gib Rock. I'm surprised when I get there to see no sign of Mizuki and fret just a bit until I see her coming down climber's left of where we'd ascended. It's 10:43AM and I plan to wait here for the snow in the chute to soften so I take off my skis. In the sun and without much wind, I'm warm enough without my down jacket. I marvel at this April day that feels more like July.
Mizuki returning to the top of Gibraltar Rock.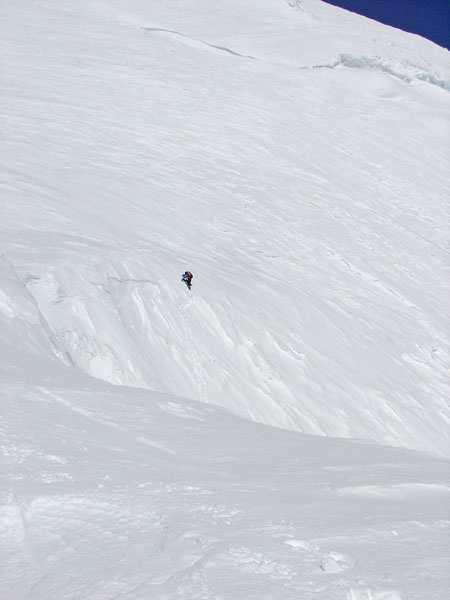 Mizuki reverse frontpointing down the recent tracks of the Ingraham Direct team. See you at Camp Muir, Mizuki!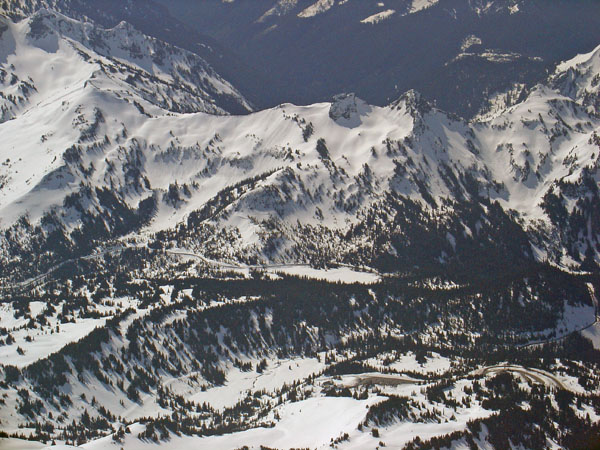 Looking down on the world from 12,700': A very differnt view of Unicorn, Castle, Pinnacle, and Plummer peaks, plus Paradise, and the mostly plowed Stevens Canyon road.

Mizuki arrives and we chat briefly, then she walks around the cornice and descends down onto the Ingraham. Now it's just me sitting there waiting for the snow to soften and my confidence to peak. I'm hoping for soft snow, but not so soft that I can't arrest if I need to. The upper part of the route is threatened by an overhanging ice cliff and there is nowhere to hide. I know that I need to be cautious, but not linger. I resolve to start down at 11:15 AM. I snack and drink and poke at the snow with my boots and hands, testing to see if it's softening. Then it's 11:10. I stand and put on my skis. "I will be present" I think to myself. Then I correct myself: "I am present." And down I go.
I am an average skier. My area of expertise is survival skiing. As such I traverse back and forth making turns on easier ground near the edges of the chute. I side slip a lot, then traverse over toward the Gib Ledges route. There I make a kick turn and, entering the steepest part of the chute nearly lose my balance and fall head first. Almost is a long way from do, thankfully, and I continue upright. Now in the heart of it I reach with the self arrest grip on my pole and test it in the soft snow, which is startlingly close to my uphill shoulder. The pick on the pole slides easily through the soft, somewhat isothermal snow: Self arrest is unlikely. Gulp. I've skied steeper pitches, but none with this sort of consequence for an error. I look down and want to make a turn, but I just can't conjure the courage to jump. With my left shoulder into the slope I slip and even make a couple side steps down until I'm nearly clear of the rocky bottleneck. And just like that I'm through and making turns down the fall line.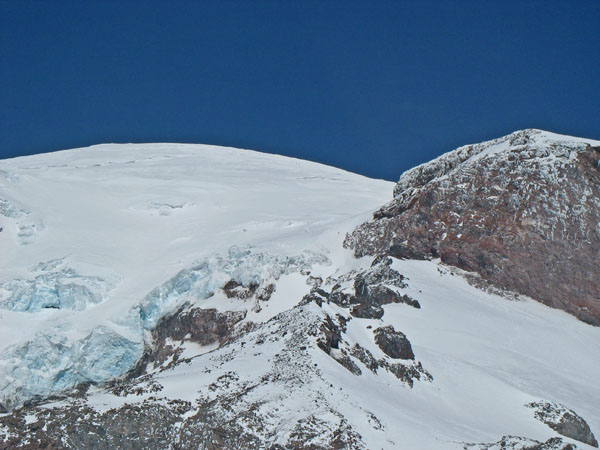 Where's Waldo? And the Ingraham Direct team. Can you see us??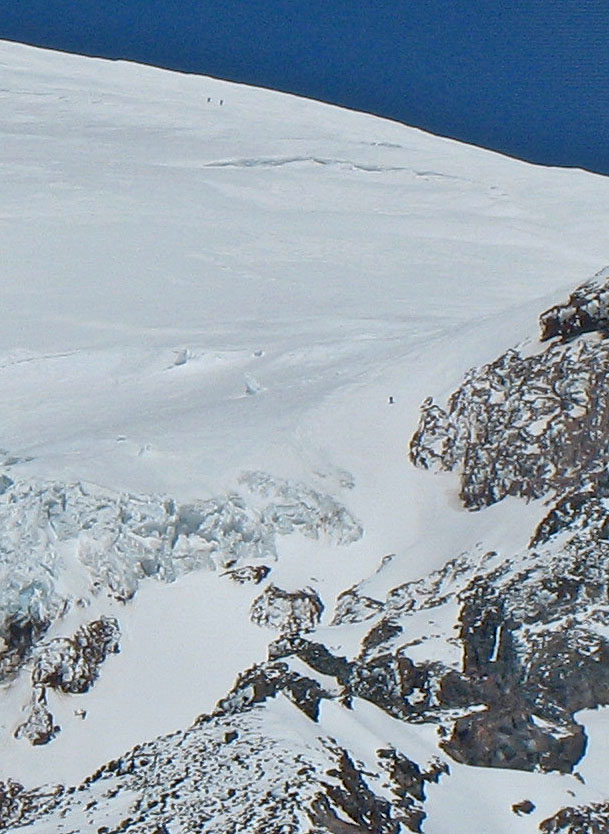 There we are! They are just above 13,000'. I'm at 12,600' looking for my courage, which I dropped down this slope somewhere...
Full-size crop of the first image. Photo credit further down in the TR.

I'm winded and a bit tired and need to stop to catch my breath. I'm also cognizant of the ice cliffs above me and try to stay in the safest location. A large slide caused by icefall from the Nisqually Ice Cliff does not escape my attention, nor does how far it ran below me and to my right: I don't want to be around here if the ice cliff above me drops anything, and I don't want to fall, either.
The snow is soft but a bit heavy- it's fifteen turns and rest, fifteen turns and rest. And finally I reach the relative safety of a rock outcrop on the skier's left. I'm about halfway down now, but need to ski away from my refuge back into the fall line. Catch breath, more turns. It continues for what feels like a long time, until I can see the rock toe that I need to tuck under before skiing back up to Muir. I make a last traverse across the fall line and under a small rock band and then, well above the end of a crevasse and thankfully out of the firing line, I start making turns again. To myself I think, "Damn, I've made it."
And then I am unexpectedly on my side sliding down the slope. I'm surprised to have my skis out from under me because I didn't lose my balance but I jam the self-arrest pick into the snow where it does almost nothing. I push harder and try to get my ski edges into the slope. I start to slow down. And the accelerate again. In the moment I'm mystified, but continue trying to stop and almost do so once more before accelerating again. And then I'm airborne and land. Thud. Stopped, softly and instantly. My eyes are closed. Nothing hurts. I open them. I'm on my right side on a flat platform of snow, with my head pointed upslope. The tails of my skis and on the snow with me and the tips are on snow, but between my feet, still in bindings, and in space above a second small crevasse. I look behind me and see that I'd fallen eight feet over a bigger one. I'm unhurt, not at risk of falling further, and relatively safe. I open my mouth and say aloud, "Feedback from the Universe received."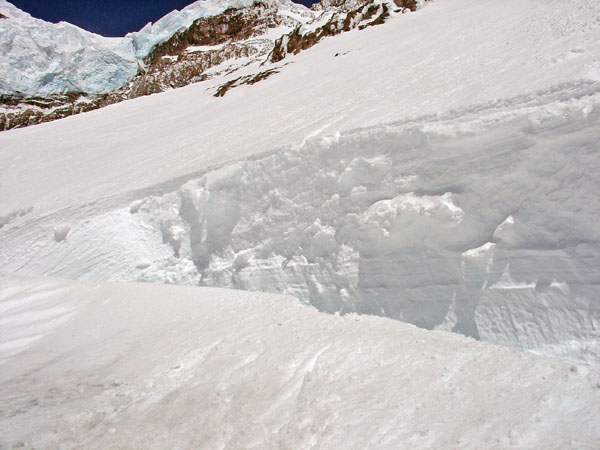 Eight foot drop to a safe landing. Whew.

I roll onto my left side, then stand and ski away. The rock toe seems so close now, but its not. I focus on each and every turn as I move through the tail end of the debris from the Nisqually Ice Cliff avalanche and onto the flats. The snow here is less soft and more chunky and the wind is kicking up. Finally I tuck under the rock toe and come into a strong headwind blowing out of the east across the Muir Snowfield. I am forced, much to my disgruntlement, to lose more elevation to get clear of the slopes below the Bee Hive (site of a memorable day of climbing in February, 2005) before stopping to put on my skins.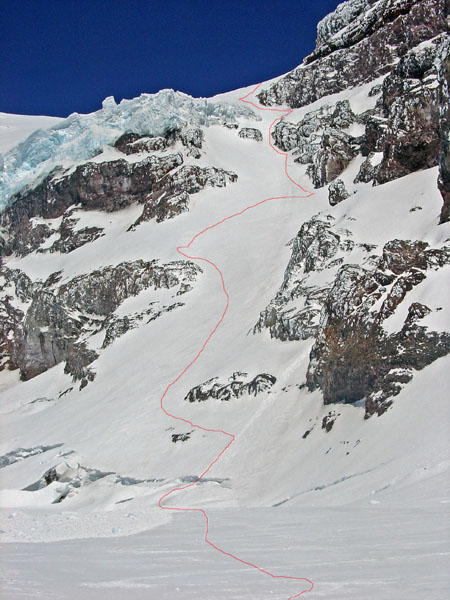 My less-than-beautiful ski line. It ain't purty, but it's mine.

Once clear and with a deep breath, I drop my pack at 11:50 AM. I'm confused about how I fell. These days almost every time I go down on my skis is a result of lost balance, but that didn't happen this time. Many times I've skied closer to crevasses with impunity. I decide to put the puzzle away and scoot up to Muir. It's not far but the wind is kicking. A big crowd has accumulated at Muir and though the distance is short I am slow.
Because of an intervening rock ridge, no one at Muir could see me after I dropped into the chute, and so I arrive without any attention for the ski or fall. I stand my skis up outside the hut and walk inside. I put some water on the stove for a cup of tea and unload my pack to begin reloading it. I'm standing over the stove when someone comes in the door behind me. I pay no attention- I'm tired and happy and relieved and surprised and all sorts of things and satisfied to let it all percolate in my head.
"Loren?!?"
"Hannah!"
I know before I turn, that voice. We hug and then drop into conversation like we'd planned to meet there. This sort of thing happens often enough that it not happening is more surprising. We talk while I sip my tea and eat and then pack. She says she snapped some pics of me dropping into the chute (one is above) and that she figured it was me. Then she says she wants to hike up under the Bee Hive and ski down, so she departs as I finish packing. When I'm done I grab my pack, her pack, and my skis and find a sunny spot out of the wind to chill while she plays.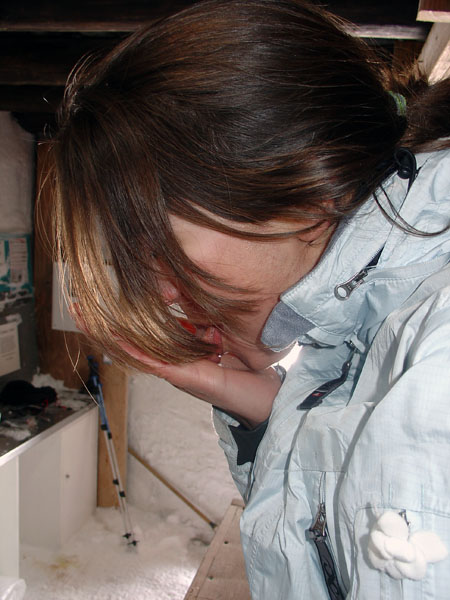 Hannah makes sure no bits of Cadbury Miniegg go to waste.

We shoulder packs and start down once she arrives. I ski over and look once more at what I'd skied and where I feel, then turn and start down the still-frozen Muir snowfield. We ski together until the drop-in for the Nisqually Chute. One of those goals I mentioned earlier was to ski from the top of the mountain to the Nisqually river bridge, for a 10,000 vertical foot run. After some debate on my part and discussion, I opt to ski the chute and on to the bridge, while Hannah skis to Paradise. As soon as I'm in the chute, which is protected from the wind, the snow softens. My legs and the rest of me are tired and I putter down, stopping frequently to take in the views and the moments. I'd not skied the Nisqually Chute before, though it is a popular run for skiers, and am surprised by how steep it is. I'm glad for soft, forgiving snow. I reach the bottom, then glide in the tracks of others along the lateral morraine. Near where I'd regained it after climbing the Kautz in 2005, I drop off skier's right and then follow another group high left to get down from the snout of the glacier. Just a few more turns and I'm in the flats among the many branches of the young Nisqually river. At one spot I am forced to remove my skis and walk fifty feet, then one last glide before I clomp up the slight uphill through alder the last 100 yards to the road.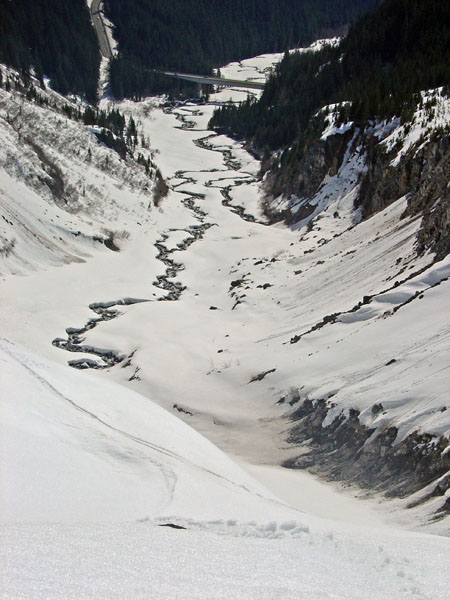 Looking down to the bridge from the snout of the Nisqually Glacier. The run descended to the flats on steep slopes, then glided out left of all the river threads.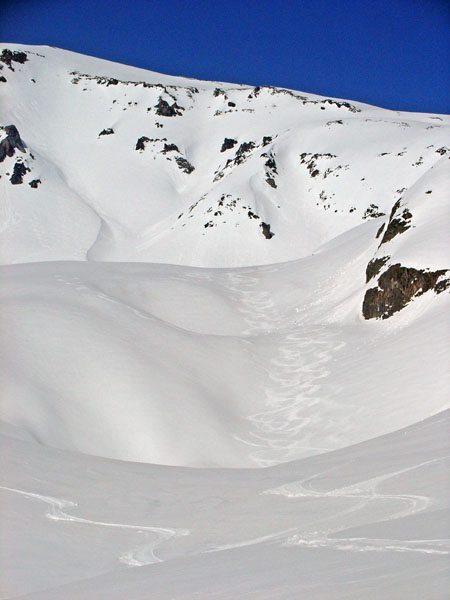 Same spot, looking up from where I came. Beauty day for a 10,000' ski run!

After getting down off the mountain after my first summit in 1995 I just couldn't get over how early that morning I'd been up so high in such a foreign place that, from below, seemed so far away. My eyes were glued to the mountain (much to the dismay of my Father, who was next to me in the passenger seat of my Jeep). That post-descent feeling of wonder has faded some, and I mourn it. But I still feel happy and fortunate and satisfied and awed when my boots first land back on a paved, civilized surface. These thoughts swirled though my head as I walked across the bridge to the parking lot.
Hannah was kind enough to pick me up and drive me back up to the Paradise lot, despite not hearing me agree to this plan as I skied away from her and down the Nisqually Chute. Thank you, Hannah.
This was a brilliant weekend, born out of low expectations earlier in the week. So often great climbing trips come from this place. I got some lazy time in the sun above the trees. I got an April ascent of Rainier. I skied from the summit. I skied down Gibraltar Chute. I was unexpectedly surprised by my friend Hannah on a mountain we both love. I skied the Nisqually Chute. I skied from the summit (SE Crater Rim, technically) to the Nisqually River Bridge. I didn't hurry or feel rushed. Yes, brilliant is a appropriate word. Peace all.

Footnote
My best guess at this time is that a small sluff came down behind me and took my skis out from under me, causing the fall over the crevasse. The pictures I took immediately afterward show a sluff starting above where I skied that covers my tracks, and this would explain why my I lost my edges and why I had difficulty stopping. I'll never know for sure, but I feel better thinking maybe I didn't just suddenly fall for no reason (I didn't lose my balance at all).