Mount Rainier, Gibraltar Ledges Attempt
An Experience in When to Say When
November 3, 2001
I'm certainly no bastion of experience in the mountains. But I have done my share of turning around for a variety of reasons. Never before have I decided to abort a climb due to pain, though. Well, never before November 3, 2001.
I called Jens the night before to suggest that we leave an hour later and to let him know that I was feeling unwell. What started out as extreme fatigue morphed into roving aches and pains. During the night my shoulders hurt enough that I woke up several times.
I felt good enough in the morning, though. So I headed out and picked up Jens at 7:00 AM. The gate at Longmire rarely opens before 9:00 AM during winter months, so an alpine start is pointless. My body continued to hurt as we drove toward the mountain on what could be described as a sublime November day. The forecast for the day was stellar, with a front possibly moving in as early as late morning the next day. We both felt we'd have a good shot of making the summit and getting down before the weather really hit.
The gate was open when we got to Longmire. I felt pretty good at Paradise; moving around to finish packing seemed to alleviate the aches. Based on the great weather forecast we opted to take a risk and leave the tent in the car. Getting lost on the way to Camp Muir seemed all but impossible, and the crowded parking lot assured that help would be nearby in the unlikely event of an injury.
We skinned out of the lot at 10:00 AM.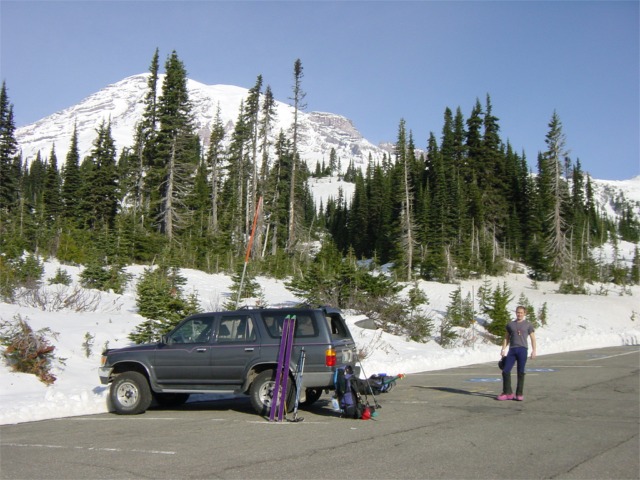 Jens in the Paradise parking lot.

I felt good as we ascended toward Alta Vista. It felt right to be there on that day. As we rounded the corner and started toward Panorama Point I noticed a slight stitch in my side, similar to the crampy feeling caused by carbon dioxide buildup in my lungs.
We opted for the summer trail, which seemed to have better snow coverage. By the time we reached the first switchback it was apparent to me that the "stitch", which was getting worse, was not a result of poor breathing technique.
We angled right toward the usual winter route around the head of Pebble Creek. The pain was becoming a continual distraction. I couldn't take a deep breath without being stopped in my tracks. I finally told Jens that something was not right.
"We'll do whatever you need to do, Loren. If this just turns into a day tour then so be it."
"I know I can make it to Muir as long as this doesn't get worse. Let's keep going."
For a while I was able to mitigate the problem with a combination of short, rhythmic breathing and some relaxation technique. But as we passed by McClure Rock at 7500 feet I was slowing down. The "wild idea" department started up. I'd never been sick like this before. What if it gets so bad that I can't breathe? What if this is anthrax? Thoughts of my Father, who died in April 2000 at age 54, more fit than me, after a rare kind of heart attack, also set in. I pondered the blurry line between being bold and being foolish. And I kept moving.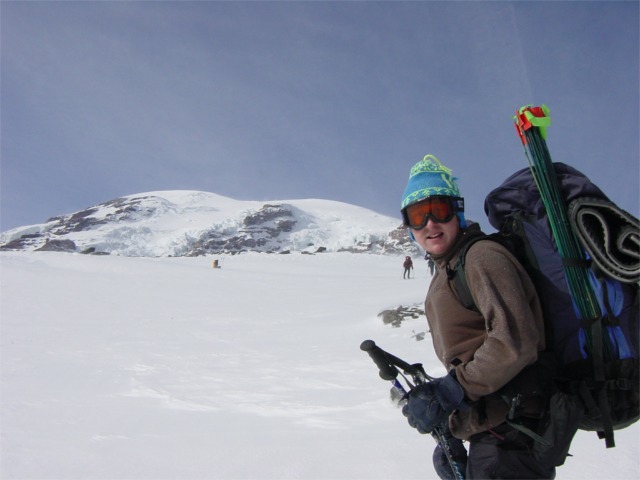 Jens on the Muir Snowfield.

We took a standing break at 8500 feet, skinning away at 1:00 PM. I was pleased to note that we'd climbed 3100 feet in three hours, even though I felt like crap. But after the break it was all I could do to move fifty feet without stopping. The pain in my upper abdomen caused me to double over when I took a deep breath. I couldn't get into my usual rhythm. I kept stopping. And starting. If I can just get to Muir...
The wind picked up. Spindrift blew across the snowfield, stinging and biting at my face and hands. At 8900 feet I stopped and looked at my watch: 1:35 PM. Only 400 feet in 35 grueling minutes.
"I'm done Jens. I'm really sorry, but I think it is too big a risk for me to continue. I'll probably feel better in the morning, but if I get worse I don't want to be hours away from help."
"Okay then. No problem."
We moved into some rocks and sat down. We took a good break as we switched to downhill mode. I felt bitterly disappointed and guilty for being the cause of our failure to make the summit. But I also knew it was the right decision, no matter how wrong it felt. I've continued in the face of fatigue, leg cramps, head-colds, wind, snow, freezing hands/feet, lack of food and water. But whatever was wrong with me was messing with my ability to simply breathe.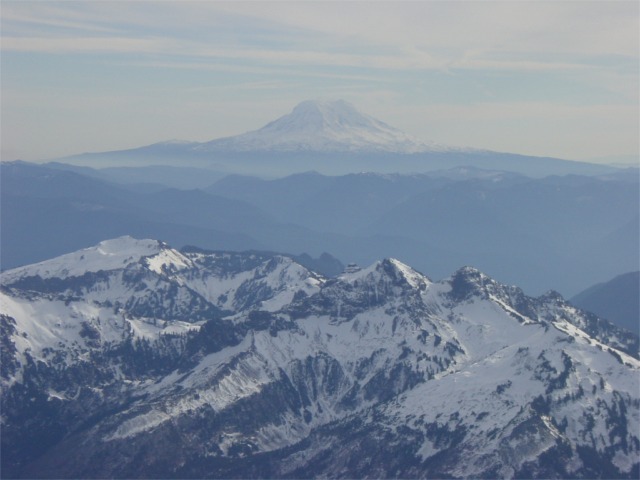 Mt Adams rises over the eastern peaks of the Tatoosh Range.

We had a pleasant ski back to the car. The snow was spring-like, though we both hit some rocks in the sparse coverage.
As a consolation we rented "The Eiger Sanction" and watched it at Jens' house. I called the doctor when I got home. He suggested that I not worry unless the symptoms appeared again. The next day I went for a hike up "West Tiger 3", my usual training hill. It gains 2100 feet in less that two miles. No problem. So there it was. If I'd pushed through we probably could have made the summit the next day. Though it felt very good to know that, I do not regret my decision.