Rainier, Emmons-Upper Winthrop
September 3-5, 2000
When Steve, a former coworker, mentioned to me that he had some friends coming up from Dallas to climb Rainier, I didn't think much of it. Steve is an experienced mountaineer, with many ascents of Rainier, and has done some climbing in Mexico.
When he asked me to "help", I told him I would be glad, not really expecting that it would ever happen.
So I was pleasantly surprised as I left my house at 5:15 AM on September 3rd. Somehow the people and weather had come together enough to give it a try. Still, I kept reminding myself that three of the four folks from Dallas had almost no mountaineering experience and the weather was unstable at best. The odds of even making a bid for the summit were slim.
Steve knew this and had let his friends in Dallas know as much. For my part, I'd agreed to take them as far as they wanted to go, in pretty much any weather. Though they'd generously offered to pay me, I was wary of liability issues and declined. I thusly dubbed my role the "Unpaid Advisor".
So I met Eddie, his girlfriend Terri, Richard, and Randy- the Dallas crew, along with Steve and his step-son Mitch at a little hotel in Enumclaw shortly after 6:00 AM. We cruised east to Charlie's Cafe and had a greasy breakfast, while we warily eyed the weather.
After breakfast we ditched one car and barreled down Highway 410 to the Park entrance, and past that, the turn for White River Campground. A mile toward the campground I pointed out "Big Bertha", the remnants of a huge snow avalanche that came down through an old growth forest during the record winter of 1998-99. It knocked the big trees down like matchsticks.
Soon enough we were doing the registration dance at the Ranger station. I went in the open door and started addressing the nice person at the front desk. She politely pointed to the analog clock, which read 7:57 AM and said, very nicely, "We don't open until 8:00."
Nothing like getting caught in the gears of the well-oiled government machine. Luckily our schedule was more flexible than hers, so waiting those three minutes wasn't too bad.
...
As the second hand swept past the 12, she sprang into action, fully registering all twelve waiting climbers in a matter of minutes. And we were on our way.
Hah! Fooled you, didn't I? We did get registered, and the nice Ranger person said she would deliver the ice axe I had agreed to one Chris Trotter (another Ranger, I think). It took about 30 minutes to get all the required emergency and gear information, deposit the required fees into the "Iron Ranger", and listen to the terse lecture about weather, poop, water, and various other rules.
At this point I noticed, but did not comment on, the distinct lack of rain (or liquid sunshine, as I have taken to calling it). To notice and appreciate is important, and to verbalize is to invite a quick and vigorous change. So go ahead and call me superstitious.
So we proceeded to the White River parking area and threw all our gear out in the (dry) parking lot to make sure that we had everything and so that everyone could attempt to jockey the heavy group gear into the packs of others. I noticed that Steve had a nice McHale pack. Dan McHale's packs (and Dan, too) are legendary in the Northwest. Dan doesn't like fat packs. Apparently he really didn't like them ten years ago when Steve bought his pack. It was about 14" in diameter and about five feet tall. It fit my Bibler Fitzroy tent, less the poles, quite nicely. I took the poles, a stove, a pot, some fuel, my 37 meter rope, and a picket. I felt a little sheepish, my pack was so much smaller than the rest. But the group gear was pretty evenly divided and I do have my personal gear pretty well dialed in.

Packing in the sun at White River. Steve's pack is second from left. It isn't full yet.

Somehow it was 9:30 AM when we walked out of the lot. Randy, Richard, Terri, and Loren in tennis shoes or lightweight hikers. Steve, Eddie, and young Mr. Mitch in plastic boots. We made good time up the trail toward Glacier Basin. About 90 minutes up the trail, just before the trail up to Sunrise, Eddie stopped to put some moleskin on his feet. After a few minutes, I opted to blast quickly up to Glacier Basin to try to catch Mitch, Randy, and Richard, who had gotten ahead. I found them after fifteen minutes, at the fringe of Glacier Basin. They were taking a nice break, so I had them grab their packs and follow me through the trees to the far side of the camping area so we could "check out the route". What we ended up checking out for the next 45 minutes was the deteriorating weather. First the high clouds blotted out the sun. Then the mists began to swirl up high. The temperature dropped. I went from shorts and a T-shirt to Goretex top and bottom and a fleece jacket in a matter of minutes.
Before Eddie, Steve, and Terri arrived, a couple of Rangers came through. They quite politely admonished us for sitting and standing at the side of the trail in the vegetation (and they were right to do so). Then we talked about climbing conditions and finally debated the merits (or lack thereof) of the most recent incarnation of Moonstone and their products (I was wearing my lightweight Moonstone Goretex pants by then). Then they blitzed on up the mountain.
Upon the arrival of the rest of our party, we ate lunch. Bars for me and a variety of smushed sandwich-like food for the rest. Then we packed up and headed up the moraine below the Interglacier in a light mist. "This is the end of the highway folks.", I said as we strolled away.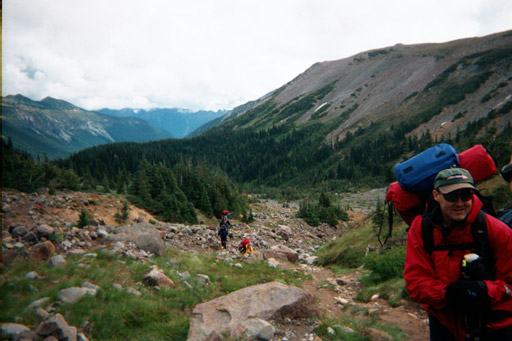 Randy, with Terri, Eddie, and Steve behind, ascending the moraine.

The trail up the moraine gets more rugged as it climbs toward the Interglacier. Because I could see here, I opted to stay with the lead group of Richard, Randy, and Mitch. By the time we got to the glacier we were spread out by fifteen minutes again. I broke out some more warm gear and we all started to put on harnesses. Mitch flaked out the ropes (we had my 37 meter and his 50 meter). Most people do not rope up on the Interglacier. I wanted the team to get an early experience in roped travel and I wanted to do it in a place where I could go unroped so as to more easily coach people. There was quite a debate about crampons. The surface snow was wet and heavy: Perfect for miserable balling up. Below the surface was a firm base: Perfect for slipping without crampons. After consulting with Steve, I decided to make crampons an individual decision.
It was about 12:30 PM when we arrived at the Interglacier. I foolishly thought to myself that we might even make Camp Schurman that day. And almost as soon as I thought it things began to come apart.
By the time we departed the rocks as a rope team of six (we tied both ropes together), it was snowing. Visibility was fluctuating between 10 and 100 yards. The team went through the herky-jerky motions typical of a group of people not used to roped travel and wanting to go at significantly different speeds. After 100 yards Steve decided he wanted his crampons on. So we stopped. Then Eddie needed to adjust his boots. Then I decided that Terri needed crampons. Then one of Steve's crampons came off. Then Eddie announced that he was finished, walking in on the dry trail had hammered his feet. And Terri wanted off the rope so she could go down and talk to him. I looked down the glacier at the 200 yards we had covered in 90 minutes. I reminded myself that this is a learning experience for the group. I took a deep breath and appreciated the beauty surrounding me, as a light snow fell.
I went up to inform Steve of Eddie's decision. Steve went down to talk to Eddie. Steve came back up and said that Eddie and Terri were going to trade boots. After a bit more hijinks, Eddie and Terri opted to go down. There was an exchange of gear, so that both parties would have tents and stoves, and then we were moving again. Up the Interglacier in a mild, late summer storm.
Toward the top of the first hump we encountered a group coming down. No one had summited in several days they reported, although couple teams had gone to 11,000'. Not very encouraging news.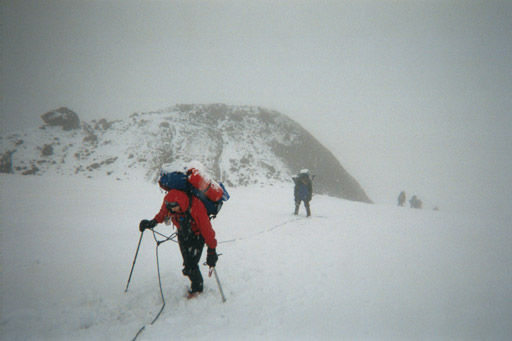 Randy and Richard just above the first hump on the Interglacier.

Above the first hump the we started to make better time, though the route really meandered all over (this is a pet peeve of mine, which you know if you've read many of my trip reports). For those familiar with the Interglacier, the route ran way to the climber's right, adjacent to the ridge above St. Elmo's Pass. Whoever put it in was working very hard to avoid all the crevasses by a huge distance.
Eventually it began the familiar leftward traverse toward Camp Curtis. I dropped in a few wands, noted our bearing, and made mental notes of the landmarks. By now it was after 5:00 PM. We'd been moving over seven hours, and people were getting tired and cold. The last few hundred yards over the snow ridge and into Camp Curtis were slow. I was glad when we rolled in and found a couple reasonable spots among the rocks for out tents. No snow camping for us tonight!
I put on some warmer clothes, threw up the tent, and dove in, in full winter camping mode. Once in my sleeping bag I fired up the stove in the vestibule. Warm and cozy.
Steve and Mitch bravely ran the other stove out in the elements. The sun was going down and so was the temperature. We melted lots of water and made hot drinks. At some point I heard that Randy was cold, though I didn't realize how cold until later.
Eventually Steve and Mitch grew tired of what Mother Nature was dishing up outside and they piled into the tent with me. Just before bed I got up to pee and find out how Randy was doing. "Better, now, thanks."
With that I was off to bed. We slept warm that night, with three people wedged into the tent. Indeed, it was 47 degrees inside when I woke up in the morning. I was pleasantly surprised when I opened the tent to check out the weather.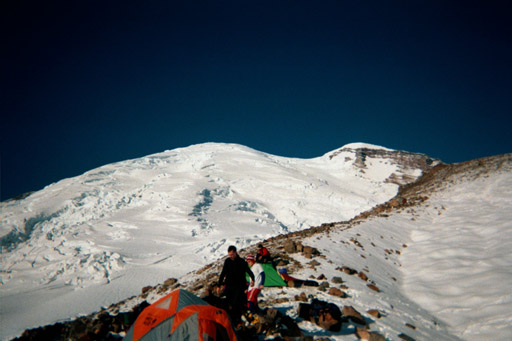 Labor Day morning at Camp Curtis. Notice the Canadian tent on the ridge above us.

When I rolled out of the tent, I could see the Canadians at the base of the corridor. Steve said that he heard them up and about around 3:30 AM. It was now close to 8:00, so they'd been on the move for about four hours.

Everyone was happy to see the improved weather. It was clear and windless. I took my Suunto off and put it in the shade to get and accurate temp: 42 degrees. But with the warm sun, it felt much warmer. We casually packed up and began our short walk to Emmons Flats. Just above the Canadian tent we passed the crude pit toilet: A sawed-off cone (technically called a "frustum of a cone", if I recall my high school geometry correctly) of sheet metal over a hole. Someone (or thing) had crushed one side, partly covering the hole and making it impossible to sit on.

From there we made a descending traverse to the lower Emmons glacier, where Richard and Randy got their first close-up view of a crevasse. There was a nice little flat spot on the snow, just off the dirt, where we got out the rope and related equipment. The process of getting tied in went much smoother that the previous day. Once we were roped and prussiked, Mitch led out onto the glacier.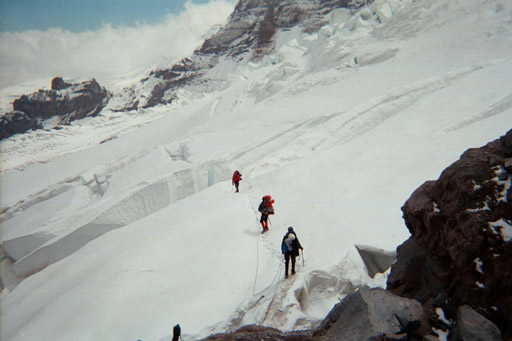 Mitch, Steve, and Richard walking out onto the lower Emmons Glacier below Camp Schurman

After a hundred yards Steve's crampon came off again. And then again. Finally he picked it up and carried it. The snow was soft enough that crampons weren't required. After crossing a few small snow bridges, we came to the ugly, short dirt/scree scramble up to Schurman. Past that we untied and each took a turn in the lovely solar-composting toilet there. I chatted with the Rangers about the route and talked to a solo climber just back from the summit. The word was that the route meandered around, but was in good shape, with a few thought-provoking crevasse crossings. The solo climber reported 4-8 inches of new snow up high, and that he recorded temperatures as low as 0 degrees Fahrenheit.

Meanwhile, we were all amazed that the Canadians were only now leaving the corridor, over two hours after starting up it. A Ranger mentioned that they seemed to be on the "24 hour summit plan".

Once beta was gathered and business was complete, we tied back in and made the short walk up to Emmons Flats. It was around Noon when we arrived. We picked out the nicest looking of the tent platforms, set up the tents, and fired up the stoves. The Canadians were now mostly obscured by the swirling clouds beginning to envelop the upper mountain.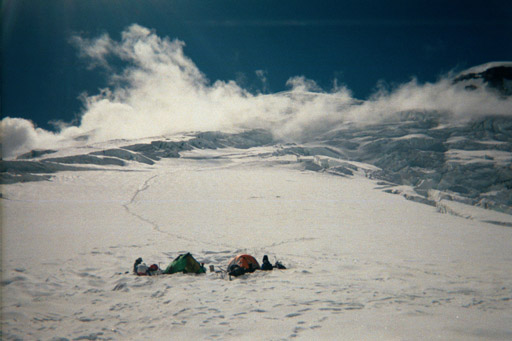 The clouds begin to form above our camp at Emmons Flats. The upper part of the mountain is a little right of center, just sticking out above the clouds.

After making camp and melting some water, we spent an hour practicing self arrest. This is an important skill that needs to be automatic, and I hope to never have to use it "for real" again. When everyone had practiced all the variations (feet first on back, head first on stomach, and head first on back) we went back to camp to fire up the stoves again.

Richard was curious about the prusiks. So I set up an anchor system and lowered him into a large, nearby crevasse so he could experience what it is like inside and how strenuous it is to prusik out. By the time he got to the top he had the technique down and was also winded. After watching, Randy opted not to take a turn. He was still recovering from mild hypothermia the night before and was wisely taking it easy. Mitch did take a turn, and zoomed out of the hole like an old pro. While we played in the crevasse, Steve took a Leatherman and an ice axe to his crampons to make a few "adjustments".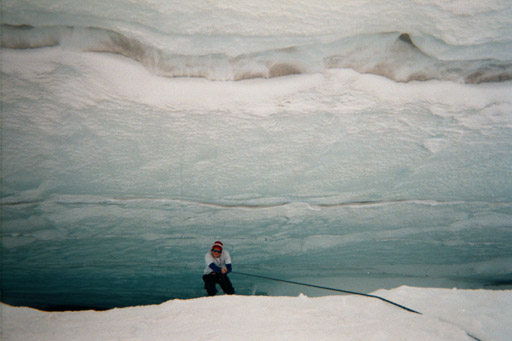 Mitch in the crevasse.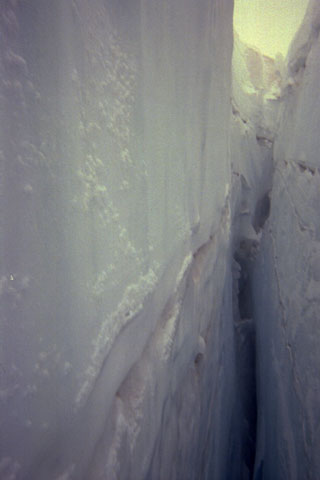 A view of the crevasse from the inside. (photo compliments of Richard Crow).

It was now about 4:00 PM. We could still catch glimpses of the Canadian team through the clouds. They were still below 13,000' and had been on the go for 12 hours. We continued to melt snow for water and started getting ready for dinner. My goal was to be in bed my 6:00 PM, allowing for six hours of sleep. I guess it was about 6:30 by the time we settled in. I had a hard time sleeping- I was missing my wife and little girl, and wasn't feeling very motivated for the summit climb. Thoughts of my Dad swirled through my head, adding to my anxiety.

Around 9:00 PM the Canadians came back through. I later found out that their 18 hour odyssey did not include a visit to the actual summit. Midnight came quickly and we slowly got ready. I ate bars and drank water while the others started the stove and made hot drinks for themselves. Steve stuck his head in the tent and said he wasn't going up. Randy opted out, too. So it was just Mitch, Richard, and me. At 1:45 AM we finally walked away from camp.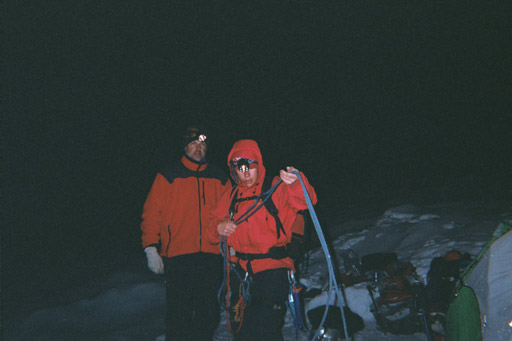 Mitch and Steve working the ropes at 1:30 AM.

It was cloudless and windless, a perfect summit night. We were about thirty minutes out when I realized I'd forgotten one of my two quarts of water and my picket. So my challenge for the day was to get to the summit and back on a quart, which I hadn't done before. And so much for my image of myself as the clear-thinking, mistake free guide. Arrogance is a place from which we are always sure to fall.

We crossed the first crevasse above Emmons Flats, then descended to enter the Corridor. We covered 1300 vertical feet in the first hour, then settled into a slower pace. About half way up I was cold enough to dig out my fleece jacket and overmitts. I kept an eye on the eastern sky, anxious for the warmth and morale boost of the sunrise.

There were several narrow or tenuous bridges, and the route traversed far to climber's right, onto the upper Winthrop glacier. It made a low approach to the summit crater, just a couple hundred feet above the saddle between Columbia Crest and Liberty Cap. Near 14,000 feet the route ascended a steep fifty foot step. It was about 60 degrees and we climbed straight up, front-pointing on the firm, late season snow under six inches of powder.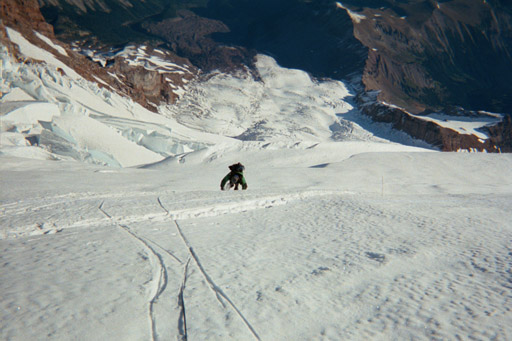 Richard front pointing up the steep section near 14,000'. The lower Winthrop and St. Elmo's Pass are far below.

Shortly after we were on the rocky slope of the crater rim. Loose rock and crampons is always fun, especially for sea-level dwellers at 14,000 feet. We came onto the crater rim just above Register Rock, and just 200 linear feet from the summit. As usual, tears streamed down my face as we walked onto the small, flat summit. I really love this mountain. And I couldn't help but think of my Dad, who planned to return and climb it again with me. He died in April, so he won't get to write his own name in the summit register, though I believe that he is with me on every climb now.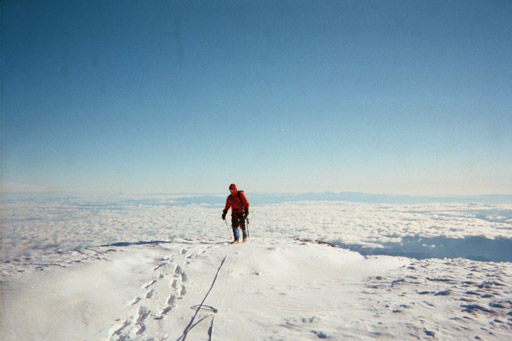 Mitch takes the last few steps to the summit.

So we were on top at 7:55 AM, a respectable 6:10 from Emmons Flats. It was cold and windy (as usual) on the summit, but we had it all to ourselves, which is unusual. We took some pics and scooted down to Register Rock for a break.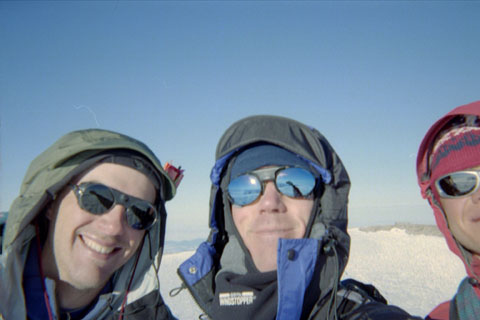 Loren, Richard, and half of Mitch on the summit. (self-portrait by Richard Crow)

I wrote a climb dedication to my Father in the register. We ate some food and I sipped my precious water. Then it was time to leave. We made solid, consistent progress on the way down. Despite stopping several time to shed clothing, we made it back to the tents in 2 hours 30 minutes. I still had a half quart of water.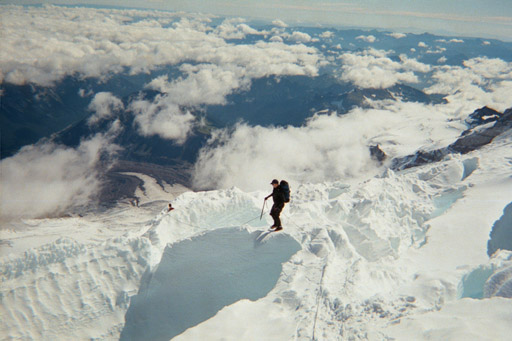 Richard crossing a thin bridge on the "least technical" route on Rainier.


The last few hundred yards back to Emmons Flats.

We ate, drank, and snoozed. The weather started to deteriorate. It was getting colder and the wind was picking up, with gusts to 30 mph. We decided to pack and flee before things got worse. By the time we got back to Camp Curtis, the cloud cover was complete and visibility down the Interglacier was starting to suffer.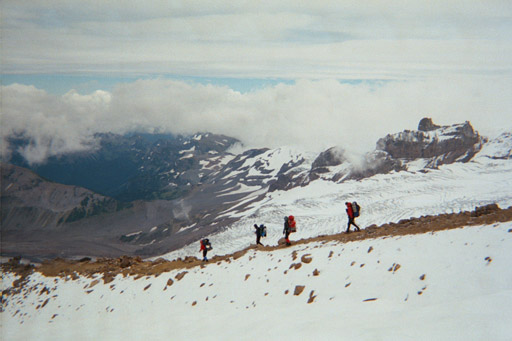 Mitch, Richard, Steve, and Randy descend through Camp Curtis.

We followed the boot track and wands to the top of the first hump, and then had a exhilarating glissade down the glacier to the rocks. In 30 seconds we covered what had taken us three hours two days before.

I was so happy to fish my approach shoes out of the stash bag that I didn't mind the gaping hole that had been torn in my flimsy, shoddy, expensive Moonstone Goretex pants on the glissade. My plan to change into shorts was foiled by the weather: The overcast was now spitting on us, a lovely mixture of snow and rain. I looked at the two teams roping up to ascend, and presumably attempt to summit, and felt very thankful for the weather window we'd experienced.

Richard, Steve, and Randy take a break and shed some clothes in the rain at Glacier Basin.

We walked down to Glacier Basin in the rain. There I did change into my shorts, though I did keep my jacket on. From there we had a short, uneventful hike out to the car. Eddie and Terri met us at the trailhead, and I shared my beer stash with willing participants. The Random and Omnipotent Goddess of Northwest Weather smiled on us once more, and stopped the rain long enough for us to relax in the parking lot while we sorted and loaded our gear. We'd descended from Emmons Flats in 4.5 hours.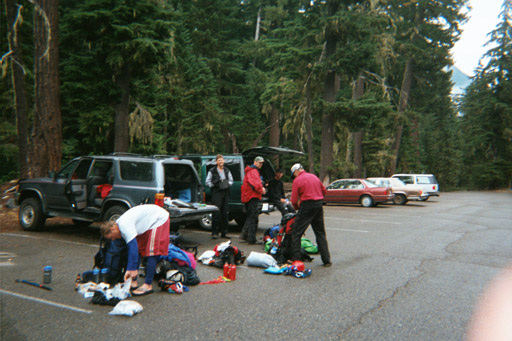 Packing up in the drizzle at White River campground. Will I ever learn to take pictures with disposable cameras that don't include a portion of my right index finger?

Everyone was very gracious and thankful toward me. For my part, I was very happy to have had a successful climb: People had fun, we climbed safe, and we got a team to the summit. I said my goodbyes and went home to see my family.

Epilogue

Steve called a few days later to tell me how much everyone appreciated my help on the mountain. He said they wanted to do something for me. I said that was not necessary, but if they wanted, a Marmot Mountain Works gift certificate would be great. A few days later it showed up in the mail. I opened it and thought, "$120? What an odd amount." Then I looked again.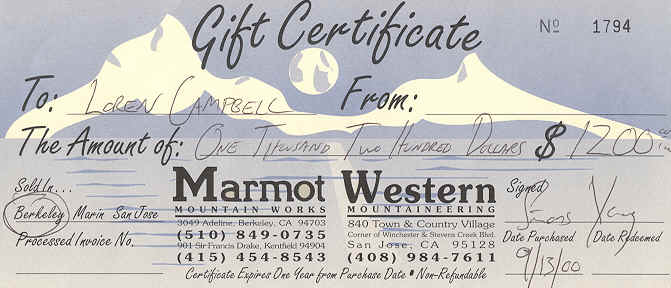 WOW!!! What a generous gift. Thank you all for the great climb and the gift certificate: Eddie, Terri, Richard, Randy, Steve, and Mitch.